A classic calico with a clever twist. Not only is it waterproof but its fully biodegradable too. The back of the fabric is coated with a white coating designed to block water coming through the fabric. This coating was designed to gradually disintegrate in time. This unusual coating is unlike most other PVC related products. This will certainly help towards you doing your bit to help our environment.
Waterproof Calico for Events
A lot of events choose to go for a neutral colour palate as their colour scheme. Neutral and rustic style decor is especially popular as a wedding theme, with many couples using outdoor canvas marquees and gazebos to house the event.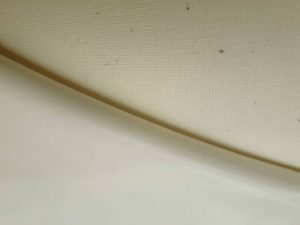 Fabrics such as hessian, canvas and calico are used as backdrops, drapes and table coverings. Sprays of in season wildflowers as subtle splashes of colour add a more easy going country vibe, rather than uniform repetitive displays. This waterproof calico is the ideal fabric for covering tables. The natural look of calico will be seen on all the tables but the waterproof underside will stay unseen. This handy backing will protect any surface from inevitable food and drink spillages.
Waterproof Calico for Visual Merchandising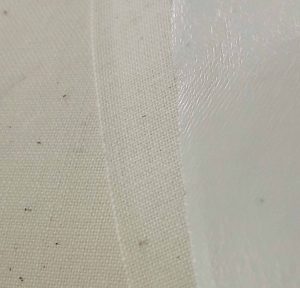 A brilliant fabric for creative visual design projects. Start from scratch with this blank canvas and cover it with colour! Use fabric paint to create logos and typography. Or use fabric spray paint for artwork with a smooth graffiti look. The calico has a traditional close weave which displays a smooth surface sparsely freckled with darker brown flecks. You can easily paint straight on to this fabric. Alternatively, paint the fabric white first to maximise the strength of a colour.
Waterproof Calico for Eco Caskets
Waterproof biodegradable calico is also widely used for Eco coffin caskets. Yes it's a very sad subject but a necessary one. There are a few environmentally aware companies who create caskets out of quickly degradable materials such as recycled card, wicker, and bamboo.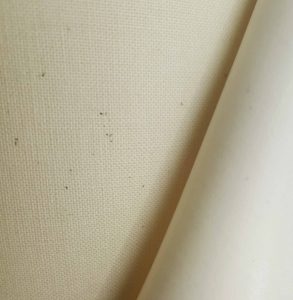 The natural shade of the calico fabric compliments the natural soft straw colour of these products. The calico side of the fabric will be seen but the waterproof side will not. Beloved pets that have passed away can be careful wrapped in this calico, and the waterproof coating will slowly degrade, along with the natural cotton calico fabric.
For any information or free samples of this handy new calico, just call us on 0121 3592349.
---