Purchasing this fabric allows you to have your very own design printed onto material, or any design of your choice, using the dye sublimation technique.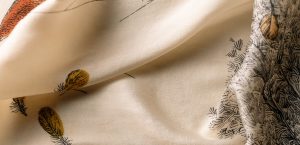 You can get images printed onto this fabric, as well as creating something unique like printing a photo of a different textured or structured fabric onto this polyester.
This type of textile has to have polyester within it for the print to be able to transfer onto the fabric, so you can have a sublimation fabric that is fully polyester, or something like a poly-cotton (polyester cotton mix).
This fabric allows you to give an image texture!
If you want a quick and easy printing technique to transfer an image or a design onto fabric, this is the fabric you need.
With the use of a sublimation printer to print out your design, you simply put the printout against your sublimation fabric and press it at a very high temperature under a heat press, which will transfer your image onto your fabric..no smudges! You can just leave it to dry for a short period of time, but that is it.
Your design printed on dye sublimation fabric could be turned into a cushion cover, for example, as seen below:
Our dye sublimation fabric is available using this link:

https://fabricuk.com/fabrics/745-dye-sublimation-fabric.html
You can use our white dye sublimation fabric to make all different items that you can print onto like these examples below:
Towels
Jumpers
T-shirts
Table runners
Table cloths
Placemats
Socks
Cushions (as seen below)

Samples or fabric metres can be ordered on our website fabricuk.com, or by calling us on 0121 3592349, also for any questions or enquiries.
Please feel free to visit our fabric showroom anytime, no need for any appointments.
Monday – Friday: 9.30am-6.00pm Saturday: 10.00am-5.00pm
Instagram: @fabricuk_official @kbtfabrics
YouTube: https://www.youtube.com/c/11KBT
Facebook: FabricUK
#FabricUK
132 Saltley Rd, Birmingham B7 4TH
Selling Fabric On & Offline Since 1969
---