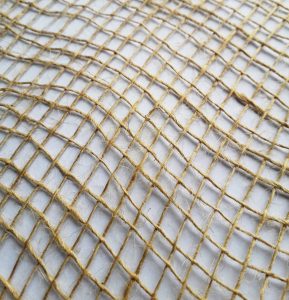 New to our hessian range is a simple large holed net fabric, known as hessian scrim. Lightweight yet heavy duty, the structure may be basic but this fabric shows a lot of versatility from creative projects to industrial use. The netting is made from 100% natural and biodegradable hessian yarn loosely woven into roughly 1 cm square mesh. The hessian is woven in a natural state so the yarn is rough and taught with no stretch. It's these attributes that make the hessian net so hard wearing and a great multi use fabric.
Creative Hessian Scrim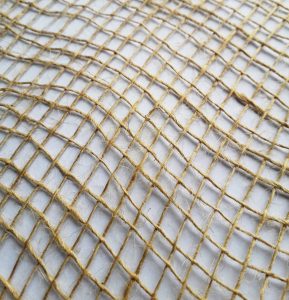 Choose to show it off or keep it hidden, either way there's plenty of creative ideas out there this hessian scrim netting can help with. For behind the scenes work, this netting makes an excellent framework for displaying decorative visual designs. The holes are large enough to intertwine, garlands, fake plants and foliage, lighting and decorations. The mesh would work equally as well as back structure for hanging banners and artwork. The hessian twine is naturally strong so it will be able to take a reasonable amount of weight.
Rustic Themed Events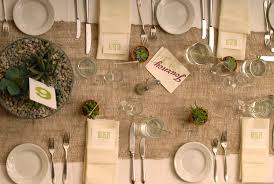 Events with a rural or natural theme are hugely popular, especially events of the wedding variety. Many couples are going for a look that emulates the carefree charm of a traditional countryside celebration. To get the aesthetic right, natural and neutral fabric is the first port of call. After that, all the rest of the decor will fall easily into place. The most popular fabrics used for this look are ;
Loom state cotton calico, a classic cream shade
Untreated hessian which is naturally a pale golden straw shade
Natural canvas, strong and washable at very high temperatures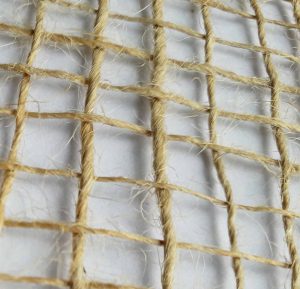 These fabrics all fall into the colour group of pale golden browns to cream. The rough look style of the hessian scrim will add practical and decorative aspects to the fabric collection and blend seamlessly with the colour scheme. The hessian netting could be used outdoors to create separating panels between areas, or walkways. These could be decorated with flowers, warm glow lighting or left as it is.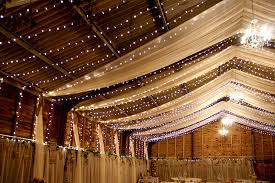 Hessian Scrim in the Garden
Perfectly blending with the natural aesthetics of the outdoors, hessian scrim is the ideal fabric to give a growing garden a helping hand. Fix the hessian scrim to existing fence panels and walls to aid the growth of climbing flowers like clematis. The strong net will act as grip for the plants to grab hold to as they reach for the sun. The natural look of the hessian net won't look out of place so you could use it anywhere in the garden. Add extra stability to your towering bean plants with a simple tent shape held up with bamboo.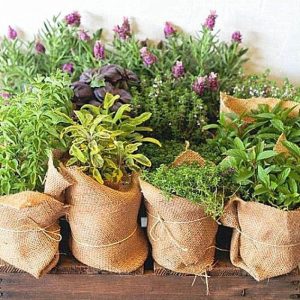 Of course when the hard work is done you have to add a touch of magic in the garden. Create a lighting panel by weaving strings of solar powered little lights in the net. You could hang this vertically or even over head to surround yourself in a canopy of twinkling lights. You could even write your name in them!
If you like the look of our Hessian Scrim call us up for a free sample and share your project ideas with us.
01213592349
---