Our Samples Department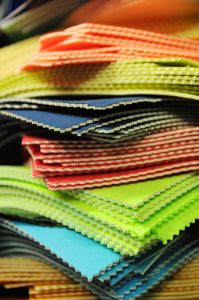 We have a samples department run by a dedicated member of staff who's sole job it is to pick and post the samples to you. We have a strategic method to ensure each of the fabrics gets a place in the samples department. New fabric has a strip sliced off then cut into smaller portions with a pinking guillotine. These are popped into clear wallets with its own spec sheet, to keep them clean and separate from other samples. The wallet is filed into its correct box -file. So when you call us, email or order online, the pre-cut samples are ready and waiting to be picked and posted straight to you with its own spec sheet attached.
We Take on the Brief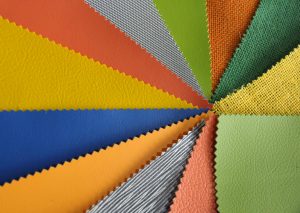 This pack was themed on an interior brief for a street food style eastern blend restaurant. The client wanted yellows greens and oranges to reflect the fresh food and spices, plus any ideas that would work with the brief were most welcome. Mid blue leatherette brings a balance between the spicy shades and fresh greens. The silver leatherette is to represent the corrugated iron commonly used in street food vendors stalls. Hessian is a widely available fabric that can be bought on a budget. Street stalls use it to separate and decorate the space. We picked fire retardant to be on the safe side.
Colour it Correct
One persons pale pink isn't another. One persons idea of dusky pale pink isn't another. It can be tricky to describe a colour, especially if your background isn't in the creative field. Luckily, we have members of staff who come from a creative background and know our russets from our burnt orange!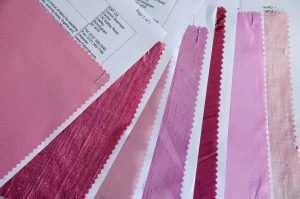 Even If you were to go for a classic red for example, fabric manufacturers version of a classic red can differ quite a bit. Red can range from a warm orange-red whist others may look more like a deep cherry red. Because of these differences its imperative to order samples. It doesn't take long to give us a call and order a free sample. You should get the sample in the post within a few days or quicker, then you can make a decision and get on with the order.
Call us up on 0121 359 2349 to get your samples!
---