Micro Fleece Waterproof Fabric
Our micro fleece waterproof fabric boasts a clever dual action of comfort and practicality, which makes it ideal for outdoors activities on many levels. If you need to throw on a jacket for a five minuet dash to the shops in the rain, this clever waterproof fabric will more than suffice. If you need your fabric to withstand a slightly longer outing in bad weather, it will handle fluctuating weather conditions with ease.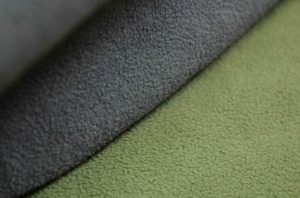 You can make a light weight throw on jacket ideal for taking the dog for a run, why not make one for the dog as well! Even weekends away in the country, spending time outdoors for long hikes or horse riding in wind and heavier rain this super fabric will come to your rescue.

Double Action Fabric
Designed to be warm and waterproof, this adept fabric excels in both these categories. The smooth outer layer is coated with Teflon which deters liquid so you can deal with the rain and what ever muddy splashes that get thrown at you.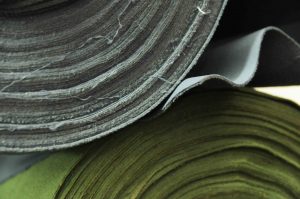 The inner micro-fleece layer offers comfort,softness and warmth. This will help as a wind break and help keep your body heat in. The fabric also has a slight four way stretch to it, which is very handy for outdoor activities. Just having that extra bit of suppleness to the fabric helps with body movement if your hiking,jogging, climbing, canoeing, fishing or riding.
The colours
Available in five colourways, we have classic Black, a bright bold Red, a smokey Dark Grey, mid Olive Green and a Tree leaf print that will definitely work as woodland camouflage!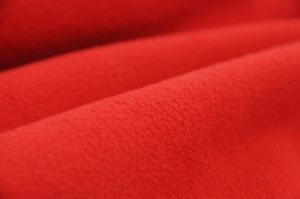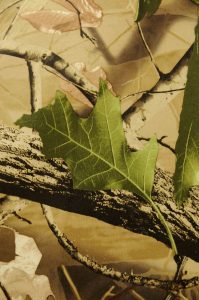 Clever Camouflage
This tree leaf print shows a slightly enlarged image of branches and oak leaves, either fresh and green or in their Autumn state. The woodland image is printed on the smooth Teflon coated side of the fabric, fully covering the side with branches and leaves in shades of green and brown.
Try a game of hide and seek in the woods with this fabric on a coat and I guarantee you will not be found, or wear it paint-balling and sneak up on your enemies!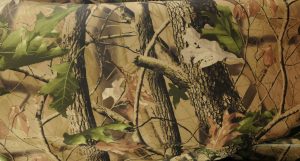 In or Out ? Micro Fleece for Pets
As well as being an extremely useful fabric for outdoors ventures this is a great fabric for lounging too. The micro fleece soft dry waterproof fabric is completely different each side, so this reversible quality can be taken advantage of in the home too. Pet blankets and throws can be used both sides or made into pet beds for all shapes and sizes.
You could even use the fabric for flooring in a pet house, or an area they eat or snooze. The Teflon coated smooth side up would help repel liquid in food splashes and coming in from the rain, making the mess easier to wipe up than using a fabric the mess would soak into. So instead of having to wash it all the time you can simply wipe up and save the washing machine. The micro fleece side would also add a comfort level to the pets area, especially if used on a hard floor,the double layer fabric would add a soft spongy feel, so its nice enough to nap on.
If you like the look of this fabric, call us up for a sample to get a feel as well! We have samples waiting to be sent so get in touch by phone email or Facebook.
Ideal for:
Outdoor Clothing
Work wear
Garments
Pet Bedding
Equestrian
Sportswear
Fishing
Camping
Fabric Specification / Construction:
Polyester Spandex / Thermoplastic Polyurethane film (TPU) / Polar Fleece.
TPU breathable film: 200g per square metre.
Hydrostatic head pressure: 10,000mm.
Colour fastness: >4
If you would like a sample of this duel action fabric just give us a call or order online.
Read our other blog post here
---