What is Awning Fabric?
The awning material we use is made from 100% acrylic fibre, a synthetic fibre made up from polymer. Acrylic fibre can be made into thick fluffy wool like yarn or even transformed into fake fur fabric.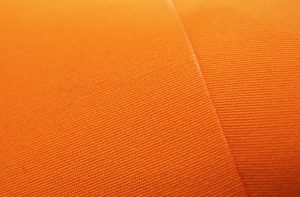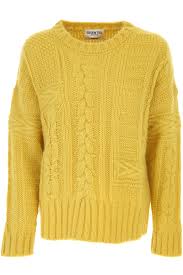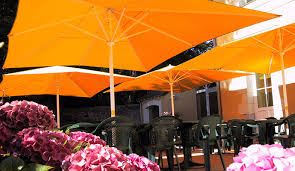 The acrylic fibre used for our awnings is tightly woven into a durable fabric, ready to use on shop awnings, garden parasols, patio shading or market stalls.
Water Resistance
Awning fabric is NOT 100% waterproof. This has to be made clear straight away as waterproof and water resistant are often confused. In time and torrential rain, some water will start to seep through the fabric. Awning fabric should not be used if you want to protect something completely from the rain, we stock plenty of 100% waterproof fabric for those jobs.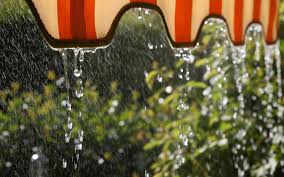 The coating on the fabric plus the very taut weave of acrylic awning helps defend from the many many types of rain we deal with here in England.
Drizzle, mizzle (that's mist and drizzle), light showers, steady light rain, even bursts of hail would all be managed by a traditional awning. However, prolonged torrential downpours would eventually see water seeping through the fabric.
Why Use Awning Fabric?
Whilst some fabrics may suffer in being outdoors constantly, acrylic has a proven reputation for resilience and its able to take changeable weather in its stride. Prolonged exposure to sun (that means Winter sun as well as hotter weather) as well as bitter cold can warp some fabrics, making them brittle and even drying up and cracking in some cases.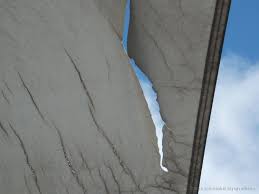 Coastal weather can also be problematic for lots of fabrics, the salt in the mist and rain can gradually corrode some materials that are used by the seaside.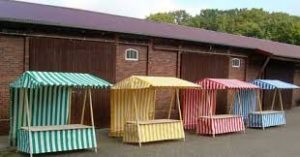 Acrylic awning fabric is designed to endure even the constant onslaught of changeable seaside weather from sizzling sunshine, to gale force winds that often build up on our shores.
Fresh Air
Breathability is the key here, although the fabric has a tight weave which shields liquid away as much as possible, the air can still get through. If the material used for awning was completely air tight it would become insufferably hot to sit under as the suns rays would bare down and heat the material, that heat would then transfer to who ever would be sitting underneath.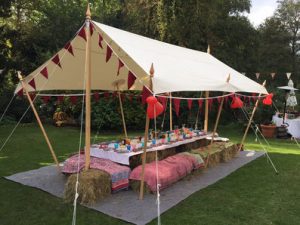 This inherent quality benefits the fabric as well as the user, air flow can circulate at a consistent rate keeping the temperature of the fabric down, so the people sitting underneath wont get over heated either.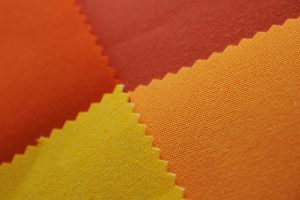 The breathability also increases longevity of the fabric by allowing the fabric to dry naturally after being subjected to mist, rain or frost. The air is able to infiltrate the fibres so there is less chance of condensation and stagnant water collating in the fabric.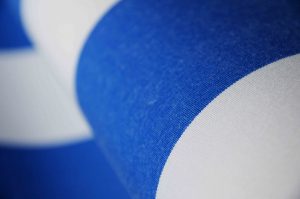 Made to Measure Awning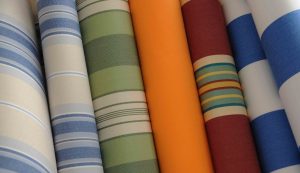 Acrylic awning fabric doesn't allow for any stretch so cutting and shaping for a made to measure awning or parasol is straightforward. If your current awning has seen better days, we can make you a new one using the measurements or you can send us the old awning to replicate.
---