Creative Garden Fabric, If you haven't already got a head full of ideas for your garden, the first thing to do is to get out there and take a good look, really look. It's very likely there is an area hiding in your garden or yard that will trigger inspiration.
Use existing fence posts, hooks and trees if possible to gather drape and hang all kinds of fabric for practical or decorative use. You can create a beautiful space that will protect you from too much rain or too much sun, without breaking the bank. Sometimes being thrifty and being creative merge together and once a few simple solutions light the ideas bulb in your head, more will pop up.
Find creative garden fabric here
The Fabric for the Task
There is plenty of choice depending on what you would like to see in your garden. We stock a perfect practical all rounder, our outdoor waterproof fabric comes in 16 colours including many bright options to add bold splashes of contemporary colour and style to your garden.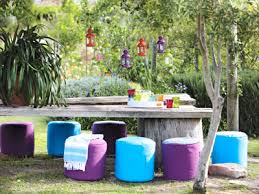 This fabulous fabric is fully weatherproof which means its not only waterproof but UV resilient as well so the bright colours you choose will stay bright. It can be crafted into large scale designs to cover wide areas and keep them dry, or used to create smaller portable shady areas.
Bums on Seats
Our outdoor waterproof fabric is also ideal for big garden throw cushions, seat and table covers and bean bags! The fabric will easily withstand all the usual rough and tumble a beanbag has to endure.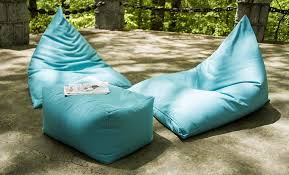 By finding the right fabric you can change the look of you garden completely or simply make you garden a more habitable pace to be. We stock several colours of high gloss glitter and block colour fabric that can be used to cover seating areas or for decoration for a striking contemporary or retro look. Or classic waterproof canvas fabric for upgrading any upholstery.
Useful Ideas
Whilst staring at my garden I had a brainwave as I'm sure many other creatives have done and one single inexpensive product suddenly appeared in the ideas vault….washing line wire. There are many colours to choose, and around £5 will get you about 30 meters of very strong waterproof flexible cord you can use to hang fabric overhead to protect from rain, or vertically to work as a windbreak or drape artistically to create a little shaded sanctuary.
.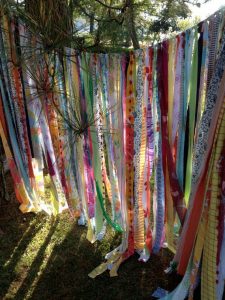 Just fold over a small section of the fabric all along the side to create a tunnel the washing line will go through. Depending on the weight of the fabric you can seal the tunnel one side by stitching, iron on hemming or stapling (yes really) ! Of course if you have a bigger more complex project in mind you can always give us your dimensions and we can do the hard work , just get in touch with our Textile Services team for more info. One particular idea I saw online impressed me.
This simple and ingenious idea can be used to give shade or protect from pesky showers, the way the fabric is attached in loops means you can move the awning as the sun moves or place it overhead when the rain appears.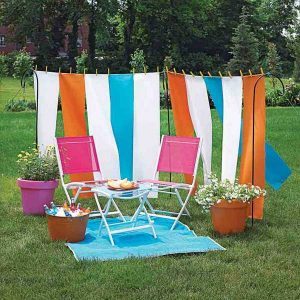 Another idea I have used before in my garden more of a decorative use is looping many different coloured and patterned long strips of fabric over washing line to create shade and colour for a pretty sanctuary. By simply stapling or stitching the loops together over the wire this could hang vertically or if you loop the other side it can hang overhead. Also this method could be used to create a more uniform block colour look.
You can also make additions or upgrades to basic garden furniture you already have. Adding sheer organza fabric vertically to an existing parasol will not only keep annoying fly's away but will surround you in a create shimmery haven.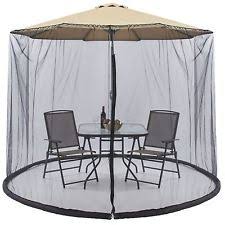 If you do have a larger scale idea for your garden you need help with we can bring your own creations to life.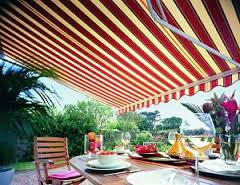 Our Textile Service will create made to measure awnings, seat covers, garden marquees or your very own bespoke design to your exact specifications, including additions of metal eyelets and clear PVC windows. Contact us to get your project rolling.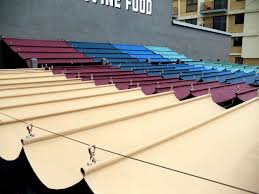 Outdoor Waterproof Fabric

– http://www.fabricuk.com/fabrics/787-outdoor-waterproof-fabric-fire-retardant.html
High Gloss Glitter

– http://www.fabricuk.com/fabrics/448-high-gloss-fire-retardant-glitter-vinyl.html
Awning Fabric

http://www.fabricuk.com/search.php?qry=awning&Search=&option=fabric&qry_submit=1
Waterproof Canvas

– http://www.fabricuk.com/fabrics/619-canvas-waterproof-12oz.html
Organza

– http://www.fabricuk.com/fabrics/32-crystal-organza-fabric.html
---