Silk Dupion
Silk Dupion is synonymous with luxury, a fabric made for special occasions and showing off.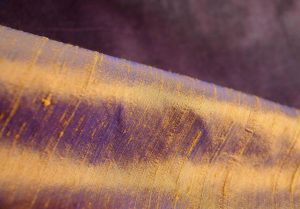 Seen in clothing from smart suits to elegant dresses and opulent interior designs on drapes and cushions. If you would like to know more about our dupion range, have a good look at the many colours available and learn a little about how its made, read on….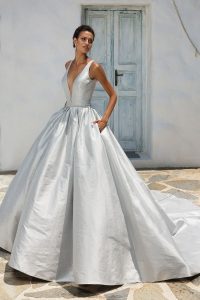 Dupion also goes under the name of Douppioni or Dupioni and is commonly known as raw silk. The method of production uses a smooth fine yarn in the warp and uneven yarn in the weft which produces a textured slub that runs through the plain weave fabric.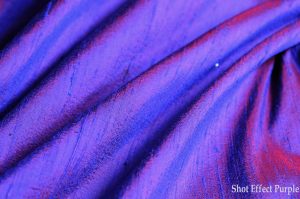 Dupion fabric is an 100% silk fabric that has been made traditionally in the east for hundreds of years in Thailand, China, Japan and India.
Although many machines have taken over the work of hand making the silk thread and the lengths of fabric there are still plenty of traditional silk workers using the same process that has been used for centuries.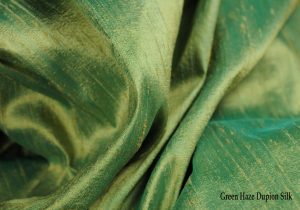 For example, one particular area in India called Varanasi is still one of the major producers of silk. The network of villages in the area have been making silk and dupion silk for many generations. In fact, so much is made that most wedding and event dupion fabric is sourced from this small cluster of villages.
The yarn made from silk is very receptive to dying, so a huge multitude of colours are available. In our store we stock around 80 beautiful shades which vary from block colour to fully two tone dupion silk fabrics.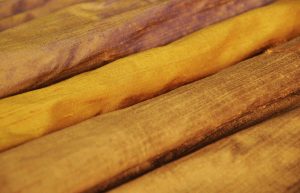 Most dupion boasts a beautiful two tone effect which differs depending on the two shades used to make a length of fabric. This method of pairing two diffing shades and weaving them through the weft and warp creates a beautiful effect resulting in either…..
High light – main colour and paler or white
Low light – main colour and darker or black
Two Tone – two separate colours
Block Colour – same colour on weft and warp
The colour collection
Below is a guide to the fantastic range of colours we have in stock. All the shades of dupion silk fabric have a lovely lustre over the surface due to using the two types of silk thread to create the two tone effects within the fabric. I have two photos here to give you an idea on the difference when light is angled on the fabric.
Sandy pink and shell shades, glowing embers and ambers. This warm collection of dupion silk fabric reminds me of bonfires on the beach.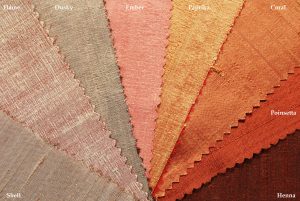 Soft dusky pinks and deep burgundy shades of our Dupion Silk Fabric.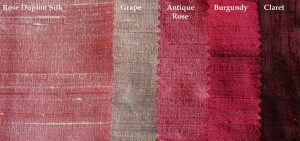 Bright Blues to Power Purples Dupion Silk Fabric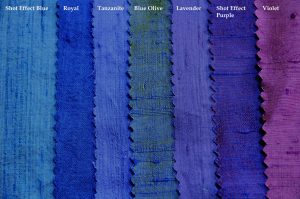 Dupion silk fabric in delicious saffron and caramel golds, rich yellow creams, creamy coffee and dark mocha shades. A very edible collection!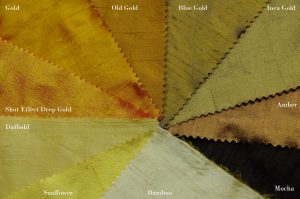 Earthy green shades options of Dupion Silk fabric…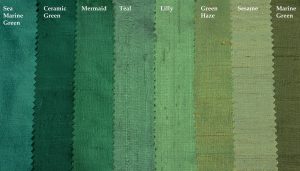 Forest green to tropical turquoise shades…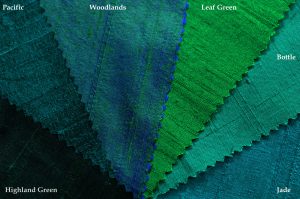 Clothing
Dupion has been popular with luxury clothing for centuries. The structure of the fabric is taut with no stretch. This taut quality works particularly well for dressmaking, detailed patterns can easily be cut and shaped to fit perfectly.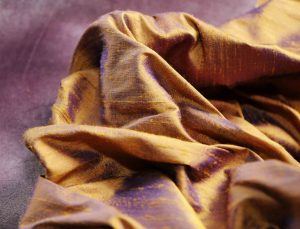 This made dupion silk an ideal fabric for corsets, as well as the lustre of the fabric and the taut properties, dupion silk is also a breathable fabric, meaning it allows a certain amount of heat to leave the body. especially wedding dresses, smart waistcoats, bridesmaid dresses, and dresses for occasion wear such as prom nights or dinner dances for many years, as well as this classical use some designers are using the fabric for more contemporary designs too.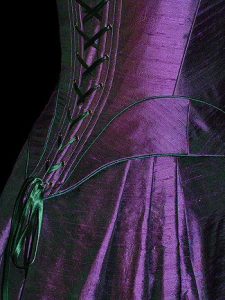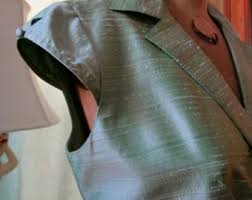 Classic corsets and corset dresses often make the most of the luxurious finish and natural strength of dupion silk.
Interior Design
Though dupion has been used for grand interior designs huge draping curtains and grand style furnishings for centuries more contemporary designs are using this fabric in smaller touches such as lamp shades to larger statements like bedding and wall covering.
If you have a project in mind, a wedding, interior design or outfit, Feel free to contact us for samples of the stunning shades we have so you can see for yourself just how gorgeous this fabric is.
you can call us on 01213592349 to request samples.
http://www.fabricuk.com/10-silks-and-habotai-silks
---