Awing Fabric
Awning fabric, Wouldn't it be amazing if you could transform your garden into something like the Botanical gardens located near us in Birmingham? Summer season is on our doorstep so we're just in time to help you get your outdoor home geared up for Sunday afternoons of lounging in the sun. First step is to get your garden lawn cut and flowers planted and then you can follow these visionary ideas to show off at a garden party, when hosting a barbecue with friends or relaxing with the family. Plus I have included some useful information on fabrics which are recommended for outdoor use so that you can effectively spruce up your exterior lounge.
Storms Don't Last Forever but These Awnings Might Do
Well maybe not forever… but weather performing acrylic awning material is one of the best fabrics for outdoor use. We stock this high performance material, which is made in the same way as Sunbrella fabrics, in a few dozen colours. Awning has a natural cotton look and allows for fabric to be produced in vibrant colours, stripes and patterns. Acrylic awning is long lasting, waterproof, easy to maintain, offers great solar protection, is resistant to dirt and has good colour fastness. Perfect for what you need outdoors right? I don't think you could find a much better fabric for the job. It is called awning because it's especially useful for the purpose of covering windows and conservatory glass to shade from intense heat, lasting for years in a permanent place. They can also be used for other outdoor coverings too.
The awning fabric is so weather proof as a result of the clean guard treatment which it is given, Clean Guard injects the fabric with superior resistance: water and dirt repellence and resistance. Sunacryl is the type of fibre from which the awning is made. The fibres are created from an acrylic solution; this solution is made with the precise finished colour for the fabric, meaning that the colour will be much stronger and longer lasting than fibres and yarns dyed after they are produced. This is particularly crucial for upholstery situated permanently in outdoor conditions, especially under direct sunlight, to stop it from fading.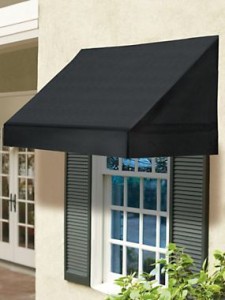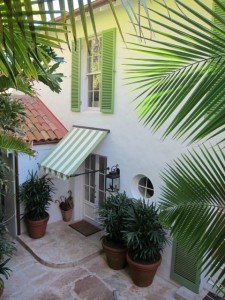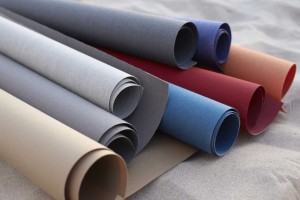 Brighten Up Economically With PU Coated Fabrics
This fabric is usually made from polyester and has a polyurethane (PU) coating to make it weather resistant. It is nowhere near as costly per metre as the awning fabric because the ability for it to last is not as resilient: it has a lower tear strength and becomes less waterproof over time from weather causing the polyurethane chemical to break up. Nevertheless this type of fabric is perfectly suitable for outdoor use and is commonly used for tents, although note that there are more durable options available such as silicone coated nylon even though this is compromised by the higher price. PU fabric can come in different weights, we supply a 4oz, 7oz and 15oz in bold, pastel, neutral and bright colours. They can be used for small cushions and bench cushion covers for example and a nice idea is to add a (weather proof) trim to style them up such as below.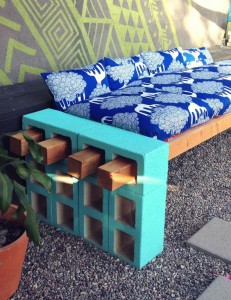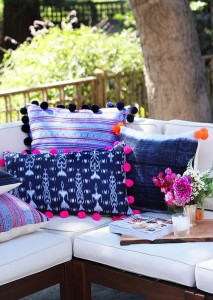 The Natural Solution: Cotton Canvas
Cotton canvas is the in between option of these two fabrics. The cost of it is less expensive than awning but more costly than PU synthetics. It is a plain weave fabric and fairly heavy duty with a similar feel and weight to the awning. Cotton can also be used for tents although synthetics are now more common; still the well-known breathable properties that cotton benefits from is ideal for making it cool on a hot day but not too cool either. Other advantages include its natural water resistance and favourable durability. Cottons' water resistance works by the cotton fibres expanding when it becomes wet, preventing water from being able to get through the holes in the weave. It is suggested that the fabric be given a water resistant treatment once a year as moisture can remain in the fabric and eventually make its way into the cushion, although for tents treatments can compromise the breathability of the fabric.
Ingenious ways of using cotton canvas outdoors include plant pot covers for the patio and a hammock hung between tree branches in the garden…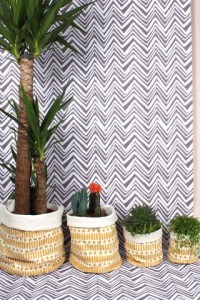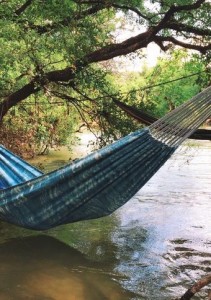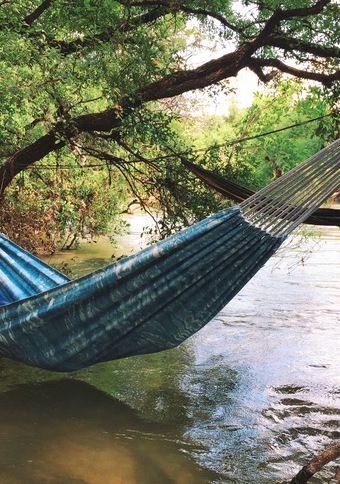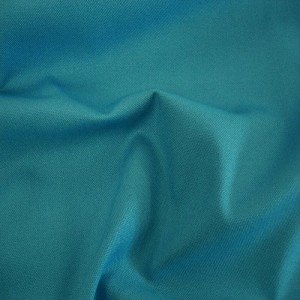 We want you to engage with our social media and blog. You can easily comment on these posts by signing in through Facebook or Google, so please do leave comments below for any questions you would like answered or drop what you think of the post!
---