We have several canvas fabrics to choose from here at Fabric UK. Each one is particularly suited to a set of tasks due to the difference in weight, texture and finish. Below I have compiled chunks of information to help you decide which canvas is best suited to your project.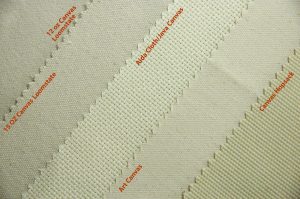 Artists Cotton Duck Canvas – KBT 2806
Our top quality art canvas is made from natural cotton duck; this type of canvas boasts a firmer structure and a smother finish than average canvas so this makes it ideal for its most popular use as the go –to fabric for artists and painters. The name "cotton duck" fabric has actually has nothing to do with the feathered variety , it's derived from the Dutch word "doek" which has a few similar meanings including, cloth, canvas and curtain, so over time the term canvas duck became the official name for the material used for artists canvas.
Our cotton duck canvas is constructed using a suzler machine, using a hopsack and twill weave to achieve the densely woven structure, giving the fabric a medium to heavy 12 oz per square meter weight. This artist's canvas can be used normally or stretched over a stretch frame from small pieces to much larger scale work. Its dense weave is perfect for applying paint whilst the natural loom state of the fabric means it's also breathable, so air and moisture can move through, rather than settling in the fabric.
100% Cotton Hopsack Canvas – KBT 295
An extremely tough and hardwearing medium to heavyweight type of canvas made from 100% cotton and constructed using a hopsack weave. The thicker weft and weave creates a very firm and taut structure weighing around 10oz per square meter.
Cotton hopsack is a great choice if for practical projects that need extra durability as well as small and large scale crafting ideas. It's easy to paint on to make large signs and banners, and very receptive to dye so you can colour the fabric in any shade you want.
Popular uses for this type of canvas include many outdoor projects, from garden furniture to tool holsters bags and aprons. The heavy duty nature of the fabric gives better protection and can withstand constant and vigorous usage, so furniture coverings and table coverings are ideal.
The naturally occurring cream colouration of this fabric works very well with neutral themed interior designs, and with the fabric being made from 100% cotton its eco- friendly too. This thicker type of canvas looks great alongside our thinner cotton calico rough style and hessian fabrics.
Water Repellent Coloured 12oz Canvas – KBT 4703
KBT waterproof canvas is available in a range of 13 colour choices. All colours have a weight of 12oz per square meter / 340g per square metre and a width of 182cm. The coloured canvas is made from 100% cotton to form a traditional cotton duck canvas which has then been treated to make it water repellent and ready for tough outdoor jobs.
The structure of the canvas is taut, allowing for no stretch at which is a good advantage for the robust uses this fabric is popular with, yet still easily manageable and can be cut and stitched into a number of traditional outdoor items.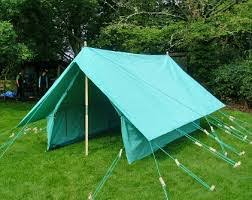 Coloured canvas is ideal for creating all kinds of outdoor spaces for all kinds of events. Classically used for traditional tents, yurts and tepees this fabric comes in 13 colours to choose from so we can also cater for events such as weddings and parties that need marquees and awnings in a particular colour scheme, but please note this is not UV stable so the colours will eventually start to fade in prolonged sunshine.
Heavy Duty Waterproof Tarpaulin – KBT 1971
Due to its reliability this heavy duty water proof tarpaulin fabric is a popular choice to use when protectingitems against the elements. It's essential for larger items that are kept outdoors to be protected, so boats,cars, motorbikes all benefit from using this thick canvas to keep most of the bad weather at bay, and when travelling this canvas is great for covering lorries or smaller trailers.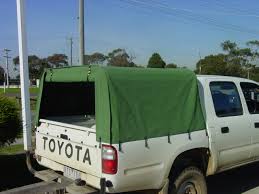 Made from traditional duck cotton canvas, this variety is more heavy weight than our standard water repellent canvas. Measuring at 91 cm wide and available in two colour options of bright jade green and classic black. This has been treated to make it water repellent but still breathable and rot proof so prolonged outdoor use shouldn't stop this hardy fabric protecting classic cars to cargo. The fabric can be easily stitched to form a protective covering for any item you need.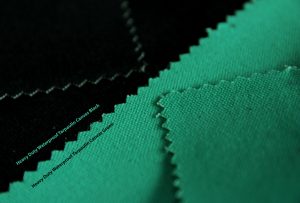 Coloured Cotton Canvas – KBT 6646
From the practical to the creative, the uses for this great quality coloured canvas are as many as they are varied. The cotton duck has a taut structure and rigid feel whilst still being pliable enough to get creative with. The versatility of this canvas makes it a popular choice with infant to senior schools, creative studies, textiles, arts and crafts and drama will have plenty of uses for this fabric.
The dense surface lends itself well to artistic projects; it can be painted on for stage backdrops and banners, cut up to make letters and shapes even splashed with glue and glitter!
It's the right weight and density to create all kinds of accessories but particularly good for ones with a practical use. Bags are the top choice for this hardwearing coloured canvas, along with purses and wallets and canvas shoes, these items have constant and repetitive use so the durability of the coloured canvas is ideal. The canvas can be cut and shapes into any design you want, sewn onto easily and it will withstand heat treatments like hot fixing rhinestones or transferring images.
This quality canvas is ideal for creating accessories, Whether this fabric is used for fun personal projects or practical designs it's a creative essential so its a good thing we have 13 great colours to choose from. Take note though as the fabric is not UV stable so in time the colours will eventually start to fade in prolonged sunlight.
Looms

tate Cotton Canvas – KBT 3521
Our loomstate is made from a plain cotton weave and has a medium weight of 12 oz per square meter. Loomstate is the term used when a fabric literally ready to use straight from the loom unprimed in its natural state with no treatments or additions.
Canvas fabric is well known for its strength and durability and since its mass production in the early 20th century its popularity has grown along with its varied and practical uses. Adaptable to weather conditions, breathable and with the ability to be forcibly stretched, loomstate canvas was originally used for artist's canvas, upholstery, tents, coverings, sails and awnings. The modern water repellent equivalent is now the preferred choice for outdoor work but natural loomstate is still popular for many other uses.
Whether you go for loomstate or treated is personal preference. The loomstate canvas will have slightly more texture with slight pulling of the fibres and un- broken husks within the weave giving the fabric a peppered effect. This natural look works perfectly when creating traditional or neutral interior and exterior designs for the home, or country style arts and crafts.
Textile Service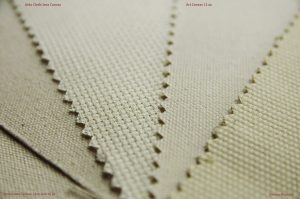 Feel free to contact us if you have a project we can help you with, with our bespoke service we create any item to your specific requirements. If you have a canvas inspired project in mind, be it a craft idea or a huge marquee we can help to bring your idea to life.
With our made to measure service, we can create the ideal outdoor space for your event and will add any necessities you need from clear panels and windows to brass eyelets for rope and bungee elastic. Give out team a call to discuss any ideas you have.
Or if you intend to create a one off item for yourself, bespoke designs for your business or a large amount of the same design, we can help your designs along by adding extras if you need to. Metal eyelets inserted for drawstring bags or in canvas shoes for laces for instance, or clear pockets for ID cards in wallets and bags; we can do that for you, just get in touch with our team.
---