Know Your Sparkles
As connoisseurs of all things shiny know, there is a big difference between something that shines and something that sparkles. If you are choosing Christmas sparkle fabric for your visual merchandising, displays or fashion design you have to ensure the vision is understood by everyone you are working with from the people sourcing the fabric to the people selling the fabric themselves! If you have aver been ever so slightly annoyed if someone says" oh I love your sparkly top" when you know full well its a more of a liquid flat shine then you may well appreciate this blog. Send it to anyone who needs to learn their twinkle from their shine.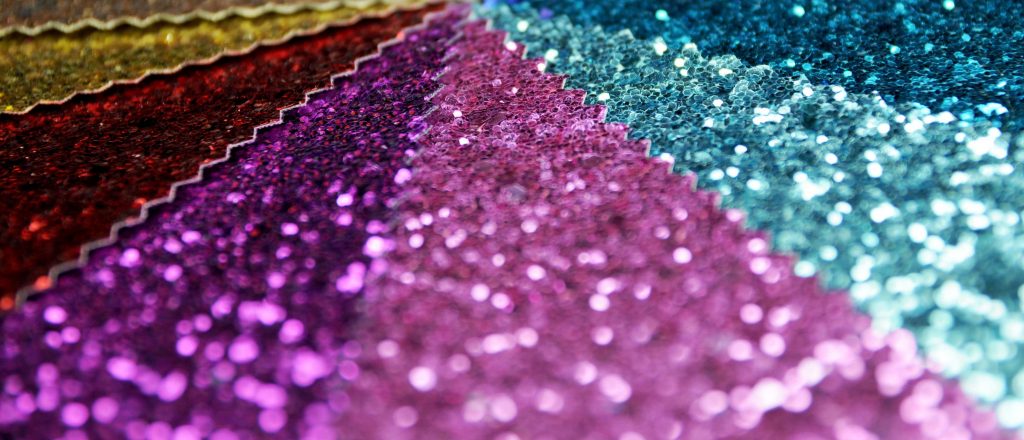 OK, that may have sounded a bit pedantic but knowing the difference is important when describing a fabric to someone and when ordering online. Visual merchandisers, interior designers, set designers, artists and clothing designers should all know the differences, however subtle. When creating anything from scene or a garment you often need to describe your design to someone who wont quite see the difference in their mind, until they see the real thing. Maybe this blog will help.
Terms like sparkle or twinkle refer to materials that catch the light in a multitude of places. The size of the pieces and the direction they face determines the way light reacts with them. The smaller the pieces, the finer the sparkle, so it becomes more of a twinkle. When thousands of tiny facets that all face the same direction, they work together so the fabric can become more of a fluid shine. Whereas when light hits Glitter fabric the multitude of facets face different random directions, creating more of a sparkle to the fabric rather than a pure shine.
Keeping Score
Instead of my in depth descriptions that wander on for miles, I have devised a bullet point guide and a points out of 10 guide to help out anyone choosing their sparkle fabric! This is applied to fabric we sell, but will also help with any shiny fabric you come across in life!
I have used terms such as ;
Metallic
Shimmer
Sparkle
Shine
Wow Factor
….to help with understanding the fabric. For a good example I would say Large Display Glitter Fabric has a 10/10 sparkle and the Fine Display Glitter has a 10/10 twinkle. So scroll scroll through and like a top trumps for fabric, compare the scores….
Large Display Glitter Fabric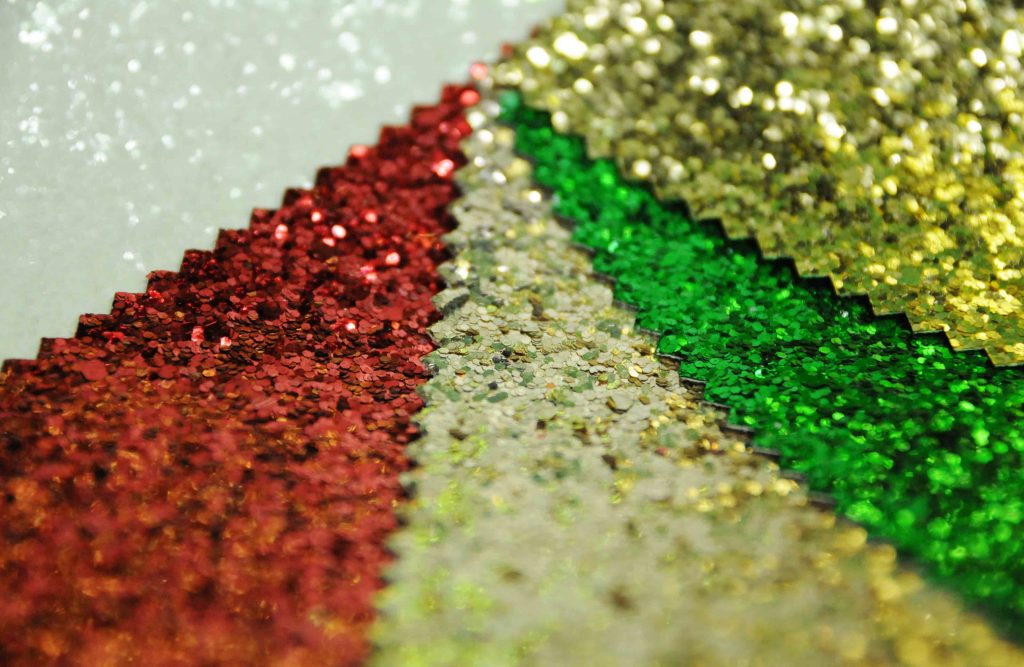 Heavy duty use
Visual merchandising or dressmaking
Large and chunky glitter
Glitter one side
Interior design
Shops, cafes, retail
Thick polycotton backing
100% glitter coated
Width – 140 cm
Price – £18.99 per metre
Sparkle 10/10
Shine 10/10
Wow factor 11/10
Lurex Metallic Mesh
Sheer fabric
Clothing
Visual merchandising
Chain look
Same both sides
Dark gold and silver colours
Stretchy
Drapes well
Price £4.99 per metre
Width – 150 cm
Sparkle 7/10
Metallic 8/10
All Over Sequin Fabric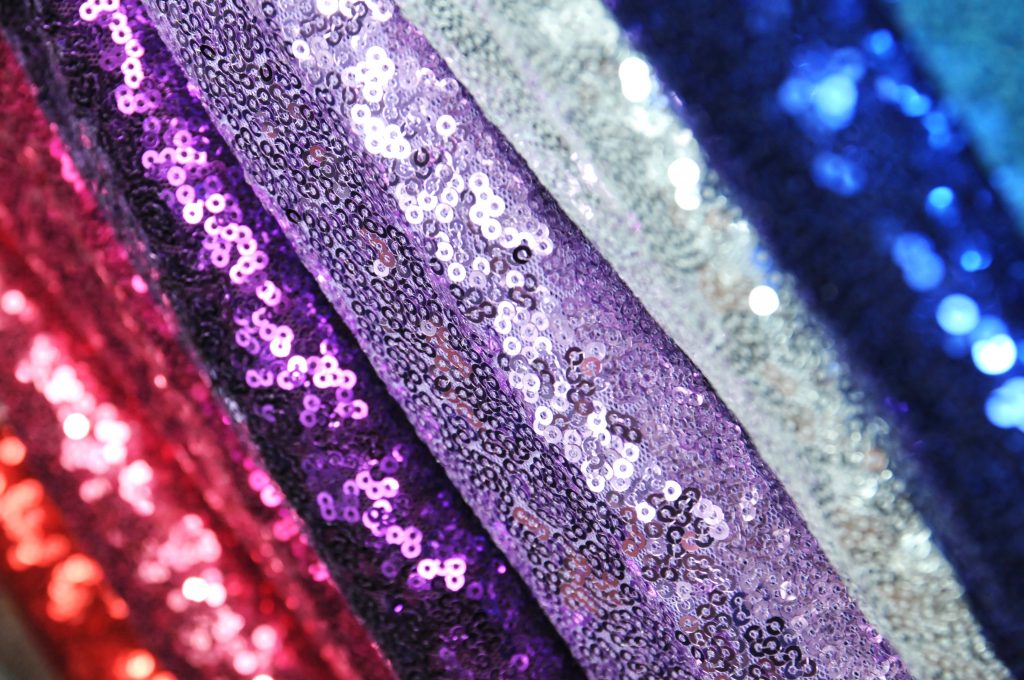 Mesh covered with metallic round sequins
Dressmaking or display
Timeless style
Reasonable stretch
Price £6.99 per metre
Width – 137 cm
Sparkle 10/10
Wow factor 9/10
Metallic 9/10
Holographic Cyber Streak
Printed holographic foil on polyester satin
Non stretch
Strength of holographic colour display depends on lighting
Amazing in sunlight
For Clothing or display
Set design, visual merchandising
Good quality holographic refraction
Price – £5.99
Width – 111 cm
Sparkle 7/10 (because of the black satin)
Shine 7/10
Wow factor 8/10
Fine Display Glitter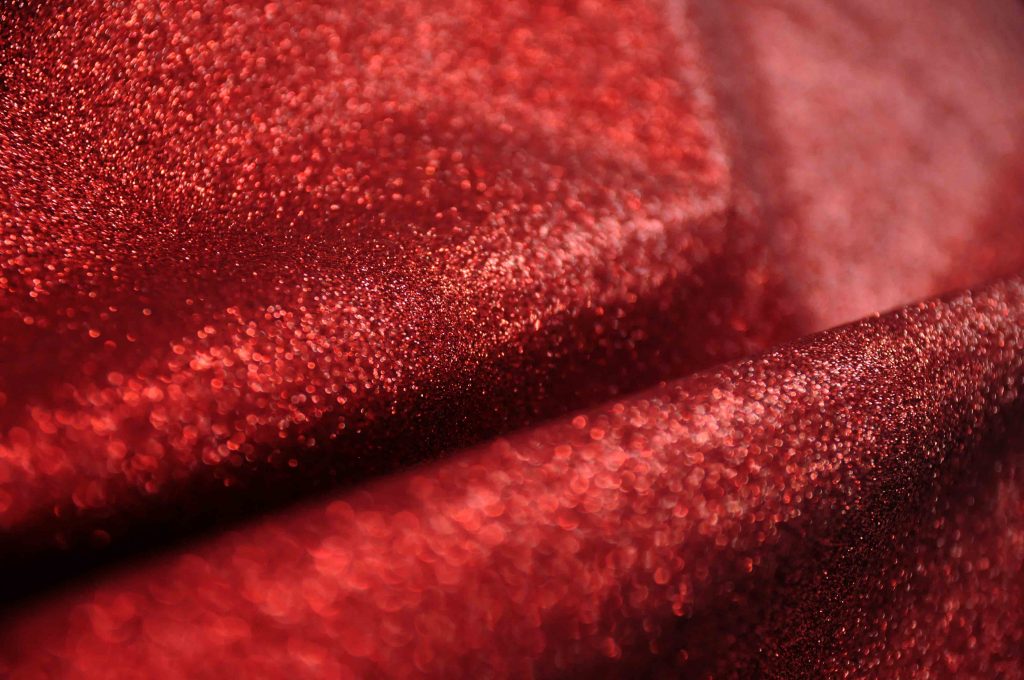 Very fine glitter
100% coverage
Glitter one side
Classy sparkle
Strong polycotton backing
A softer sparkle than the large glitter
6 colours available
Visual merchandising and display
Corsets and cosplay
Price – £18.99 per metre
Width – 140 cm
Twinkle 10/10
Shine 8/10
Metallic 8/10
Glitter Gloss Vinyl Leatherette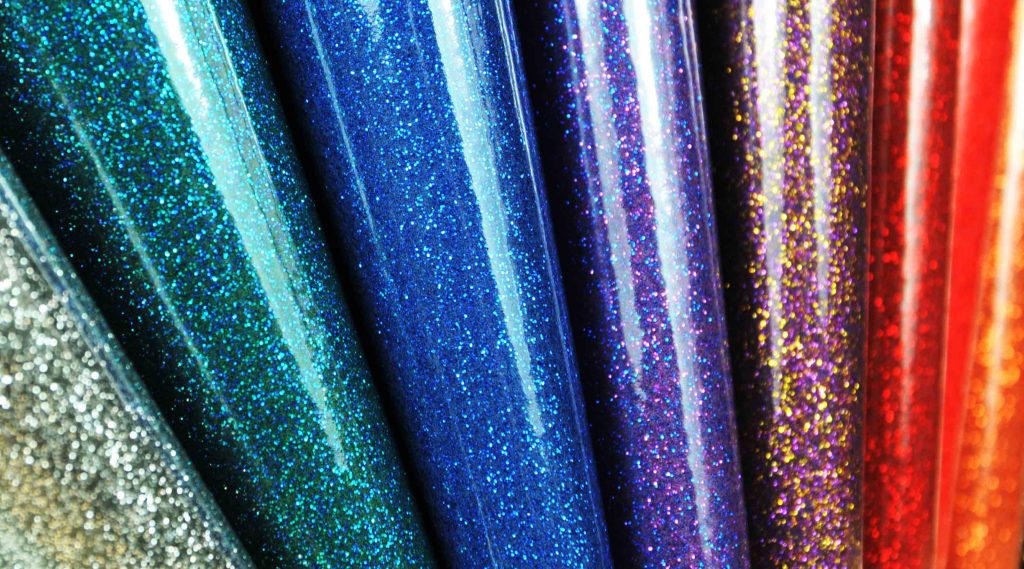 Fire retardant
leatherette vinyl
11 gem colours available
Thick glitter layer
Smooth gloss surface
Price £22.99
Width 140 cm
Gloss 10/10
Sparkle 8/10
Paper Lame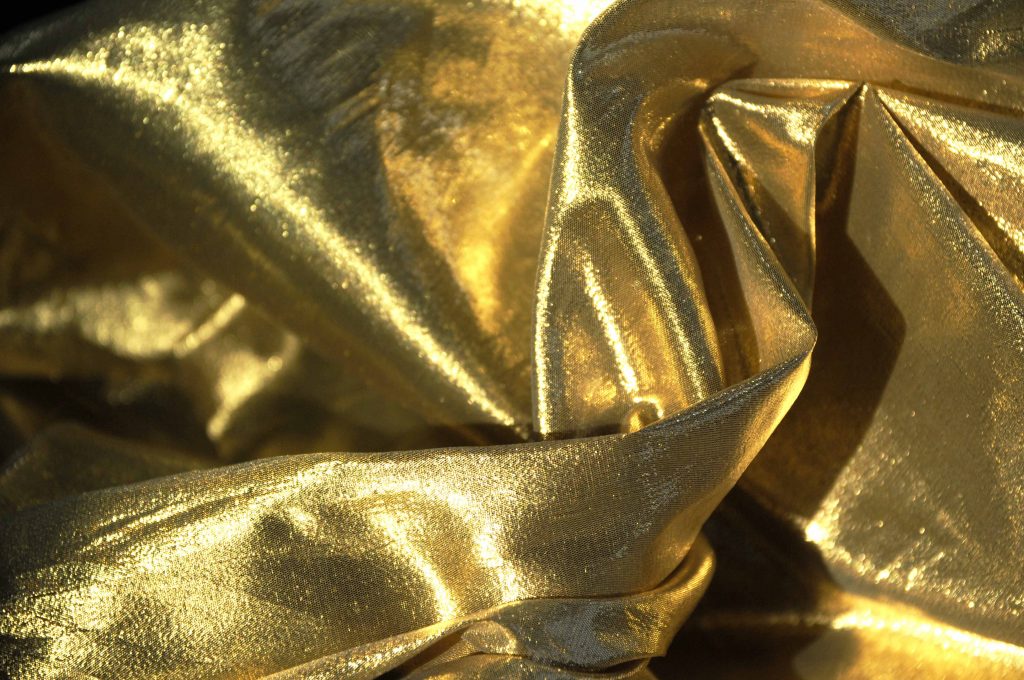 Crisp stiff texture
Available in Gold, silver and royal blue
Slightly textured shimmery metallic
Semi sheer fabric
Same finish both sides
Non stretch, smallest amount of give on the bias
Price £3.99
Width 112 cm
Shimmer 7/10
Shine 9/10
Metallic 10/10
Liquid Microdot Lame
Fluid Liquid Shine
Dots can only be seen up close
In white/gold, black/gold and black/silver
Drapes beautifully
Smooth metallic finish
One metallic side
Non stretch, but a small amount of give on the bias
Price £3.99
Width 112 cm
Shine 9/10
Shimmer 6/10
Metallic 10/10
Holographic Foil Dot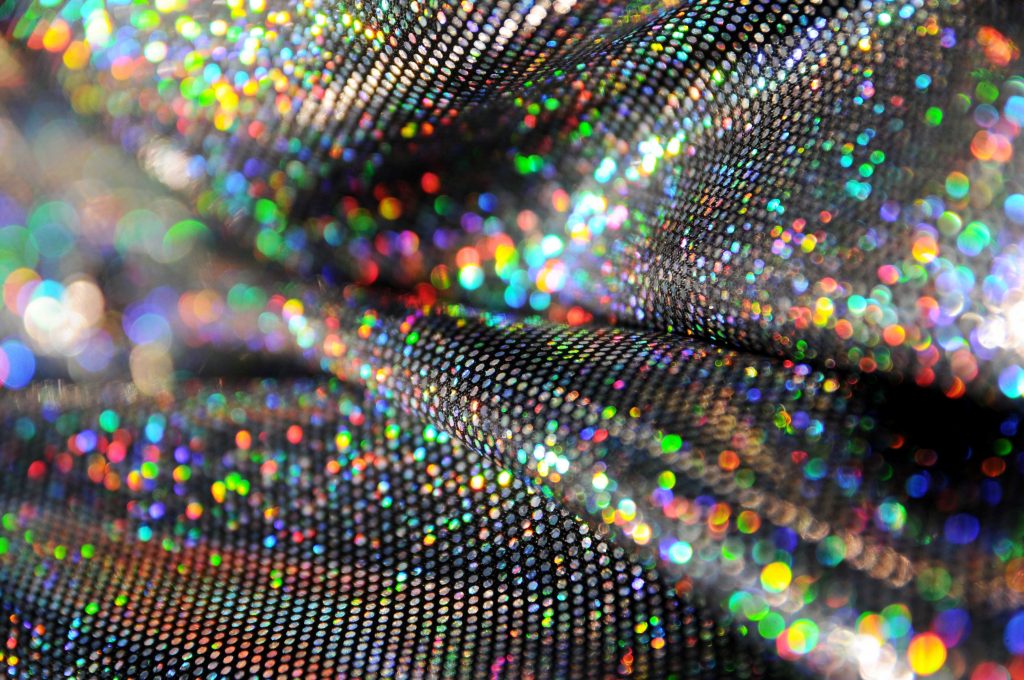 Made from metallic dot printing, not quite as tiny as microdot lame
Reflects the WHOLE spectrum
Available in white or black background
Stretch fabric, large stretch on vertical, medium on bias and a slight give on horizontal
Good quality holographic print
Strength of holographic colour display depends on lighting
Sparkle 10/10
Shine 10/10
Metallic 10/10
Wow factor 11/10
Glitter Mesh
Fine net or medium net
Lurex and polyester
Sheer fabric,
Display merchandising
Dressmaking
Costume
Price £3.49 per metre
Width – 138 cm
Shimmer 6/10
Metallic 6/10
Metallic Stretch Fabric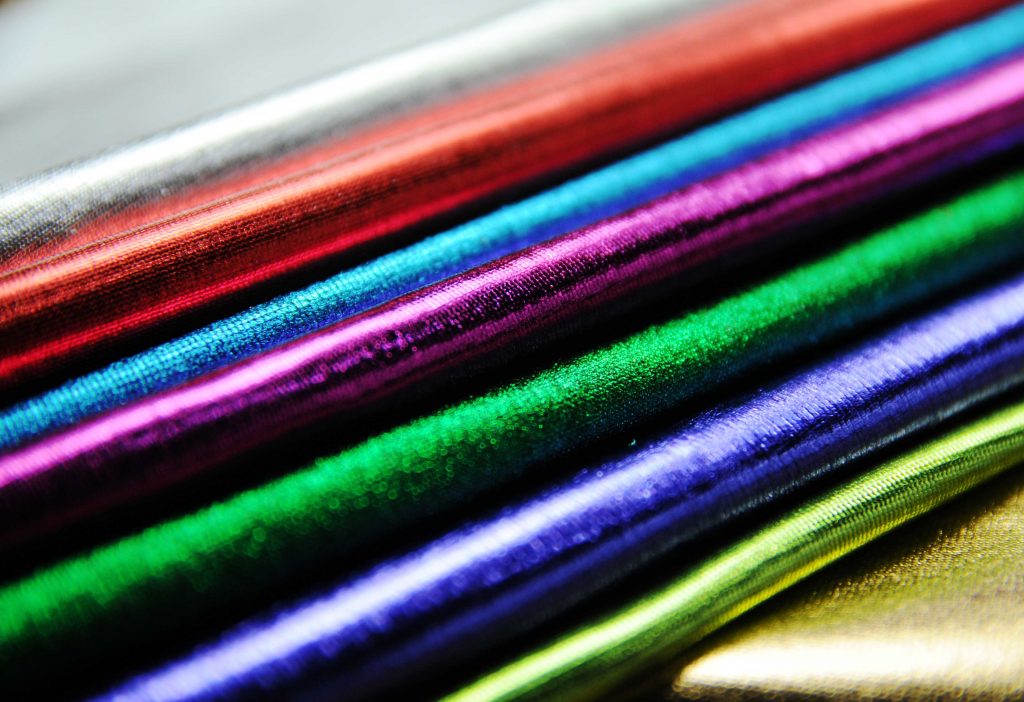 Dance-wear leotards leggings
90% nylon 10% Elastane mix
Metallic colour one side
Block colour
Price £7.99 per metre
Width 143 cm
Metallic 8/10
Shine 8/10
There's More….
So that's a general idea of the different types of shiny and sparkle fabric we stock online and in-store. We have more though, lots of sparkly Lycra dance-wear, sparkle lace and jersey, plus more fabric up our sleeves hoping to appear next year. Watch this space and check out the website. https://www.fabricuk.com/
For an even closer look at more of our sparkle and shiny fabric, check out some links to Lurex, and Sparkle fabric for visual merchandising….
Kat, Fabric UK
---