Tag:
biodegradable fabric
Cotton Calico is a hugely versatile fabric with uses from the practical to decorative.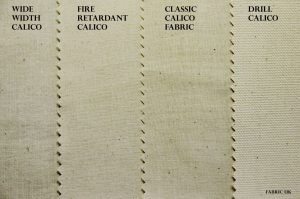 The four main types of cotton calico in store are regularly sent out to a vast mix of businesses. Some is needed for printing patterns for clothing, some industrial use in building and construction, lots for interior design for draping, theatre use for backdrops, and of course is integral for fashion and design for use as toilles fabric (practice clothing). Have a read on to find out which type of calico best suits your needs.
Continue reading "Types of Cotton Calico Fabric"
---
For help and advice please call us on Tel: 0121 359 2349