Valentines is just around the corner so we've compiled some fabrics and looks which are just right for this time of the year and why not for the rest of the year too! These irresistible valentines fabrics are all about elegance, impeccable drape and beautiful aesthetics, perfect for the occasion!
Crepe Backed Satin
Crepe backed satin KBT6456 which can also be called satin backed crepe, has the lustrous feel and shiny look of the satin weave on one side and the pebbly feel from the highly twisted yarns of the crepe on the other side. Both the satin and the crepe side can be used as the right side of the fabric. Use this mulberry colour with black lace to make a darker, seductive look for an excellent valentines dinner dress or a bralette as below.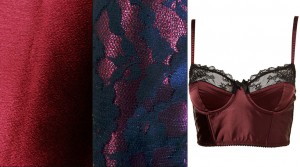 Chiffon
Chiffon is a lightweight, plain weave and sheer fabric. Ideal to use for a blouse, lingerie, or an overlay fabric of a floaty dress. Chiffon can create beautiful folds in a garment and makes a pretty ruffle effect for a romantic look. It uses a combination of highly twisted Z and S twist yarns, meaning that some yarns have been twisted clockwise and others anticlockwise. On the left is our chiffon (KBT5323) in lipstick which can be used to make an item such as the chiffon garment on the right.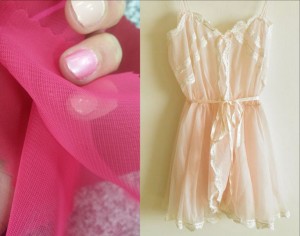 Silk Satin
Our silk satin (KBT6440) is a fun and glamorous fabric. It has a very lightweight silky drape as it is made from silk fibres consequently giving this fabric an extremely supple handle. As part of a garment, silk satin yields breathability and provides ultimate comfort next to the skin. Use it for luxury lingerie or to give a casual playsuit or jumpsuit an expensive and sophisticated look. Add pretty details such as lace, diamonties and black satin as a bow for added interest.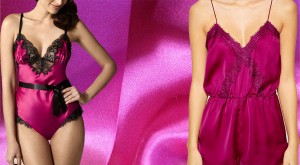 Faux Fur
An ethical way to make a fun and playful valentine outfit is by using this faux fur (KBT3073) which is fantastic for a skirt or used as the trim of a dress such as below. Faux fur makes simple garments much more interesting and eye catching instantly. You can use this faux fur for daywear to evening wear in addition to making craft items e.g. furry pillows. Why not team it with our love heart fleece (KBT6089) to make a fun set of valentine cushions.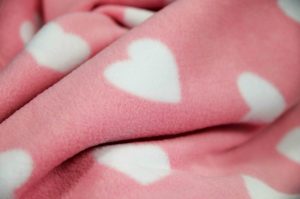 Have you made anything with fabric for Valentines? What are your favourite valentine fabrics? Comment below! Don't forget to follow Fabric UK on instagram: fabricuk_official and on twitter: @fabricsamples to keep up to date with all our latest news and posts 🙂
---