The sun has been shining for the past week which means we're finally jumping into spring! Weather is clearly a big factor in fabric and garment choice so that we can stay comfortable and warm. The March to June period is a favourable time of the year as you can team both heavier winter fabrics with cooler, free flowing fabrics. Classic springtime materials include lightweight, insulating fabrics which 'breathe' to allow for the rise in temperature as the weather becomes milder compared to the cold winter. Prints gladly look more fresh and fun with summery, neutral and lighter colours in the form of florals and stripes. Below are our top 4 spring fabrics:
Floral and a paisley print cotton lawn
Cotton lawn is very soft and supple cotton fabric made this way by using certain finishes. It is a plain weave, woven using fine yarns with a high thread count. It can be used for dresses and lightweight trousers with examples of how to use it in the pictures below. Afterwards you can layer it up with jackets and cardigans.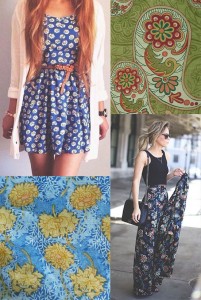 Quilted suede/ water resistant fabric
The season of the bomber jacket. This is a popular fabric here at Fabric UK and one which we regularly stock. In recent years quilted jackets have prominently entered the fashion scene for both men and womens wear. Quilting holds the wadding still between the outer and lining fabric and at the same time gives an edgy padded look whilst the wadding traps still air, increasing the garment's insulating properties.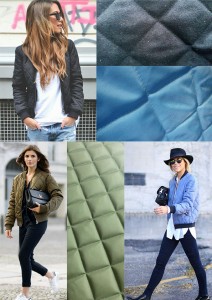 Stripes
Suitable for clean cut, casual clothing, striped fabric gives clothing a sophisticated and fresh look. We do a 1cm stripe fabric in combinations of white with various other colours. It is a lightweight, crisp poly cotton fabric ideal for dresses and jumpsuits. The jersey striped tubular fabric we also have, seen on the top right, has stripes of about 5-6cms and can be used for long sleeved jersey tops, cardigans and lightweight jumpers.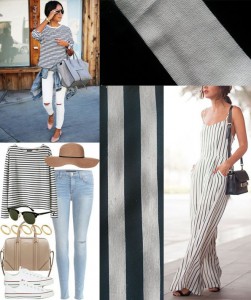 Water resistant PU coated polyester fabric
These fabrics make for great waist to hip length raincoats and bomber jackets, suitable for drizzles of rain. Albeit, unlike a large winter coat, these PU coated fabrics are breathable so you won't overheat!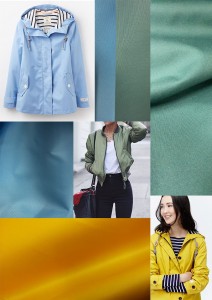 Do you like this post? We would love to hear from you so leave a little comment below!
---