Our range
The first thing to say about our Fabric UK awning range is how huge it is. When counting up the colour and pattern choices of our awning fabric the total came to 218. We have 12 ranges of awning fabric with each range having colour and pattern variations from soft and neutral to bright and contemporary.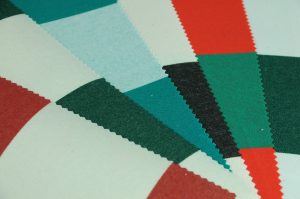 The largest choice in our awning fabric range is our plain colours range with a massive 71 shades to choose from, the other ranges are a mix of classic block stripes, to more detailed striping, flecked, fine lined and marl look fabric. All of these fabrics are made specifically for awning, tents, marquees, and creative protective structures. Our fabric is extremely strong, UV stable and weatherproof against showers but will let water through in very heavy rain fall.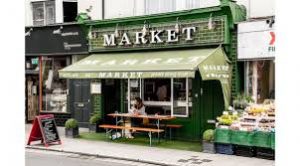 These qualities make the fabric suitable for long term structures such as shop awnings, garden patios, and over windows and doors of houses as well as temporary structures like marquees that need to be regularly put up and down.
On the high street
Awnings hold a great importance to many businesses whether in little villages or great cities. Awnings are often a necessity, especially when the type of shop depends on having produce and people outside such as green grocers florists and cafes.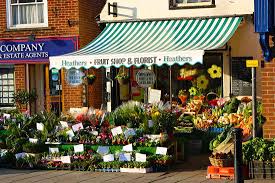 But having an awning over your store does not just have to be about the practical aspects, their decorative and advertising possibilities are also essential for certain business.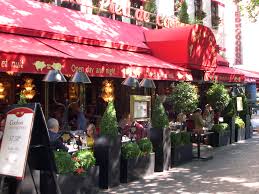 Putting your business name or logo on a canopy covering your store is a sure fire way of being recognised and adding to the attractiveness of your establishment.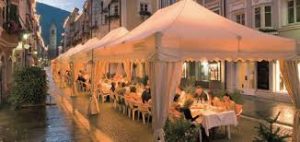 Shop fronts certainly do look more attractive and inviting with awnings to match the business colours and surroundings, cafes and bars in particular always seem more welcoming.
In European and hotter countries little awnings over windows of cafes are commonplace to give a little shade from the sun whereas in the UK this changes to give shelter from our sporadic showers and sometimes a little sunshine.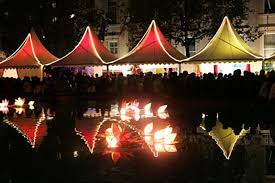 Awnings for shops, bars and cafes have been used traditionally for protection,decorative and advertising purposes for as long as there have been shops!
Whatever the reason, awnings of any size and style definitely add to the aesthetics of your house or business.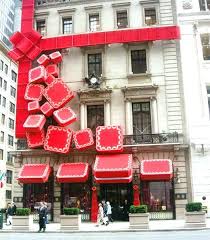 Of course now there so many looks to go for, traditional Victorian style awnings are often the inspiration for awnings for shops, traditional style bars and cafes, but more contemporary bolder styles are becoming more popular.The choice all depends on your establishment and the style you are going for.

Markets Marquees and Tents
Hard wearing awning fabric is also commonly used for outdoor market trading. Farmers markets, arts and craft and food fairs all benefit from this tough fabric.
The robust nature of the fabric means it can withstand long term weathering and use. Plus the huge range of colours can easily fit the look you want.
Cute and Creative Charm


Awnings for your Home
Awnings around the widows and doors can add a very attractive touch and practicality to your home. Depending on the look of your home or the look you want to achieve there are many traditional and modern choices out there.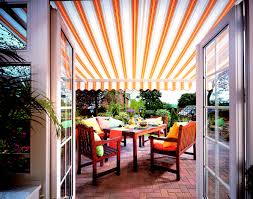 Our Textile Service
If you have a large or small scale project in mind but need a bit of a hand, we can do all the hard work for you. Just send us your design and measurements and we our textile service team will produce your design exactly as you imagined it.
Phone us on 0121 3592349 for a chat about your next project.
---