With Hessian being one of our top sellers for events and displays we have dealt with massive orders for festivals, weddings, interior designs, TV shows, movies and more. The season isn't over yet! more festivals are ordering, overseas festivals as will as in the UK use hessian for separating areas, tenting and shading, draping and decoration, banners and wall covering and robust floor covering. And then comes the Christmas orders.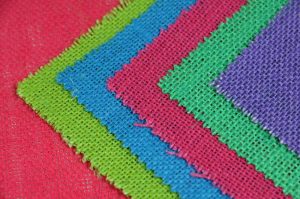 We have compiled a list with detailed descriptions of our different hessian fabrics and their uses, with the code numbers of the items from our website. I hope this comes in handy for your hessian projects.
Laminated Coloured Hessian Fabric 
Classic rough weave hessian fabric with the extra element of a very useful laminated surface applied to the back of the fabric. Laminated hessian is used to prevent liquid from getting to the fabric and from getting to the item the fabric surrounds.
Simply put its ideal for fashion bags, practical storage bags, mats and table coverings. With eight colours available you can merge practical furniture coverings with existing interior designs or create bright coloured bags using a mix of the hessian shades we have. The thick laminate covering creates a barrier between the hessian and whatever is directly next to it, so it will keep items in bags clean and dry and table tops damp free.
The traditional rough jute fibres are loosely woven into a simple mesh weave which would normally let water through, but with the clever addition of the laminate backing you can use this fabric for arts and crafts as well as heavy practical use. For larger items such as stall coverings, we can add brass eyelets and clear panels. Very protective laminate backing
Extra Wide Fire Retardant Hessian
The natural colour and rough look of hessian fabric lends itself well to traditional country style themed events such as farmers markets, cider and beer festivals, craft fairs or barn dances! This extra wide option is particularly useful for covering market stalls and tables for events such as these. Our fire retardant option is ideal for public use as the fabric has been treated with a fire retardant coating which will fit public events health and safety standards
Hessian is often referred to as burlap; this is the American and Canadian term for the same fabric. The fabric is constructed from skin of a jute plant and other vegetable fibres to from extremely strong and durable material used for rope, nets or woven into a rough textured cloth.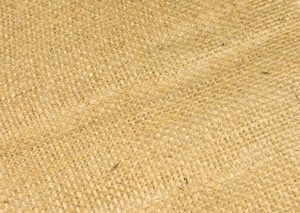 Hessian has proved itself to be invaluable for all kinds of trades; this useful fabric is still relied upon for traditional tasks that have remained unchanged for years.  Hessian is very popular for agricultural use, protecting and transporting plants, industrial use for sacking and structure protection and the construction of upholstery. The hardwearing nature of hessian is a great foundation to structure an item before applying the finishing padding and fabric, plus using a fire retardant hessian is a sensible safety measure.
Hessian is naturally able to withstand dramatic weather changes and endure repetitive use hence is continued popularity for practical outdoor projects. The durability of the fabric means whatever you create can be used again and again. If you have a design in mind for your small business or you need a larger amount for display or events, don't hesitate to give out team a call. We can have your design made to measure exactly to your specifications no matter the scale of the project, large or small.
Bituminised Hessian 
This traditional rough open weave hessian fabric uses bitumen to achieve an extremely watertight protective covering. The black bitumen coating lays in-between the hessian fabric and the brown backing paper to create a fabric that will withstand vigorous and repetitive outdoor use. Bitumen is the English term for asphalt, a naturally occurring material that can be refined into a viscous semi liquid used for road production.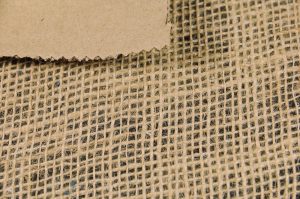 Like our other jute hessian products, the hessian in this eco friendly fabric is completely biodegradable, as is the paper backing, of course the bitumen will stick around a little longer. The waterproofing properties of bitumen are relied upon to protect boats, to seal roofing and to coat buildings. Alone the bitumen will suffice as a very efficient sealant but adding the hessian fabric on top of a layer of bitumen creates an even tougher surface area that can then be wrapped around or placed near the area that needs protecting, rather than painting bitumen on items.
Due to the waterproof properties working with the extra grip of the rough hessian this fabric can be used for temporary flooring from mats to larger surface areas. Useful inside and outside marquees and tents, it's very handy for camping when there may be bare earth or mud around the campsite, or for outside festival food stalls and bars. Agricultural and industrial uses include around garden centres, greenhouses, farms and building sites. When moving from indoors to outdoors, the hessian will collect a certain amount of water and mud on the rough surface, plus the course textured surface creates traction to prevent slipping.
Coloured Jute Hessian 
Classic jute hessian available in a range of seventeen colours. The hessian is constructed in the same way as our natural option, then solid dyed to produce seventeen great colours to choose from. Jute fibres are woven into a course weave cloth which is semi opaque, you would be able to see any background colour behind the fabric.5   to achieve the strength and durability hessian is known for. This gives the fabric a weight of approximately 275 grams per square metre, an average medium weight for hessian, perfect for the many tough tasks it can handle.
The Wide range of practical uses varies from construction jobs supporting brickwork to use in schools,collages and sports centres. Banners, tents, barriers, theatre backdrops notice boards and creative projects all benefit from this hard-working versatile fabric.
Many functions of Hessian fabric have remained unchanged since its original production, this classic jute hessian holds all the classic properties of the traditional fabric but has also has been solid dyed to make a range of seventeen colours. Ranging from rich terracotta to pale blue light steel there is plenty of colour choice for projects around the home or general arts and crafts.
Coloured Soft Jute Hessian 
Soft jute hessian has a surface finish a fraction softer than our coloured hessian. The coarse weave has a mix of yarn sizes making a slightly more open and less uniform weave, if you had a different colour behind the fabric it would definitely be seen through. Well known for being eco friendly, jute is a natural material harvested from the fibres of a  jute plant, therefore when made into rope or cloth this natural products remains In a biodegradable form.
This option of just hessian has been deep solid dyed into thirteen great colour options ranging from a bright canary yellow to mid tone purple. Having these colour options gives this already versatile fabric even more variety. This fabric would lend itself well to domestic crafting ideas that require a more robust fabric, rug making is a popular with this fabric. Try using several of the colours to weave a multicoloured area for rugs, table covers or place mats.  It can easily be cut and sewn for practical accessories such as bags or even summer hats.
The many traditional uses for jute are still just as popular now, industrial and agricultural use, hessian is commonly used as a sacking fabric, and great for protecting plants and shrubs when moving them around the exposed roots are protected whilst still being able to breathe.  Hessian even plays a part in bee keeping, its slow burning quality is used when harmlessly smoking bees away to get to the honey and wax.
Self Adhesive Fire Retardant Hessian (natural) 
This hessian or burlap fabric holds all the classic qualities of jute hessian, but also boasts a handy self-adhesive backing along with a fire retardant coating. The backing is protected with waxed paper which you can simply peel off to reveal a sticky coating covering the back of the hessian so it's ready to use for large or small scale projects.
The fabric has a course close weave, and the natural jute fibres give the fabric a soft warm brown shade, with slight naturally occurring colour variances. This and all of our hessian fabrics are fully biodegradable, so you can feel better about doing your bit for the environment.
This fabric looks great as wall covering for events and traditional rural themed designs; you can easily cover props, tables and chairs or create large typography by cutting out letters from the fabric. This particular hessian also holds a fire retardant coating, so its ideal for use in public areas where health and safety may be an issue. This fabric visually works well with our other natural coloured traditional fabrics, have a look in store at our calico, canvas and hessian ranges.
Coloured Fire
 Retardant Jute Hessian 
Coarsely woven jute hessian fabric, with all the attributes of classic hessian, strength, durability, environmentally friendly and colourful too!  The rough jute fibres create a close weave, but not close enough to be entirely opaque, as with all hessian you will be able to see any background behind it. We have seventeen solid dyed colours to choose from which visually blend well together by either contrasting or complementing each other. Call a member of our team to request a swatch card so you can see the colour choice for yourself.
Our range of coloured jute hessian is best suited for use around public spaces and for public events. Using fire retardant fabric will reassure you and fit with the health and safety standards for indoor and outdoor businesses.
This type of hessian is popular  with arts and craft fairs and food and drink markets for the making of banners, table covers tents and separating booths. The fabric is not water proof but if you are sure of the sunshine, this fabric can make lovely awnings, fitted or loosely draped to give a bit of shade and a splash of colour in the garden. Indoors this fabric is useful for event designs for weddings and parties, it's easy to cut and shape to put over tables or as wall coverings and area dividers.
I hope this was informative, and gave insight into uses for our different hessian fabrics. 
If you have a project idea involving hessian and need a hand to create your design, give us a call. Our bespoke Textiles Service will make exactly what you need, just send us the details and we will bring your idea to life.