OK I'm sure we can all agree the rows and rows of shining wrapping paper that greet us invitingly in shops each Christmas looks beautiful. Choosing from the multitude of designs can take longer than choosing a present! Glitter adorned, metallic or matt. Classic or contemporary. Wrapping is serious business. The money made from these pretty pieces of paper alone is huge. Let alone the abundance of gifts swept from the shelves into our baskets.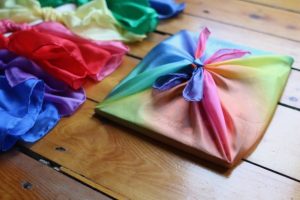 As great as it looks, buying new wrapping paper every year just to throw it instantly away isn't very good for our pockets. It will surely take an age for people to change their minds about paper wrapping paper. But until then, here's you chance to get creative and make your gift really stand out. Time to look back into history for a bit of forward thinking….
Time To Bin Paper
No one can deny the attraction of a pile of perfectly wrapped presents under a twinkling tree. But all that paper, really? In this environmentally aware world, is using all that paper a choice we can feel good about.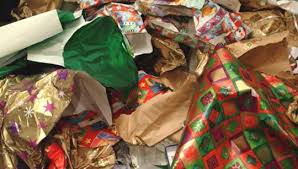 Well, not really. Unless the paper itself is recycled, which is rare. And what about re-cycling the paper, that's if you can. Do you open the presents carefully and reuse the paper next year? Put is straight in the recycling bin if you have one? Yes it's great to rip open a prezzie but admit it, most of the wrapping it gets binned after it's oh so brief job.
The Ancient Alternative
So is there another way? Of course there is! And those of us with creative minds may just have been doing it for years. Just because it looks nice. Wrap your gift up with fabric. Its creative, unique, and is thoughtful towards the environment. In fact there is an ancient Japanese art of fabric wrapping for presents called Furoshiki. Have a look at the video below to see how lovely it can look.
Reuse Your Wrapping
If the fabric is Christmas themed you can re- use it for decoration. Smaller presents like jewellery can be wrapped with smaller pieces that could be used for fabric table protectors, decorative pieces to put under plants and ornaments. Larger pieces of a metre or more can be used for festive table cloths. Just wash and re-use next year.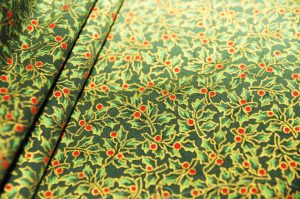 The fabric you choose to use can also be part of the gift itself. Incorporate the wrapping as part of the gift, like a silk scarf or a metre of sparkly fabric you know the person receiving it will love!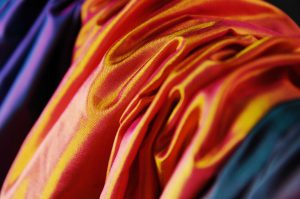 Here's one I Made Earlier
There are many you tube videos and images with step by step details on how to create fabric wrapping for gifts of all sorts of shapes and sizes. Because of the style of wrapping, you don't need to be concerned about crisp edges and perfectly folded corners. Furoshiki has a style which is both fluid and neat. To I used very shiny gold paper lame fabric to have a go at wrapping some small presents. After following the steps I then tried different ways of wrapping by experimenting. In these pictures I demonstrate how I made the wrapping into hanging gifts for a Christmas tree.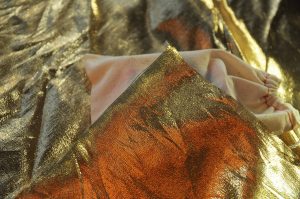 Place the gift at a corner, fold over the fabric and tuck the corner underneath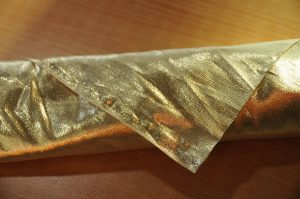 roll up the gift till there is a small corner at the opposite end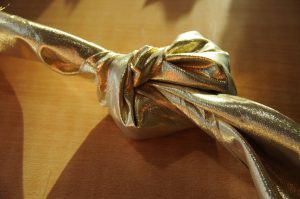 Bring the ends into the centre and tie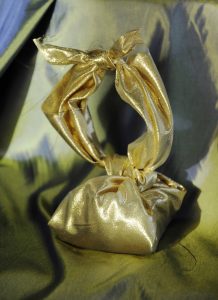 Finally, tie up the tips to create a hoop shape you can hang on the Christmas tree.
When you tie up the fabric you can allow your own artistic interpretation through. You don't have to use precisely measured pieces. The knots and hanging pieces can fall how they want and will always look good.
Fabric For Furoshiki
Match the fabric with the person receiving your gift. Or maybe match the fabric with the gift. There are literally millions of patterns, colours and textures of fabric out there to play with. Colour co-ordinate or go for interesting textures.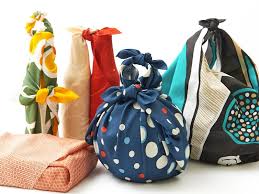 Some fabrics may not hold knots as well as others. Classic satin I find a bit too smooth to keep a knot in for some time. So after having a browse through our shelves I have picked some fabrics I think are perfect for festive fabric wrapping. For stiffer fabric such as 100% cotton you can achieve neatly wrapped presents. Just make sure the fabric is an equal square so you can get even pointed ends to tie up.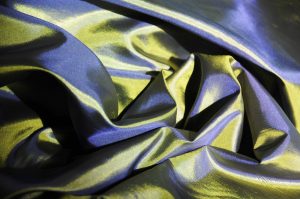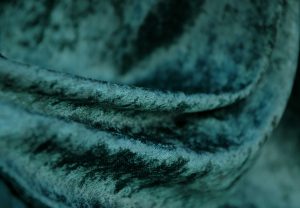 Micro lame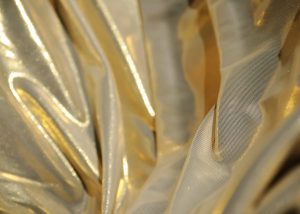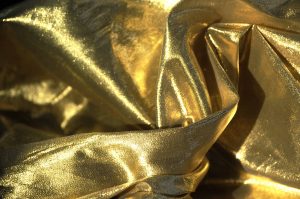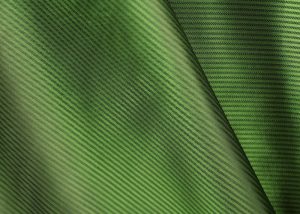 Pass the Knowledge on
I have used fabric for wrapping many times but didn't know until recently about the art of Furoshiki. A regular fabric UK customer brought this to my attention. Furoshiki Gift-wrap is a company which started in early 2018. Jeni, the lovely lady that runs this interesting site was so concerned at the huge amount of un-recyclable gift-wrap after Christmas that she felt a change had to be made. After a friend told her about Furoshiki, she realised this was the answer she was looking for. She set about learning as much as possible and spreading the word to the Western world. Follow Jeni's website and Instagram to see the beautiful wrapping and how to practice this art yourself.
---