The sun is officially out, so we want to get out. Celebrations from gardens to fields, forests to village greens start popping up everywhere. And with that, comes the classic quintessential all rounder of decorations. Bunting. Whether your at the village fate, a woodland rave, a wedding reception, or a book fare bunting is the go to celebration decoration.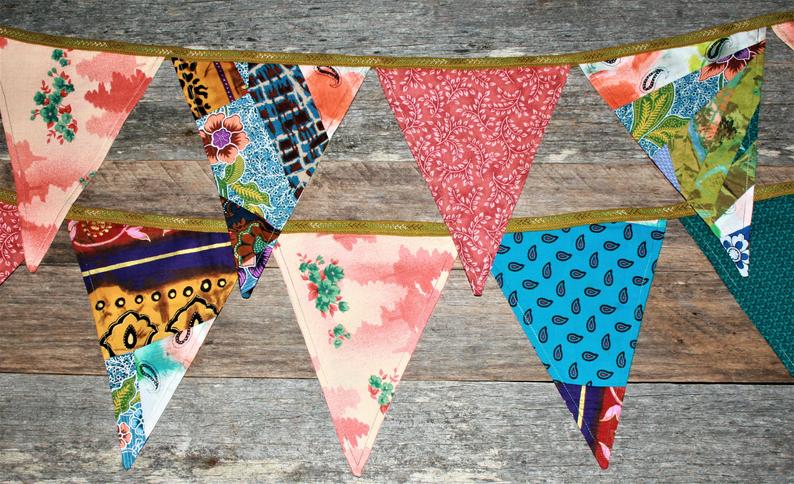 Read on for a bit of history and see how the simple idea of re using and recycling inspired two very different styles of decorating with bunting..
Two Looks One Inspiration
The focus here is on two popular decorating looks which look entirely different but stem from the same important ethos of re-use re-cycle and re-create. The "Bo Ho" Look and the "Tea Party" Look are both inspired by re-using fabric and are both attractive in their own way. However one re-used fabric out of necessity and looks very prim and proper. The other one re-used fabric for the beauty and environmental awareness and has a much more freestyle look.
1) The "Tea Party" Look
This trend falls right in with the massive resurgence of traditional practical crafts that were the norm during wartime and post war Britain. Certainly TV shows such as Bake off and The Great British Sewing Bee boosted the already thriving crafting boom, and pushed people to actively"make and do" again. That enthusiasm for crafting, mixed with the public awareness of how environmentally friendly up – cycling is, has created a whole new generation of practical creatives.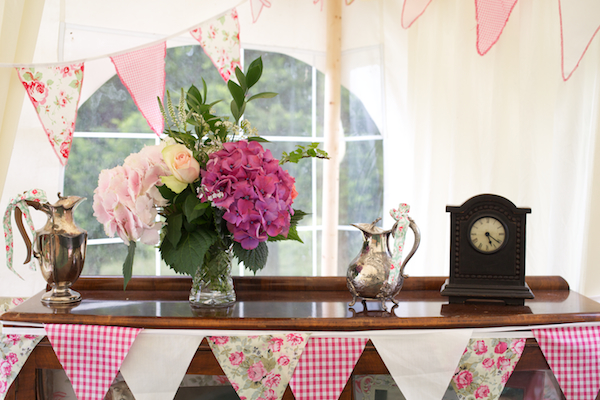 During the second world war, fabric was in very short supply and fashion had to work around it. Many factories who normally produced for fashion and home were now producing for parachutes and uniforms by order of the government. Stockpiles of fabric were taken and put towards the war effort. Most were behind this as everyone did what they could to help. So any fabric needed for clothing , home or decoration had to be found elsewhere.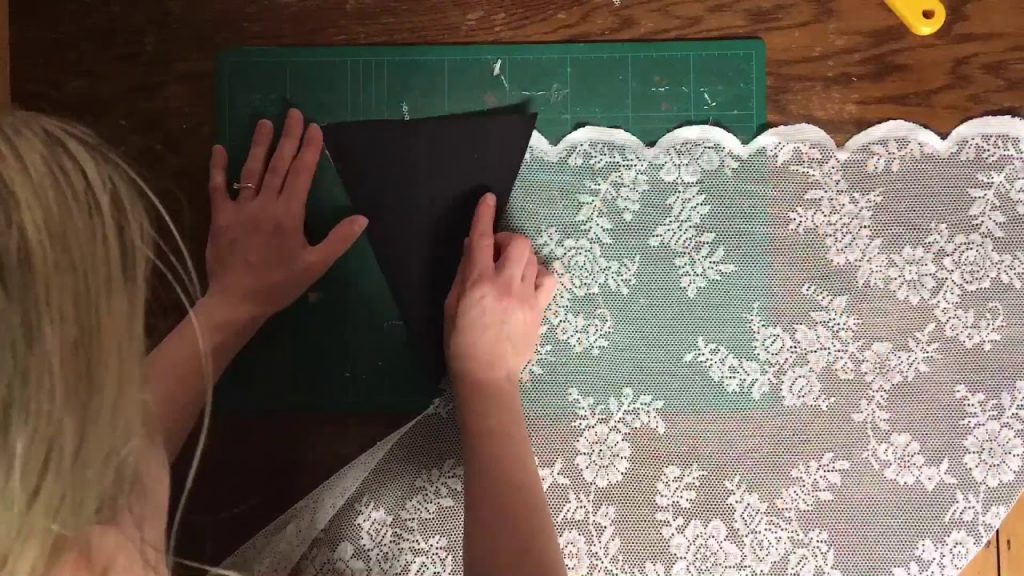 There was no choice but to transform existing fabric. People had to think creatively out of necessity. Old curtains = new dress, Tablecloth = new shirt, dads old trousers = school shorts. This of course included any decoration. Cut offs of all patterns and textures could be sewn together to make very neat and very pretty bunting. After all, people still had birthdays, weddings and christenings to celebrate. We were great at keeping our spirits up and sewing community groups popped up to help each other out.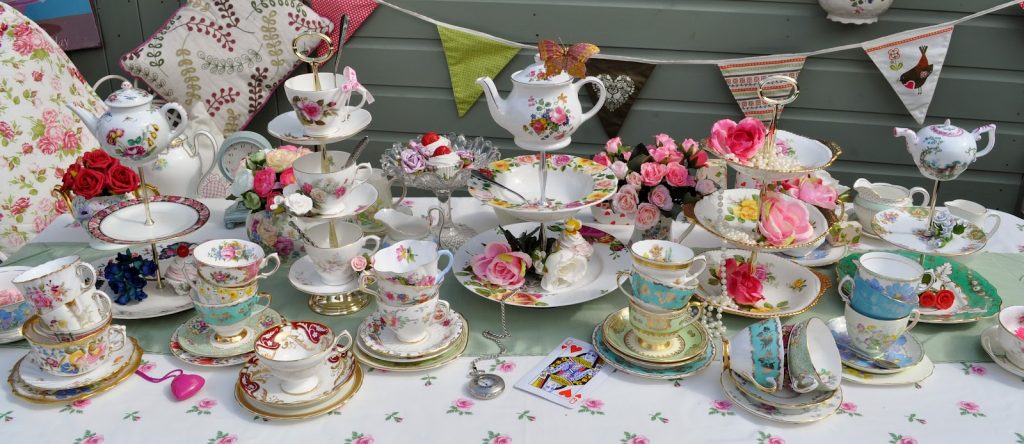 The design of the classic tea party scene is usually draped with bunting to match the carefully mismatched tea sets and matching iced cupcakes. The popularity of traditional tea parties has bloomed along with the crafts, and now this style of food display is hugely popular at weddings and celebrations.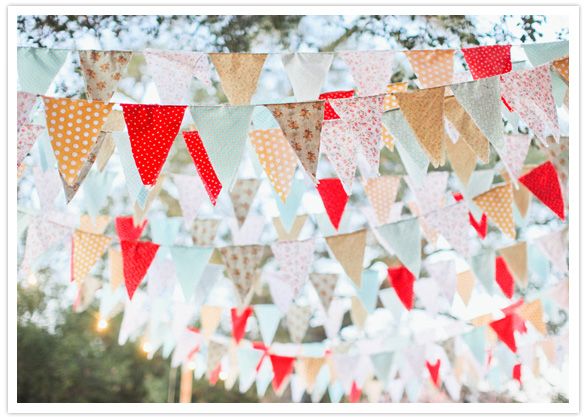 You can indeed buy everything you want to get the "Tea Party"look but wheres the fun in that? I recently attended a wedding with an afternoon tea theme and up till the evening before, family and friends who had never even met before had their heads down making bespoke and personalised crafts for the big day, including the bunting. This was a wonderful way to meet and chat to everyone before the ceremony, it certainly broke the ice and created a relaxed yet busy atmosphere, it was lovely.
2) The "Bo Ho" Look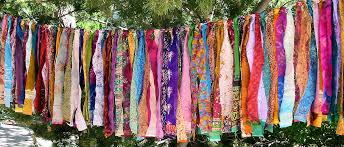 "Bo Ho look" is entirely different from the neat appearance of the "Tea Party Look" as you can see. The Tea Party look was inspired by cost cutting wartime creations where fabric was hard to come by. The bo ho look is strongly inspired by the psychedelic look of the late 60s hippy generation and the ethics that came with it. By this time there was more choice in everything, including fabrics, but the ethics of reusing became a social trend. Wearing beautiful second hand clothing and re using old fabric was part of the trend, partly because of ethics partly because of aesthetics. New ways of using old fabric were embraced. Tie dying, customising, re shaping, adorning. Everything that could be re-made beautiful, was.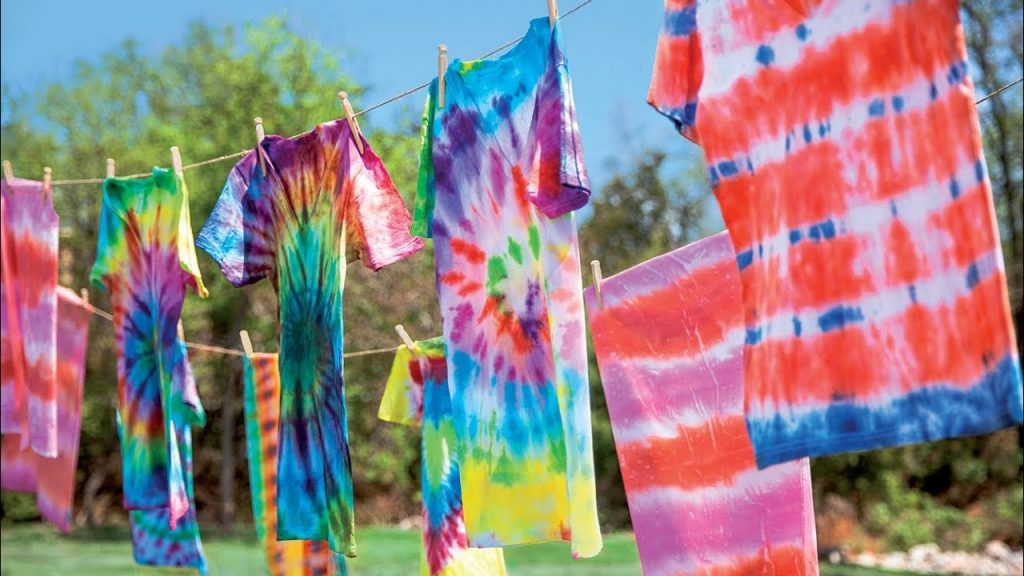 This new generation of the late 60s had much more freedom and a more carefree attitude, created by free spirits unburdened by the harsh realities the generation before had to endure. Yet both looks were inspired by the re-using of any fabric. One for necessity one for the beauty.

The non uniform and unconventional decor created reflects perfectly an outlook on society shared by many creatives. This free thinking outlook spawned artwork, music and creations never seen before, with an organic flow full of colour. Though free spirited, a culture was created who were concerned about the environment, the plight of people, animals, social issues, peace, and were certainly anti war. This movement has grown from strength to strength in the past 50 years bringing with it unharnessed creativity and social awareness which has increased greatly since the invention of the internet.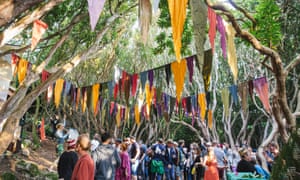 The up – cycling concept may be a new trend to some, but within more creative communities, re – using fabric and materials has always been a widely used method of producing artwork and decoration. This method is also used widely in the independent festival scene. Creative bunting is often seen in independent music festivals scattered all over the British and European country side. This style of bunting is often called "boho" (short for bohemian). It uses fabric to create colourful free flowing bunting that looks beautiful draped from trees and posts.
The bunting is usually bespoke, produced by the festivals creators or a community of creators or if on a larger scale there are some fantastic creative companies out there that will make extraordinary decorations to cover woodlands and marquees. Try this in your garden, I'm sure you have lots of off cuts of fabric around, or a stash hidden away. If not ,then its a good excuse to buy some more!
---