The Business Design Centre London
Walking into the great hall of the Business Design centre, I was taken aback to just how bright it is! Having seen images online I was aware of the huge greenhouse like roof, but the impact is obviously better seen in person. Daylight drenches the stands for today's exhibition, into the showrooms outlining the second floor of the hall and even works its way down the ground floor premises showcasing online business solutions to printers and cutting machines you can watch.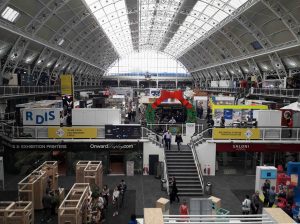 This stunning structure seems to balance between Victorian splendour and contemporary design because of the huge amounts of glass used. The building was designed by Joseph Paxton and opened as an Agriculture hall in 1862.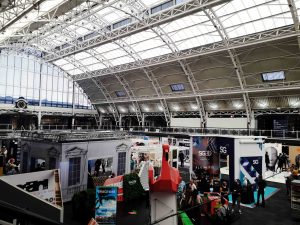 Joseph Paxton famously designed the immense crystal palace and an ornate greenhouse you could drive a horse and cart through in Devonshire House but unfortunately neither stood the test of time.
Creativity in Abundance
The scope of ideas out there is stunning, there were plenty of wow moments. From traditional carpentry to adverts that follow you when you walk past. Fabric still has plenty of use in visual merchandising, from basic cotton canvas and hessian jute to stunning glitter fabrics and textured leatherette. As well as fabric being used in traditional and contemporary designs there were so many other materials represented in such beautiful and innovative ways you almost forget the intention is for visual merchandising. Several of the examples could have easily slipped into an art installation, as with this wall of mirrored acrylic in the picture.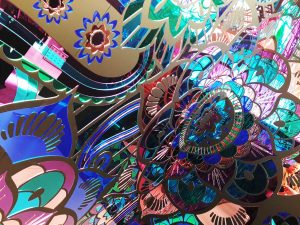 But this is entirely the point they are trying to make and its certainly getting across. Its imperative your window or display MUST stand out!
We as consumers are so constantly bombarded with media all around us you have to really think up something great that will make people stop in their tracks. Bespoke displays are the answer and there are fantastic companies out there who excel in this field.
As anyone who knows me or has spoken to me may be aware, I can talk for England, maybe Wales too. So hyped up with caffeine I managed to talk to A LOT of people yesterday, and found out about their businesses, visual design ideas and fun projects they get to make and be involved with.
For me, it was companies like Minki Balinki, Riot of Colour, Planorama and Hello Flamingo that really stood out.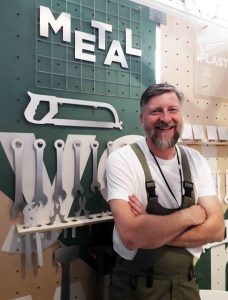 Each display was a perfect example of their expertise and skills. I particularly liked Riot of Colour's stand, set out like a neat tool shed with each panel and tools made from a material they work with (wood, plastic,metal etc).
Key Visual Trends
There were some clear design trends seen during the show, the four most notable were……
Big Block Colour
The best results in this style are when you may have several props and products but all precisely the same shade. A very clever visual trick catches our eye first with the large block of colour, its then the brain will notice all the detail. Display Logic did a great job with this style and Planorama's grocery sore was definitely one of my favourite's, mixing charm, humour and efficiency into one brilliant display.
Oversized Objects, the next big thing.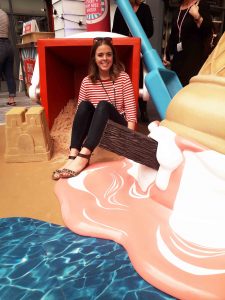 Here is Kitty from Event Prop Hire, sitting with a giant bucket and spade, next to a huge melting ice cream. Oversized props, the next big thing.
Glitter, Lots of Glitter
Glitter Fabric and glitter covered items were sparkling all over the show , some were shimmering touches to to a prop but the most prominent glitter trend was full on block glitter. This was shown by either covering a prop, plinth or logo with glue or paint then buckets of lose glitter! The other method which is much neater is using glitter fabric.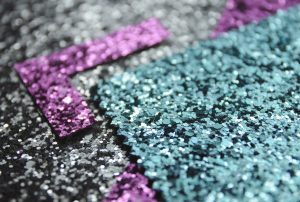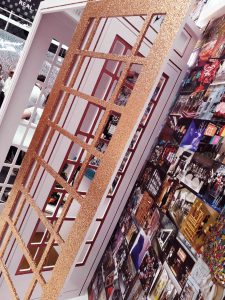 Glitter fabric has a strong poly-cotton backing with a thick layer of glitter on the surface and can be cut into large scale or small intricate shapes that will stick easily onto walls, furniture and props. The range we have on line is just the tip of the iceberg, if you want a particular shade we can source this or even make it specially for you!
Flamingo Fans
Of course the fantastic visual team at Hello Flamingo wholeheartedly represented the pretty pink bird, but there were several other viewings of this flamboyant creature.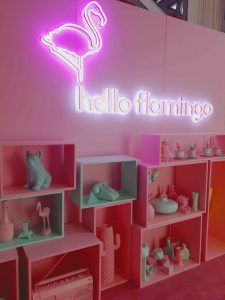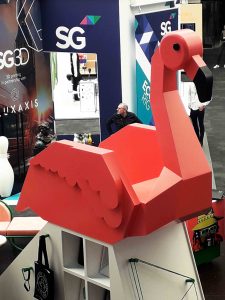 Spotted on shirts, shimmering water holes, amongst twinkling trees and a giant walk on version. Visually, flamingos are both odd yet elegant creatures, perhaps this is why we all seem to be into them right now, but I'm sure the pink has something to do with it .
If you are planning a project which needs fabric of any kind then call us up to see where we can help. Of course we can supply a huge variety of fabric but did you know we can make bespoke items too? Our stitching service will make anything you need from one off items to large runs.
---