Its so easy to make your own monster! All you need is some faux fur fabric, stick on eyes and your imagination! You can create any personality you want for you monster. Cute, mischievous, angry, shy, silly or serious. Look to Jim Henson's masterpieces Sesame Street and The Muppets for inspiration.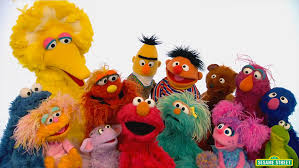 Make a grumpy grouch like monster like Oscar the Grouch, a kind character like Grover or a fun loving monster like Elmo. Make a puppet monster to have at your side, or make a costume for you or your own little monsters! Click on for some monster ideas with personality and get creating with our furry faux fabric….
The Sweet Furry Monster
Super cute pastel fun fur monsters! Always singing and up for a giggle. You'll find these furry monster BFF's at glee club and practising their pop stardom at the best karaoke bars! Feed them on cupcakes and marshmallows.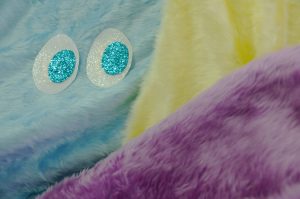 The Glamorous Monster
The gorgeous Lime leopard monster seems to have her eyes on the unsuspecting green fun fur monster. He's in trouble now. Feeds on Nandos and bunny rabbits. Always on the prowl with her bright coloured feline friends, Tango, Cerise and Flavine. These furry Leopard monsters look good and they know it. No prey can stand in their way, don't try to run, it could be fun.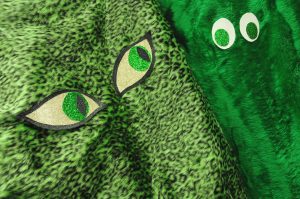 The Fuzzy Rainbow Monster
Our Rainbow fuzzy faux fur is waiting here to be your very own new monster friend.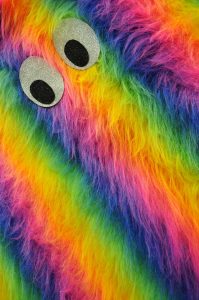 Always up for dancing, you will find rainbow monster grooving to disco or going hyper at a rave with unicorn friends and rainbow bright and the gang. Favourite food, rainbow cake from Flavour Town bakery, rainbow sherbet and super-food rainbow salad for extra energy. Loves going out in the rain, just to find other rainbows.
The Longhair Lupine Monster
Our longhair monsters ginger and wolf are real nature lovers. They like talking to any random animals they find on their travels, making friends with them and taking them back to their home in the woods to take care of them, or possibly eat them. Depending on the moon. Favourite food, human beans and moon beams.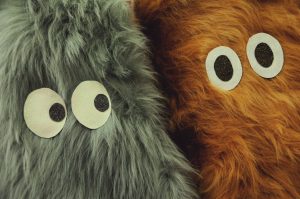 I hope these interesting characters helped you come up with some ideas. It didn't take long. I made the eyes, popped them on a furry fabric and shazzam! The monsters came to life along with their personality and backstory in an instant. Try it, and see who appears.
---