Visual merchandising or display as we used to call it, is an essential part of retail life throughout the year. At Christmas though, the ante is upped. All the sparkle and shine that get saved up during the year is thrown into shop windows in gleeful explosions of brilliant creative design.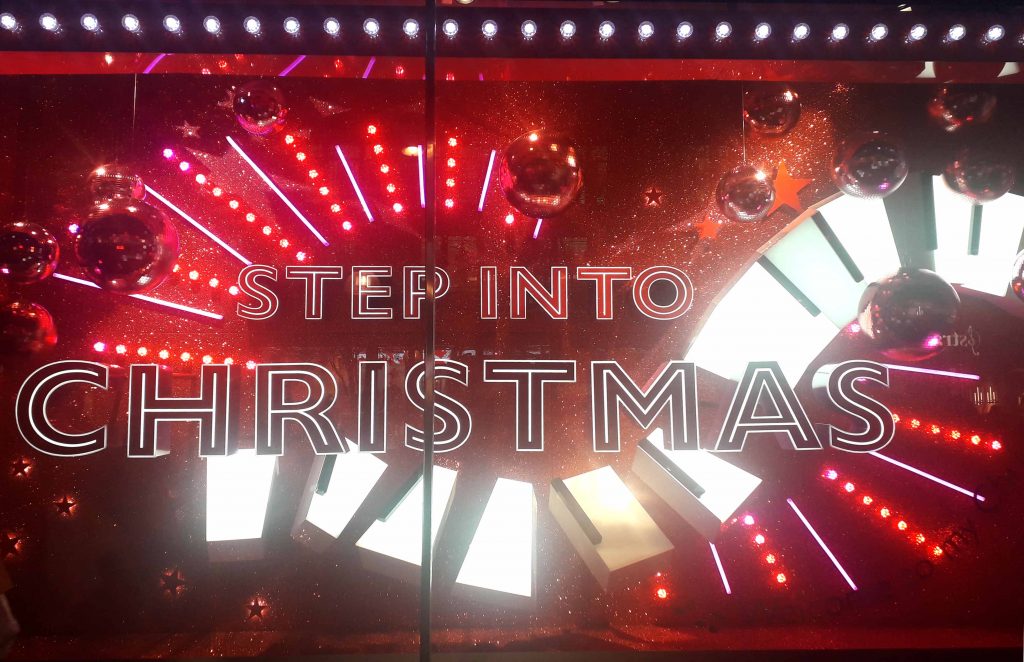 London of course is the place to head to for a Christmas spectacle. Each street is hung with a different theme of lights and decorations flowing into each other. With the lights above and the stunning shop windows below, you become completely surrounded by glitter, sparkle and twinkling lights. If your inner Christmas metre is a tad low, coming here simply to view the scene will surely push it up to 10. It worked on me!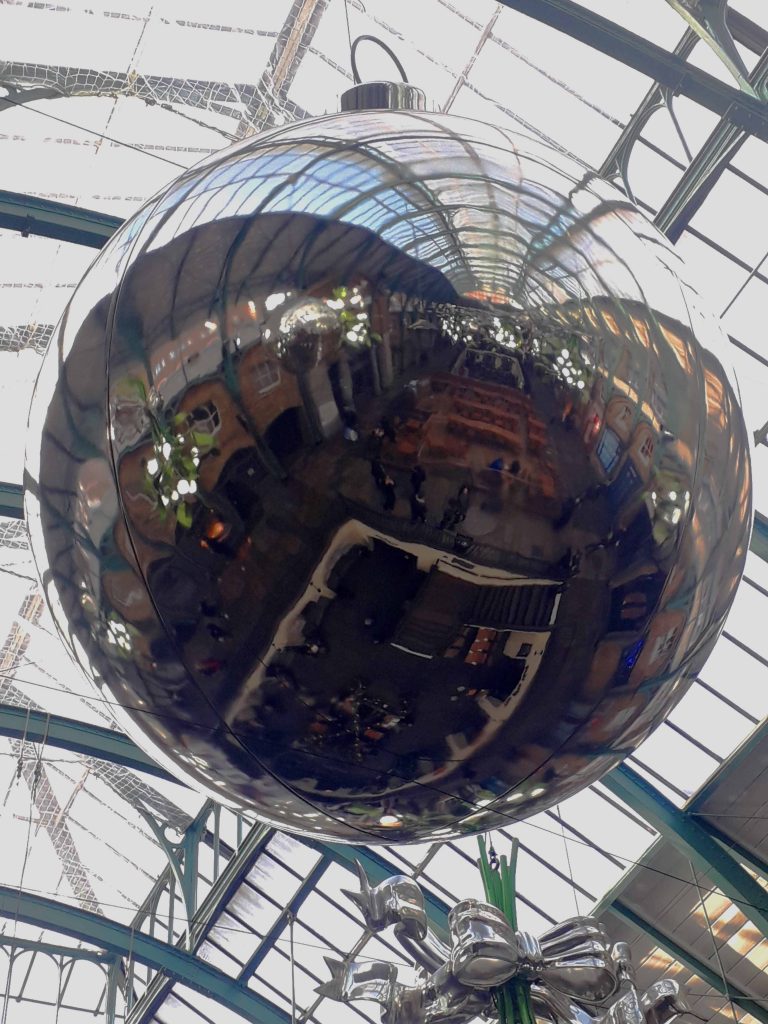 I visited London to view the windows and displays inside the shops to see what fabrics were being used for visual merchandising and how. So a I started to mentally compile my list, I found myself adding windows that didn't use fabric. But hey, I was hugely impressed by the creativity and this list goes out to all the hardworking creatives who produced the fantastic displays. From the original creators to the physical end build. Thank you for keeping our shop windows alive! Read on for my personal take of the festive windows as a Christmas window countdown. Starting with ……
14: Harvey Nichols Popping Champagne Bottle
You may be surprised that these vivid and exuberant windows are last on my list at number 12. After all, anyone who knows me is aware of my glitter obsession. Yes the oversized popping champagne bottle is brilliantly put together. The gold and green glitter fabric used in excess is stunning. As is the 3D effect lime green ripple look panelling covering the backgrounds. The metal foil blown apart on the bottle neck is a great touch. And you really get the feel of the explosion with the gold squares, baubles bubbles and mannequins flying through the air.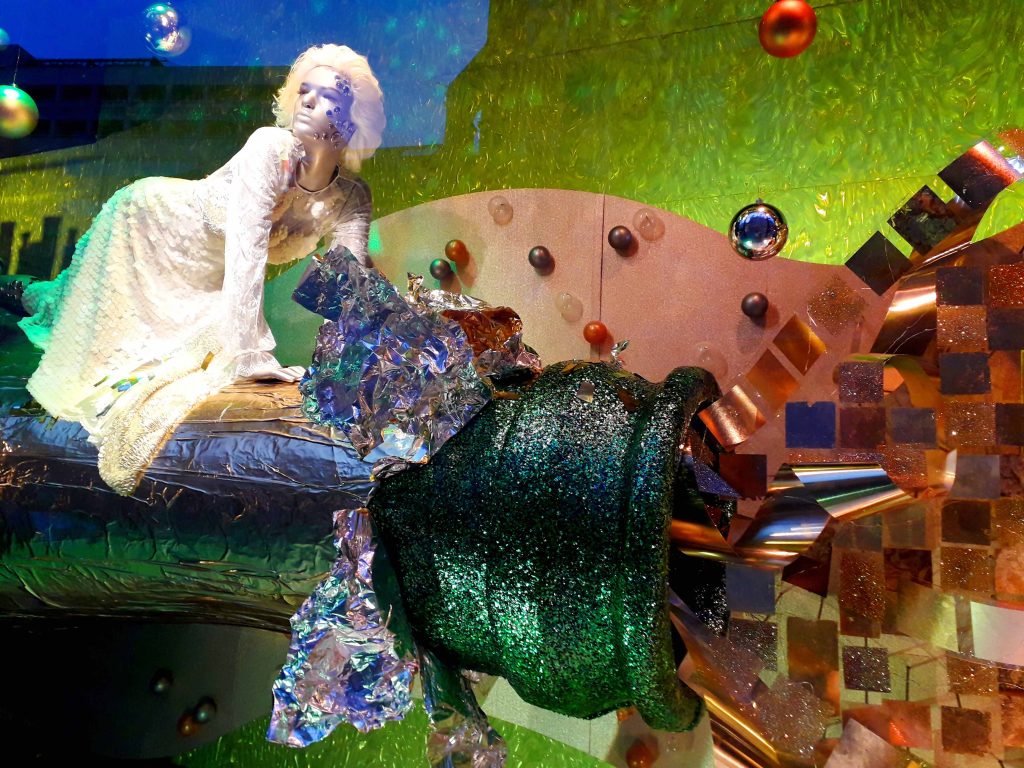 But they are missing a trick. No humour what so ever. Did you check the mannequin's faces? The mannequins are dressed in their finest and have been given human faces. All looking utterly bored. They are whooshing through the air at high velocity, being blown away with the gold champagne swirls, carefully placed products and a giant cork of course. One is even riding the giant champagne bottle! I repeat, riding a champagne bottle! You would think that would be a hell of a crazy experience. What a laugh! No. Not even a cheeky smirk. Clearly they do this, like, every day and are so over it. Their clothing may be contemporary and fun but the "too cool for school non expressions are so dated".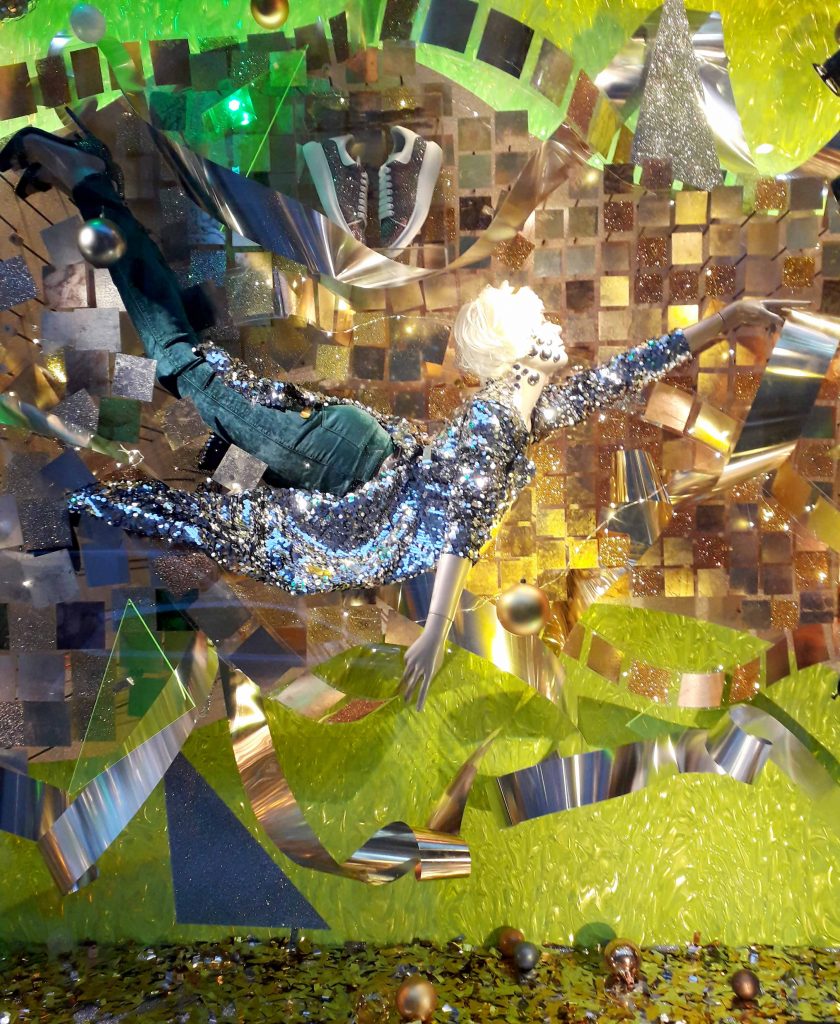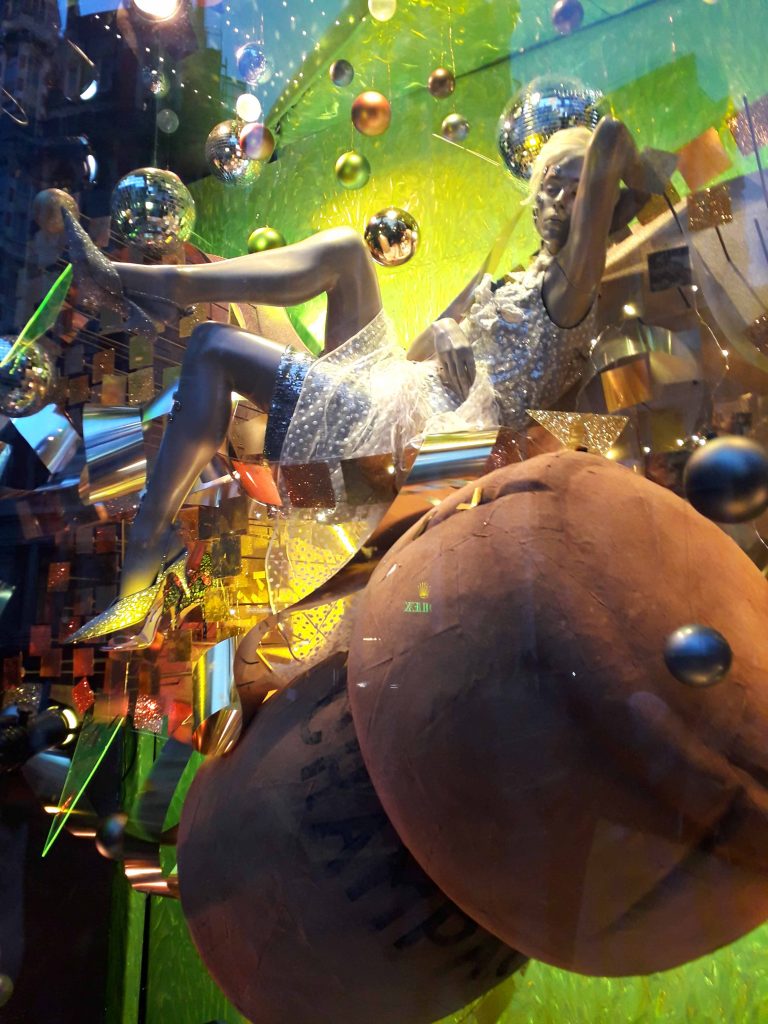 This window concept could have been absolutely fabulous. Oh if only Patsy and Eddie were riding that champagne bottle! It only needed a shot of humour, everything was there, ready and waiting. The look would have tripped into world of kitsch but why not? Kitsch is cool ( Selfridges and John Lewis totally get it). Just imagine how awesome it would have looked with the rightfully amazed and exited look on the mannequins faces. We will have to imagine.
Get the look.
13 : Harrods Sugar Coated Glitter
Set to appeal to children and adults alike, this nostalgic wonderland kept smart with the simple use of just pink and white. Not ultra bright pink but sweet sugary pink. Pale pink verging on lilac, mid soft pink and a deeper tone offset with white. And all in glitter.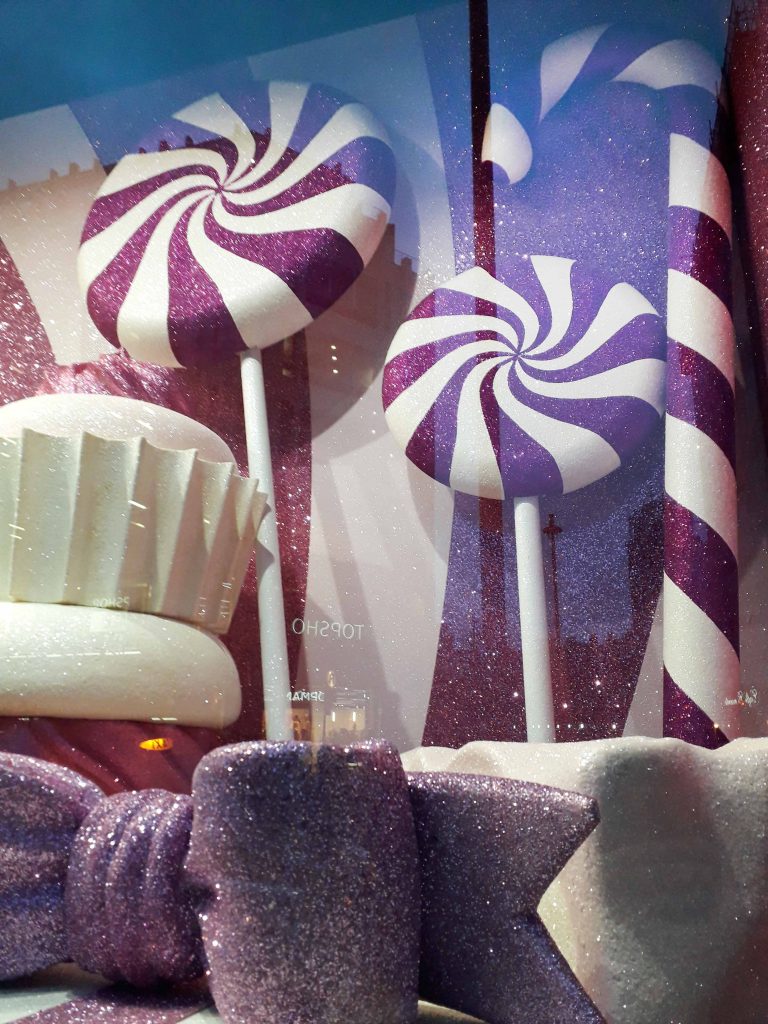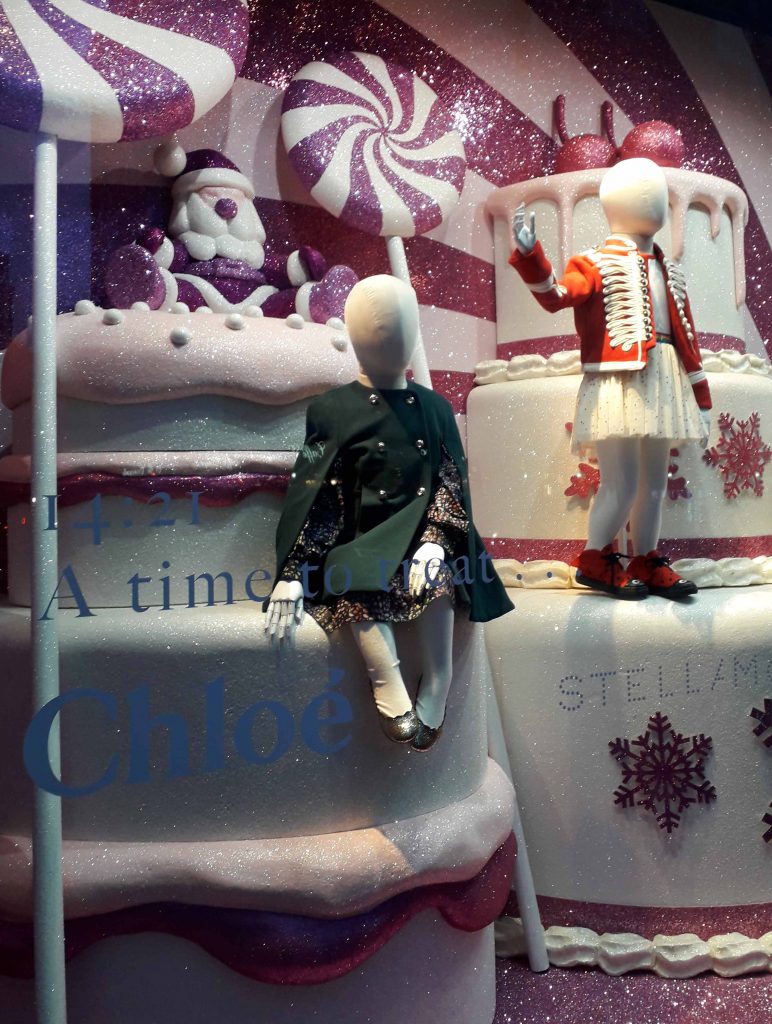 Everything made with the help of glitter! Either painted on glitter, dipped in glitter or glitter fabric (just like the glitter fabric we have in stock). The giant cake, lollipops, candy canes, bows and cupcakes all sparkle brilliantly with a crystalline layer of fabulous glitter.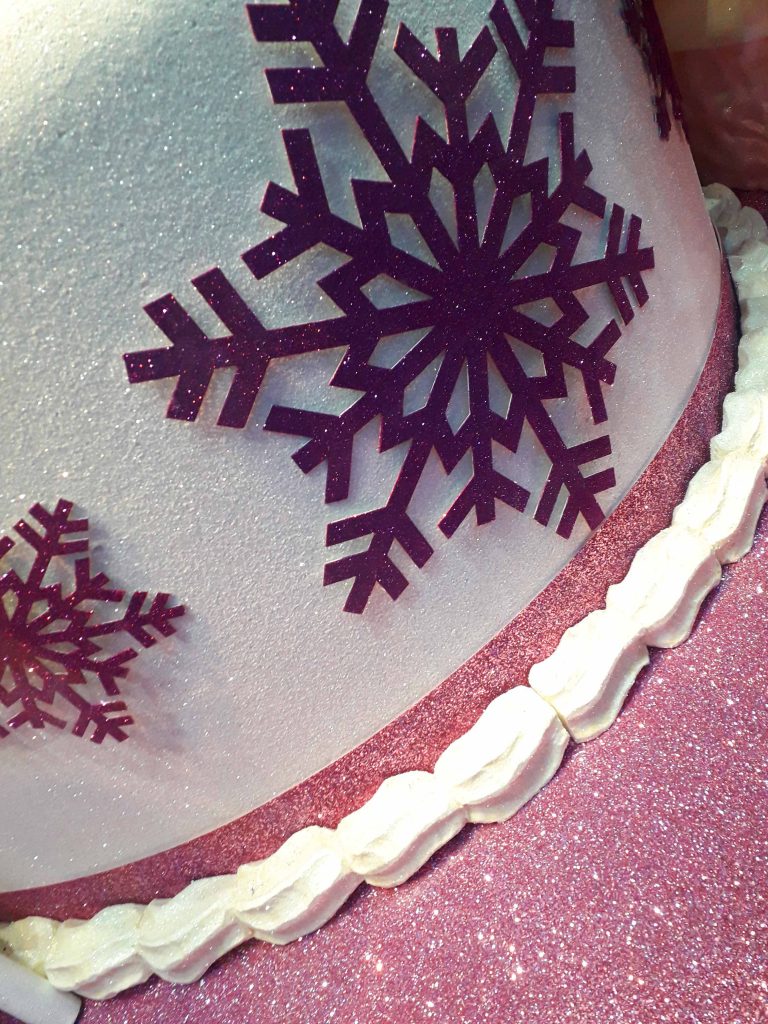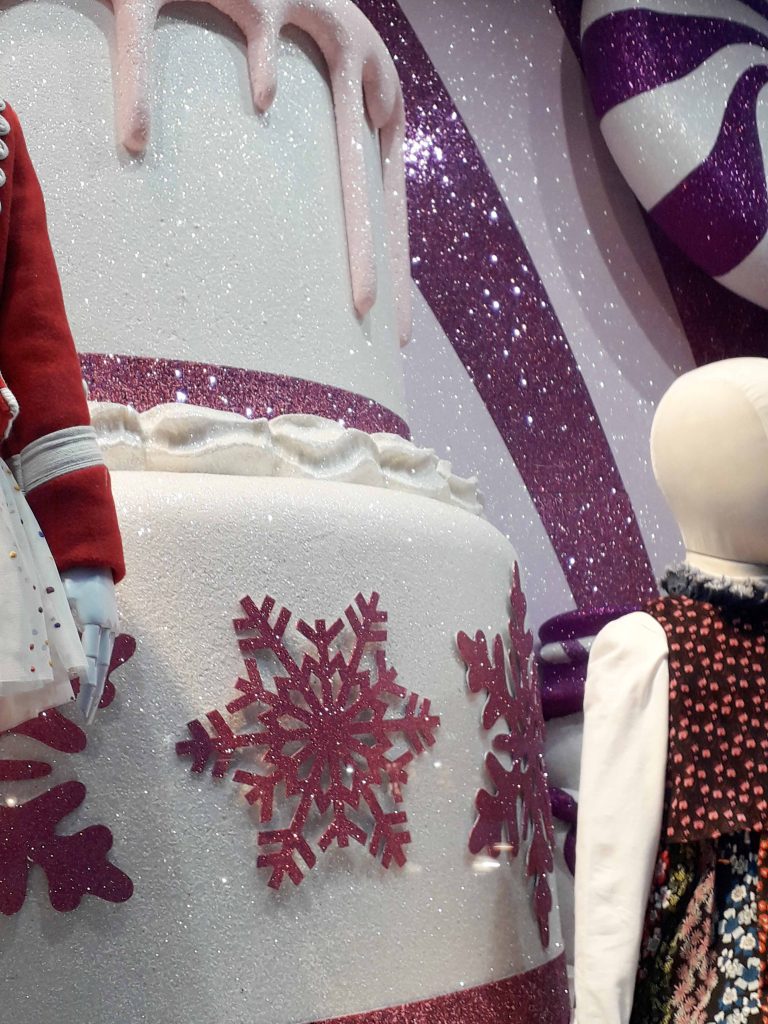 The Display houses children's clothing by Chole and Stella Mc Cartney and the smart designs fit the concept perfectly. The style of the apparel had a victoriana look to it, which worked with the timeless charm of snowflakes and lollipops. I particularly liked the tiny military jacket, reminiscent of the soldiers in the traditional Christmas ballet The Nutcracker.
Get the look
12 : Liberty Animal Magic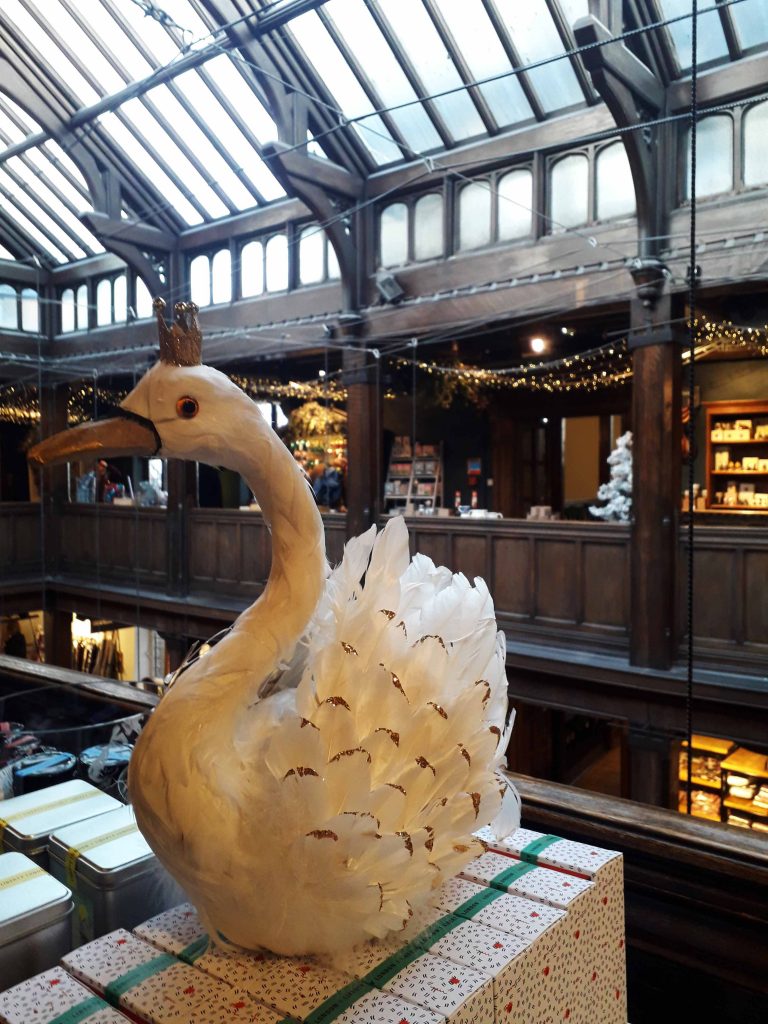 The windows of Liberty London were typically toned down and sedate, from afar that is. Up close though, the windows were a flurry of activity set in layer upon layer of ornate product displaying. Keeping with a traditional rich colour palate that would merge seamlessly into an old country manor, it did conjure up a Dickensian festive feel.
Throughout this historic building, a multitude of beautifully carved animals are expertly interwoven in the wooden panelling and pillars. Quietly frozen in stillness, waiting to be viewed.
The idea behind Liberty's Christmas concept, is an enchanting tale of the animals coming to life one night and causing havoc in the store. The centre piece to the story was a huge burgundy and cream hot air balloon suspended through the centre of the famous atrium.
The "Liberty Christmas Story"Concept utilises the story over a number of platforms. The concept was used for the visual merchandising in the windows and in store as well as used in their renowned fabric department. Liberty's own fabric print designer Ffion Griffith created the charming sketches of the playful animals. Instead of filling them out with shade and colour, she kept the animals in a 2D sketch style. These were dramatically enlarged to produce the visual merchandising for the windows, put together by Millington Associates. Here we see elephants, monkeys, lions and more, up to mischief in the home styled window displays. Sitting at the dinning table and climbing over the furniture. The whole ensemble swept up a very familiar nostalgia that I couldn't quite put my finger on. Until the train ride home, looking through the images and the illustrations for Rugard Kiplin's "Just So Stories" appeared in my mind.
10 : Selfridges Studio Set Up
What I like the most about this concept is creating a kind of parallel universe where the recording studio walls aren't covered with panels of thick acoustic foam. Instead the neat padded panels are made from soft gold and pewter leatherette. So rock star. The uniform squares of padded leatherette panelling cover the back and sides of the display form a backdrop to the musical paraphernalia which makes up the carefully cluttered content of this room. Vintage amps, guitars, mics and hard-cases all tick the retro glam rock box. Leading the eye to a set of rather cool jackets, ready to buy in-store.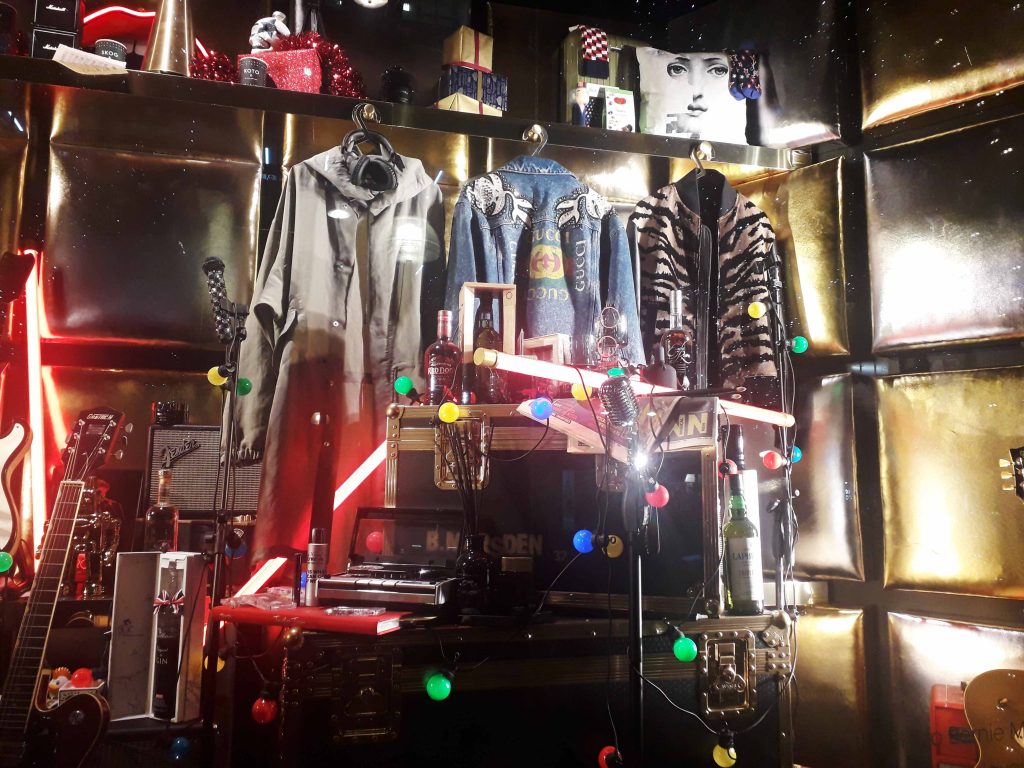 On another note, padded panels have become more popular in interior design the last couple of years. And not just in clubs and bars. In lounges and bedrooms. Bespoke, DIY, or off the shelf. Padded panels can look ultra chic whether you want a contemporary chilled look or 70's boudoir.
Get the Look
9 : John Lewis Mirror Piano
Just because of it's ludicrous flamboyance. No hidden message, just a visual homage to the great entertainers who rocked a piano. Imagine the scenario…. Your at Gatsby's party mansion in 1922 having just rocked up via Tardis. Elton, Liberace, Little Richard and Prince are banging out tunes on this magnificent instrument and you ace a live karaoke of " I'm Still Standing". What a night.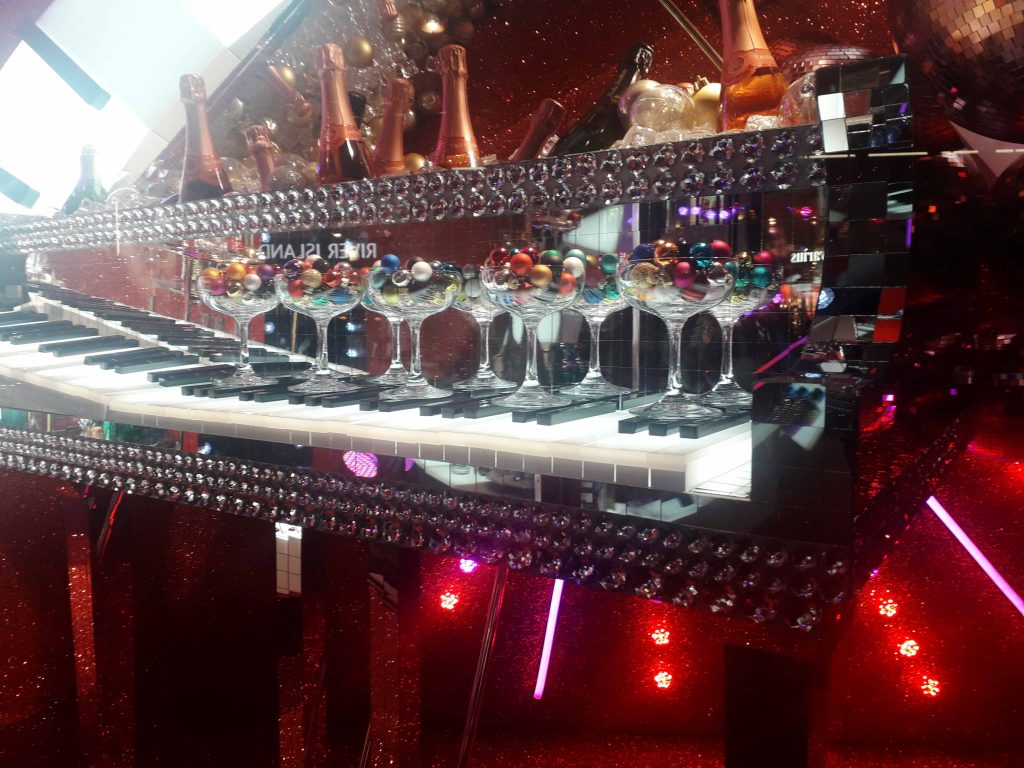 8 : Harrods Gold Washing Up
Again, a classy touch of cynical humour from a small but clever Harrods window. Set directly in the centre is a faceless mannequin, dressed in an ultra-feminine pink dress, completely overcome and surrounded by towering stacks of plates, bowls cups and saucers. The twist is they are all made of shining gold. Gold crockery is utterly unrealistic (for most) yet the scene immediately evokes a familiar flashback of mum trying to deal with the masses of washing up after the Christmas feast. And one too many sherries. A scene most of us have seen and helped to clean up. This is a real homage to all the mums that have to cope with the unrealistic expectations of Christmas. And washing up.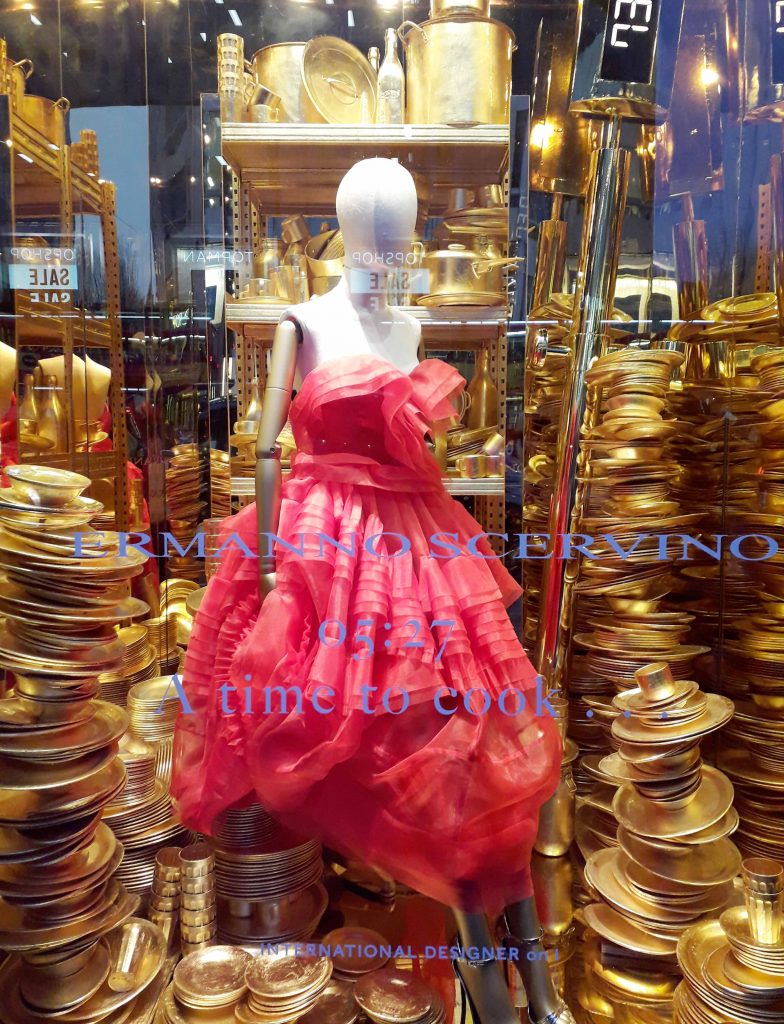 The mundane and ostentatious smash together in this visually striking window. Whist the piles of gold washing is an amusing sight to behold, the scene holds a far deeper message. Being a woman and being a lady are not always the same. The girly part that love to play dress up and sparkle is sometimes dampened my the sheer amount work that goes in to being a woman/mum/wife etc. The pretty dress juxtaposed with the piles of washing up can be read as a metaphor for the dam hard work it can take to simply be awesome. Shine doesn't always come naturally. Shine is achieved with a great deal of polishing.
7 : Harrods Bejewelled Food
What could more extravagant than bedazzled food. This delightfully absurd concept is nudging a little too close to the truth. If you managed to catch any TV showing gold covered doughnuts and burgers just tipping the £1000 mark, you will know what I mean. This window is simultaneously taking a swipe at the people with crazy cash in their banks, whilst genuinely advertising the products they know will be wolfed down by hungry consumers ( see the plated handbags). Whether you view it with cynical eyes or eyes that sparkle with the bejewelled wit of hunks of meat covered in shining gems, it really is a top class window.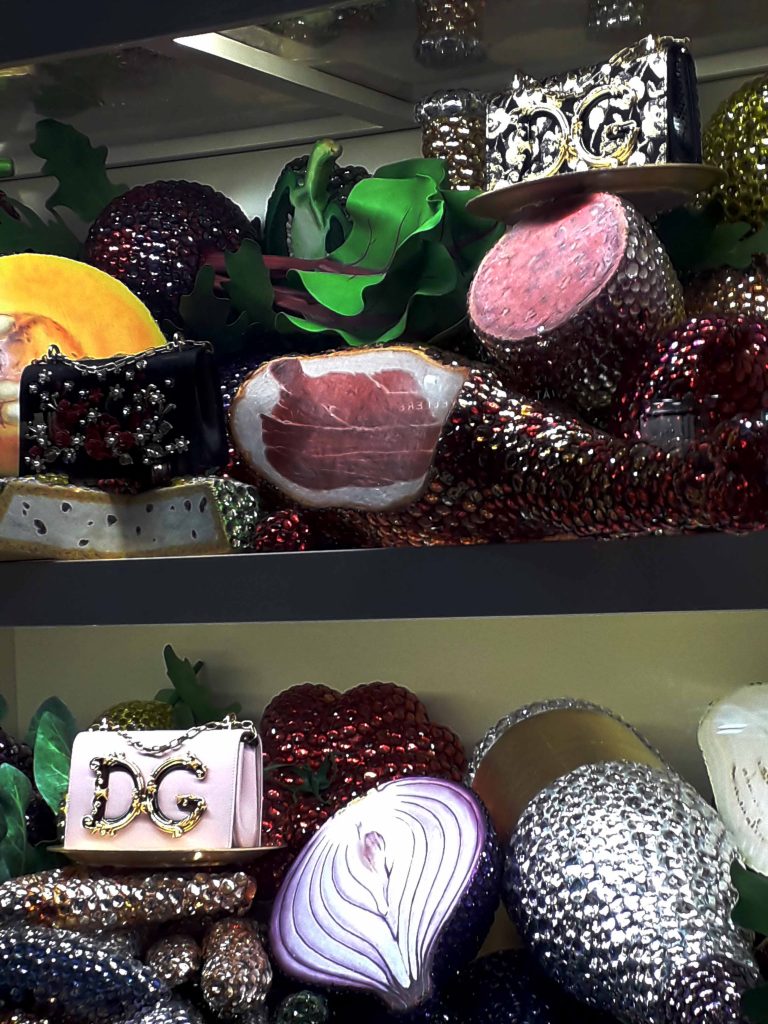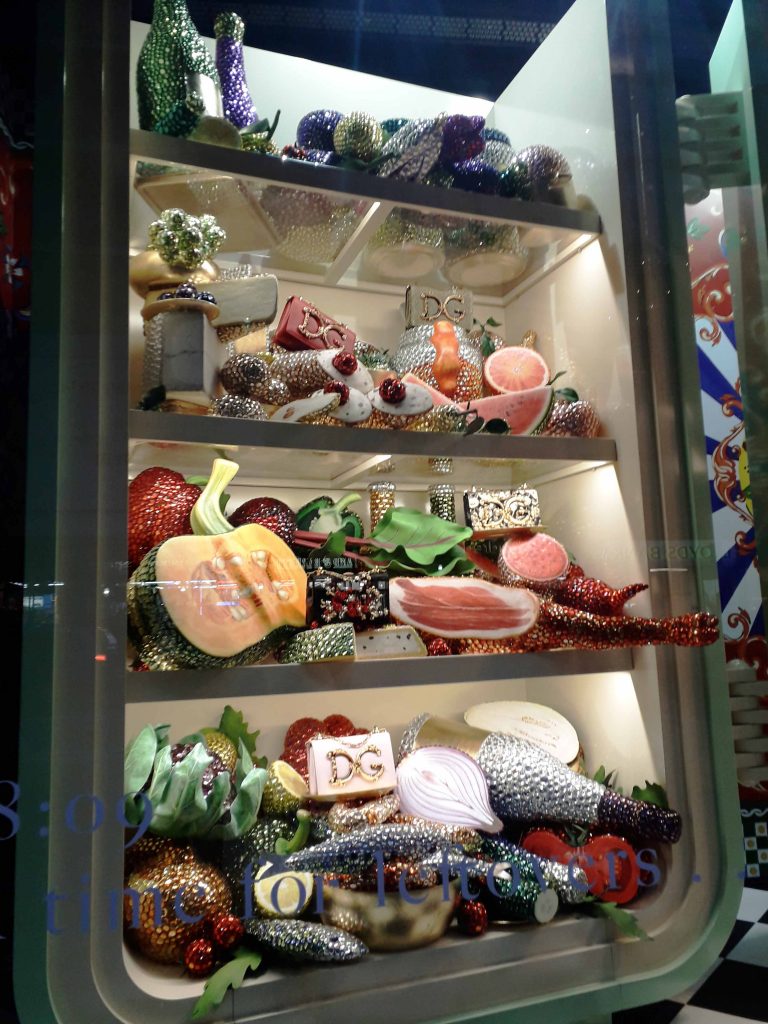 6 : John Lewis Red Velvet Platform Cake
So much is going on in this sumptuous window its hard for the eyes to know where to land. And then your eyes work out that you are actually looking at an oozing version of a gigantic platform boot red velvet cake. Yes, a red velvet multi layered cake, in the shape of a platform boot. The sole of the boot consists of three the layers of tasty red velvet cake, sandwiched with filling. The top is iced white with red sprinkles. If that's not enough the boot is surrounded by a multitude of decadent cupcakes.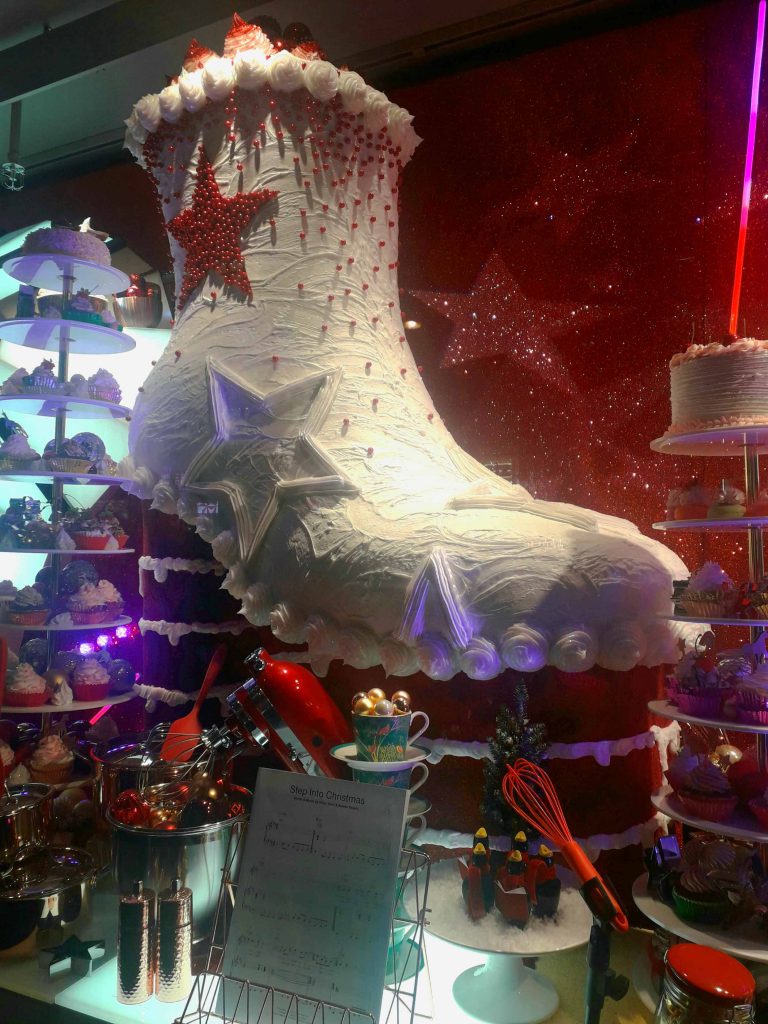 The whole scene like is Marie Antoinette and her BBF Elton John have invited you for Christmas dinner. And it's all deserts. The window is an ode to culinary Christmas delights and right at the bottom to further emphasise the Elton John theme is the Step into Christmas sheet music on a cookery book plinth. Elton John is in a league of his own wham it comes to glam. John Lewis developed their Christmas concept from the title of his biggest Christmas hit, Step into Christmas. If there was any doubt, the next window up from the huge glittery lettering of Step into Christmas is a nod to his iconic taste in glasses.
5 : Cascading Mega Piano
Like it had been imagined by notorious animator Cyriak, this piano is mad. It starts off as a piano and carries on being a piano, over and over again in a continuing real life glitch. This needs to be in the Tate Modern more than most of the art there already. Brilliant.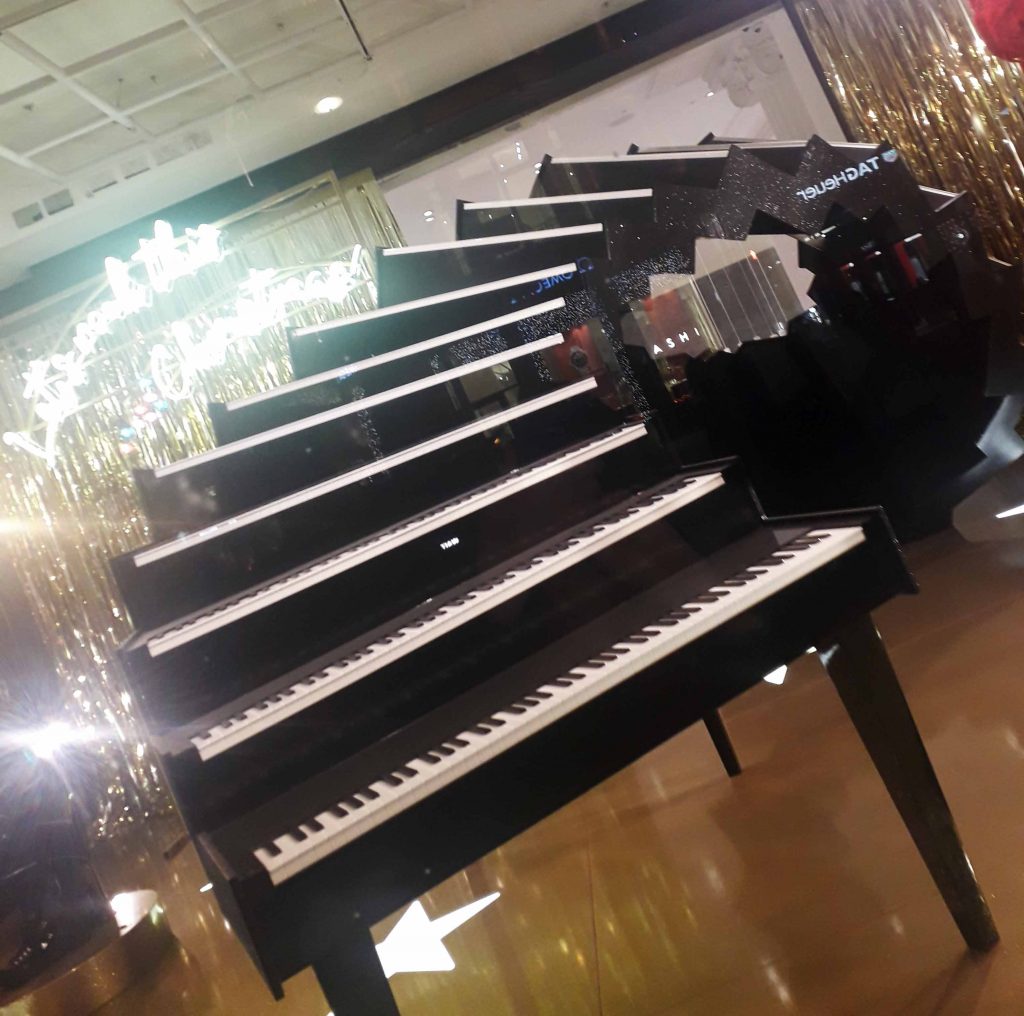 4 : Harrods Tree of TV'S
Right on the corner of Harrods stands a little window with a Christmas tree like no other. Backed in mid green is a pile of Vintage televisions from the 70s to 80s, standing about ten feet high. The TV's are piled into the shape of a Christmas tree and each TV is playing a different Christmas blast from the past. Retro Christmas TV programme from the 60s to 80s from crafts to the perfect turkey dinner. The very aged programs chosen were slightly disturbing, somehow. I found this window slightly dark in feeling and a certain nod to the sticky hold TV has on us. Admit it or not. I really liked it.
3 : Selfridges Shoe Vending Machine
Whoever came up with this visual merchandising piece is a genius. A vintage 70s vending machine full of what appeared to be Kurt Geiger high heeled sparkly shoes. Vending machines can be genuinely handy but they trick you into thinking you have a choice when in actual fact you have a very limited selection. The Japanese are masters of vending machines. They really get the childhood excitement of putting some money into a machine, pressing a button and collecting your choice. It's like winning a prize. Every time.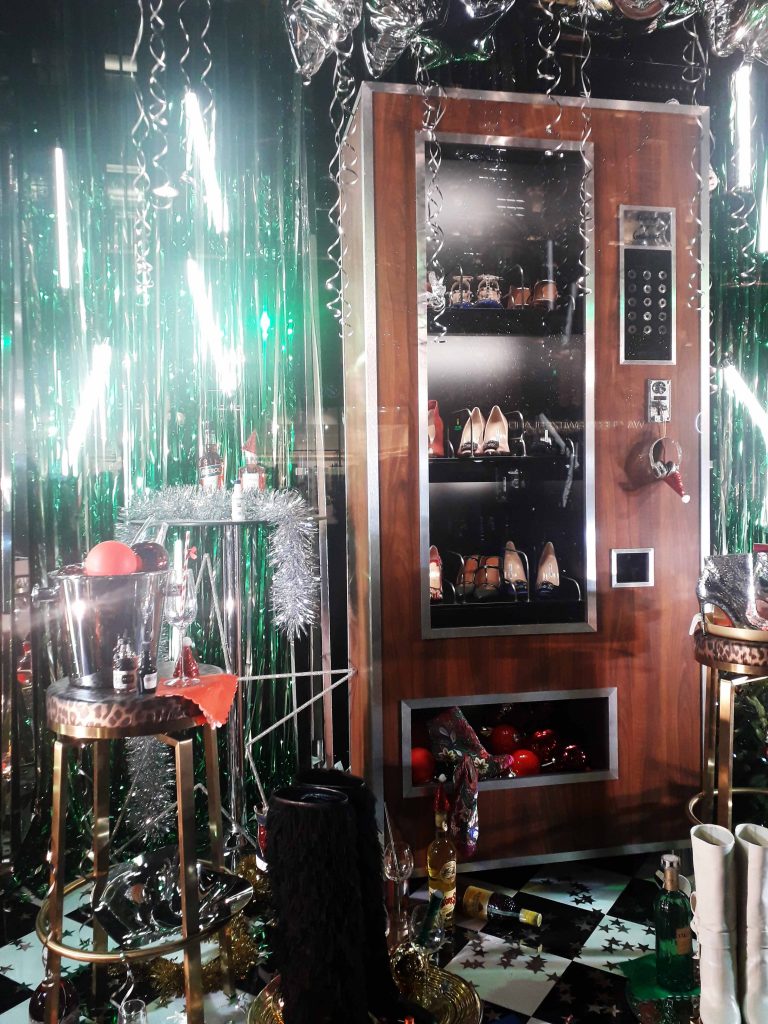 So, whilst standing and looking at this at 6.35 in the evening, two very well dressed women in their (glamourous) 50s stopped dead and proceeded to squeal with delight like preteens in a room full of glitter. "The machine could choose the shoes for you and you could build your outfit around it" said one while the other literally clapped her (probably Prada) leather gloved hands. Enough said.
2 : Selfridges Cinema Seats
The seats are from an original 70s cinema and re- upholstered in luxurious red velvet. Setting the scene for a modern Christmas classic tradition. Sitting in front of the box watching a film after a feast to feed 500 is a Christmas inevitability most households succumb to. Christmas films at the cinema on the other hand are a luxury. This window blends both traditions as you can't help but think of lazing at home surrounded by twinkling Christmas lights and boxes of chocolate when looking at this display. And I really like that.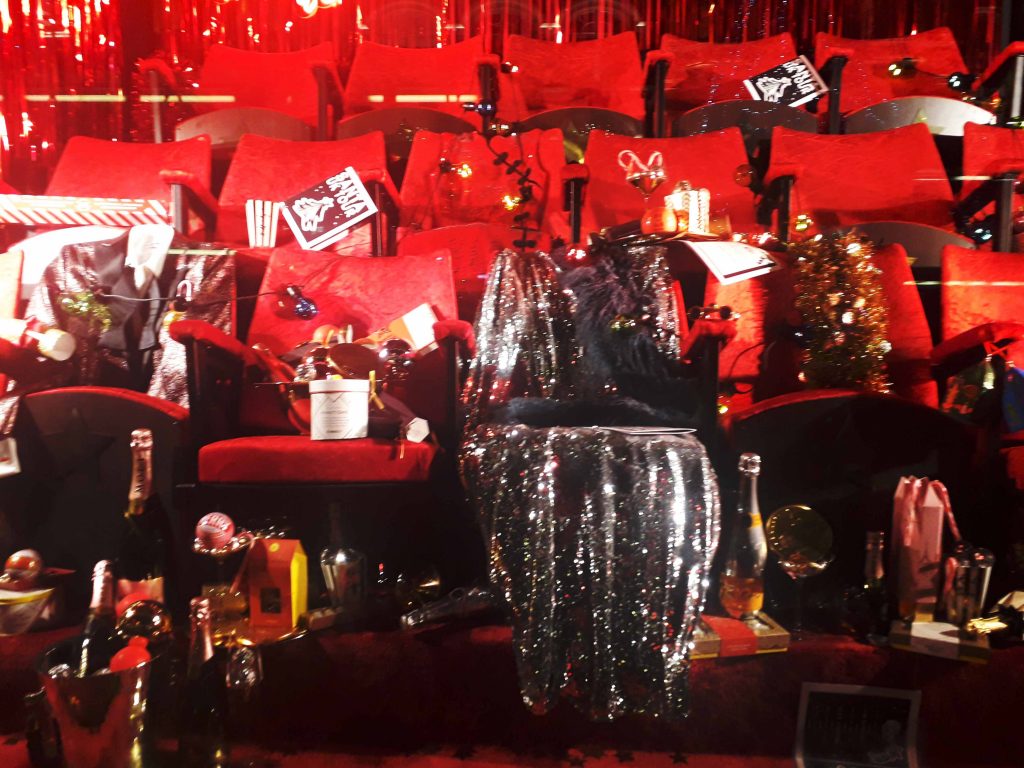 For the average family or group of friends going to the cinema is a rare and pricey luxury. Home cinema nights have been an alternative for a very long time now. And if done right, can capture a little bit of magic of cinema as we used to know it. Also, there was something eerily profound about this display. Looking at empty seats placed just at the right height to achieve the impression they are viewing you. But the seats are empty. Clever.
1 : Selfridges Rock Star Santa
The indisputable king of windows this year. Striking, funny, glam, and so ridiculously shiny. The winners for me were the windows splashed with humour. The rock star Santa concept at Selfridges is a masterpiece in visual wit, and seems to incorporate the essence of 1970s Christmas. It's like you can hear their skinny Santa belting out the 70's Xmas classics from Slade, Roy Wood and Wizzard.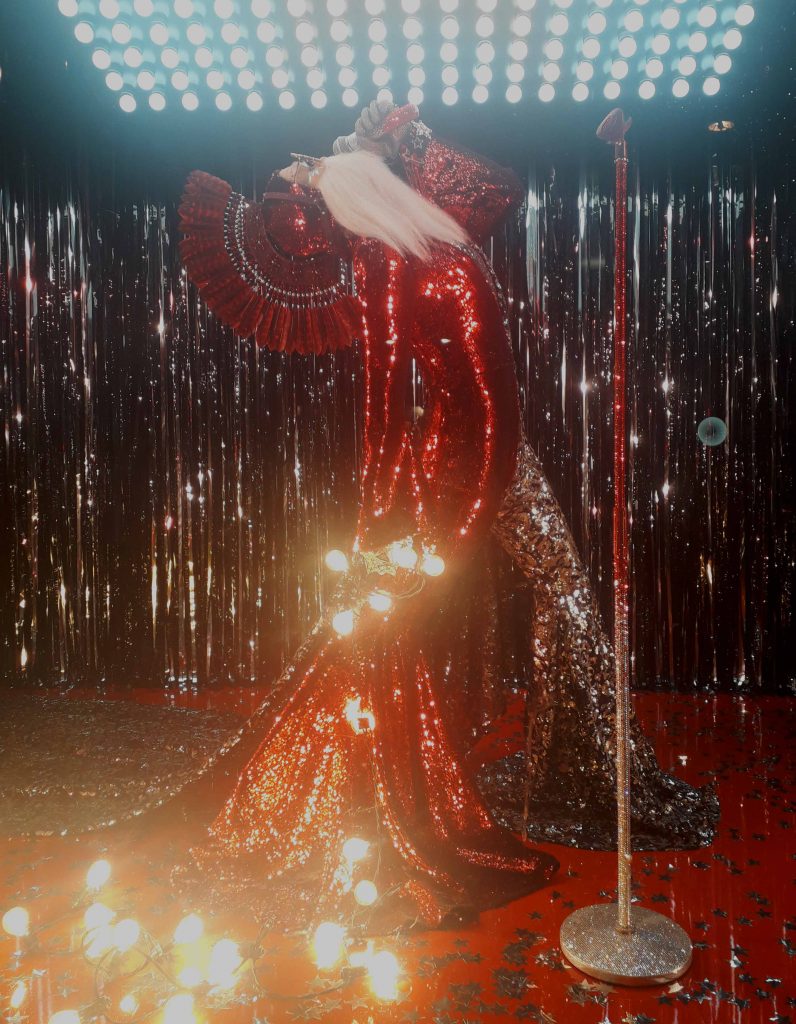 I have put all the rock star Santa windows at number 1, becouse I can. Even though each window uses a different inspiration. The sequin Santa jumpsuit is my particular favourite, the pose he stands whilst in the throes of belting out a tune is pure rock and roll. And the suit itself, wow. Sequins have been used for displays up and down the country but this has to be one of the best uses of sequin fabric in merchandising history.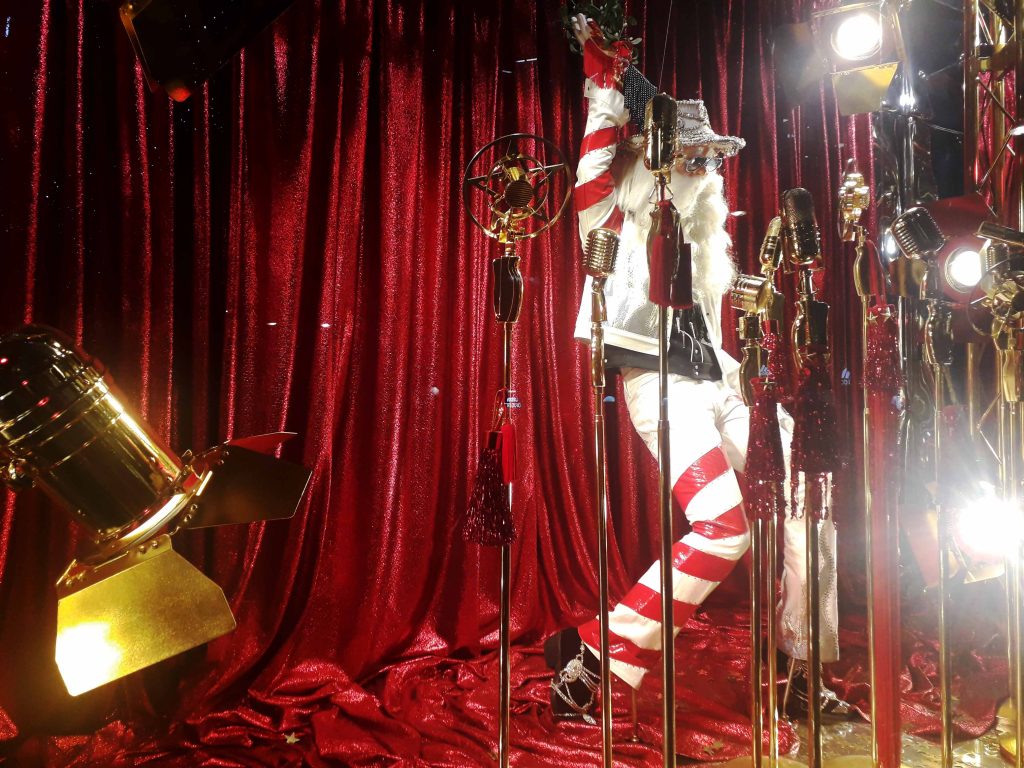 The mass of sleek gold microphones clustered around a Santa with swagger is another favourite (very hard to choose). The simplicity of the sumptuous red backdrop of metallic red with the stunning gold microphones is superb. Have a look at Selfridges Blog to see more about their 2018 Christmas concept.
Superstar Santa, Recreate the look.
Glossy PVC and leatherette. If you want to have a go at the jumpsuit, we have plenty of all over sequin fabric! Also fun faux fur for the furry dungarees outfit as seen in Selfridges images here, and stretchy metallic fabric which can be skin tight or draped for flares. Just click on the images to take you to the website pages. See you there!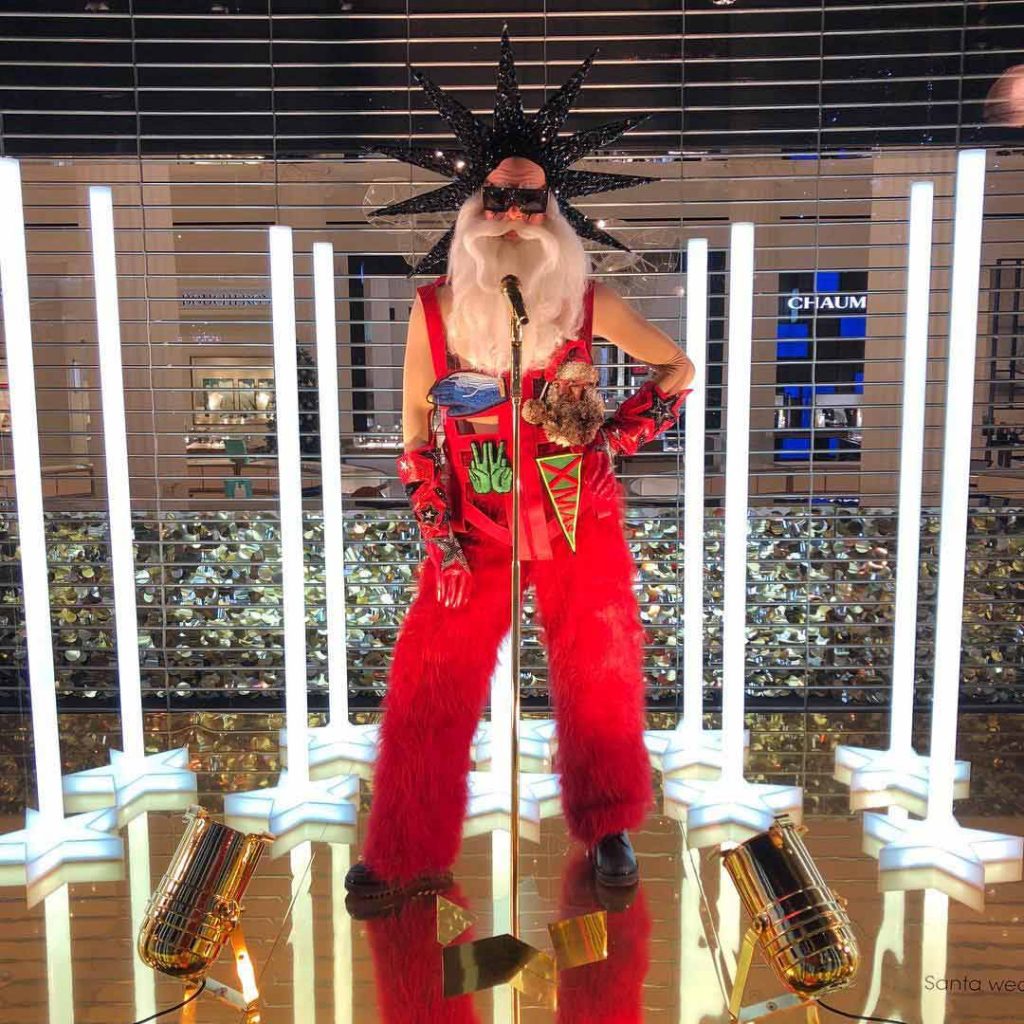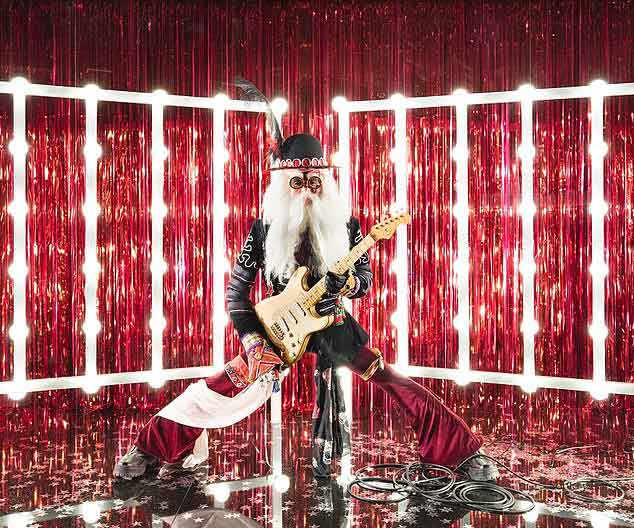 I hope you have enjoyed this little virtual trip through the visual wonders of London's Christmas windows. If you couldn't make it to London this year have a go next year. Look out for more visual merchandising blogs coming up soon, where we get to meet and greet the creative teams behind the windows.
---