Halloween has come a long way from doom and gloom displays and standard spooky scenes. Halloween has personality, everyone has their own version and ideas have gone way beyond witches and ghosts and vampires. Halloween is allowed to sparkle, and we have the the ideal fabric to draw the horrible hordes to your door…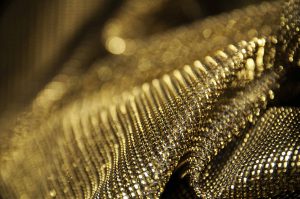 Lure Them With Lurex
On first look you may think wow, that's a bit too much sparkle, think again. It's the darker tone of the metallic shades that match it so well with today's un-dead, un- nerving and un – conventional Halloween themes. Witches and wizards need a bit of sparkle. Space scenes have to shine. Backgrounds don't have to be in the background. Use this fabric as a backdrop for your Halloween scene and people will be drawn to your display like zombies (who like shiny things).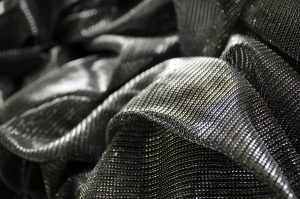 Our dark two tone lurex shimmer fabric makes an excellent backdrop for quite a few Halloween themes. Available in deep gold and black and silver and black weave. It's the two metallic yarns woven together that create a two tone weave effect which constantly changes depending the light and how the fabric moves. Because this silver fabric has a darker tone than average the pewter look would work well with darker themes, literally. Think Sci- Fi displays with a horror twist, aliens and lasers.
Create a Scene
Silver use in Sci – Fi stems all the way back to early 1900's literature graphic novels and film where use of new lightweight and shiny metals seemed very futuristic. This fabric draped as a background would look out of this world! Stretch the fabric flat against a wall or staple it onto props. Even though the background would be flat, the two tone sparkle will change depending on where the viewer is looking from. You could then add more shapes and props against the flattened fabric background, but it would still be striking enough to be a highlight of the display.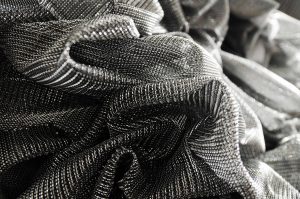 Cosmic Costumes and Shiny Knights
This particular stretch metallic lurex is a good all rounder for the costume department. The fabric has a good amount of stretch, held mostly in the horizontal. This allows the fabric to master all kinds of costume ideas. If you want a tight fitting slinky costume, this fabric will fit like a second skin. It also drapes beautifully so you can achieve rippling waves and smooth flowing lines. Silver metallic's are a classic look for retro space age scenes but this fabric can be used for for other time zones too. Medieval Time zones and knights of the round table….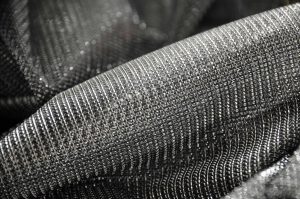 The loose yet uniform weave of the metallic thread closely resembles chain mail. The sheets of looped medieval metal was worn by knights, warriors and anyone who fancied a fight. Worn mostly on the top half as a long sleeved top and sometimes on the legs. You could easily create a chain mail effect with a top made with this lurex fabric. Add leatherette as armour plating and your all set for battle! Or if that's too heavy, metallic fabric like our sunlight reflective would be ideal as it has a stiffer texture.
---