You've seen the furry monsters, Now learn how to make their glittery google eyes!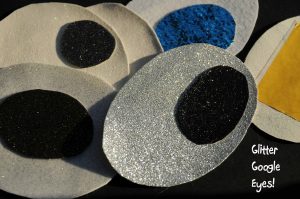 My photo guide shows you the simple steps to making your monsters big sparkly eyes. Google eyes are a simple yet extremely effective hack to make any inanimate object come to life. Try it!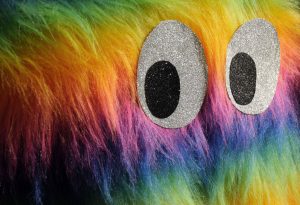 You can bring furry monster costumes to life of course. Or why don't you have fun with random objects and take pictures on your travels. Armed with a pile of google eyes, the possibilities are infinite! You can literally put them on anything!
Click on for competition clues and photo guide…..
You Will Need
A roll or sheet of sticky backed plastic. Otherwise known as double sided sticky tape. The stronger the better
Scissors sharp enough to cut through thin vinyl and glitter fabric
A sense of humour
A glitter pen to draw in the back of the glitter fabric. You have to have a glitter pen. It's the theme
A compass ( or not )
A rolling pin to press down the glitter fabric ( or use your hands)
Imagination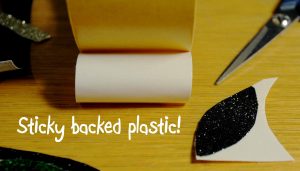 Quick and Easy
Glitter google eyes are so easy to make . You could take your time and measure precisely or make them free hand in no time and they will still look awesome. See, here's some I made earlier.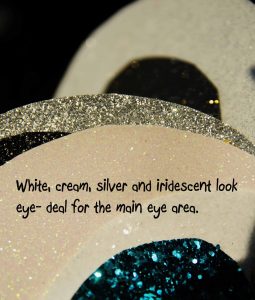 Even if you have only half an hour to put something together before you head out, you can make some in a heartbeat. Simplicity level 2, easy enough for children or drunken adults to make, just be careful with the scissors now.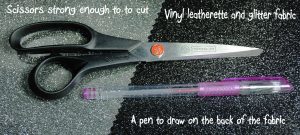 Or Use Time and Precision
If you are in a hurry like I was, you can cut out the eyes really quickly by freehand drawing the shape of the eye on the back of the fabric and then copying it to the next piece to match up. You can tell its slightly too messy when you look closely though. If you want a neater appearance that looks SMart then use a compass to get the curves right. Draw the curve of the eyes and the eyeballs on the back of the glitter fabric, with the glitter pen.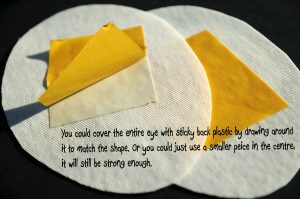 Making google eyes is a great project for all ages. If you are looking for things to make and do for younger children at craft time or at playschool,this is a great all rounder. Both boys and girls will enjoy making the eyes, especially when they realise they can stick them on anything!
Sticky Tape Time!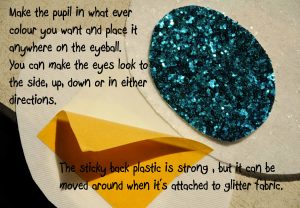 Google eyes don't have to be oversized, there will be lots of bitsa fabric left over to make smaller, cute google eyes. Younger children can watch and help by choosing colours and using the sticky back plastic as the cutting requires very sharp scissors.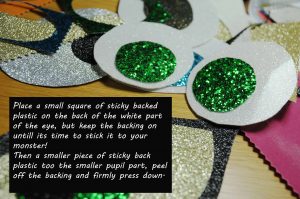 For grown ups who feel an art attack coming on, go for giant google eyes. Stick them on cars, front doors, trees, lamp posts, anything! Make it a mission, split into teams and see who can get the most hilarious picture evidence.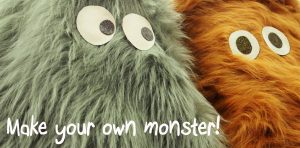 Competition Time
I have managed to sneak in 8 references to kids art, craft and activities TV shows plus a classic book reference. If you can find all 9 references then wow, thank you for reading very carefully. Some clues are fairly obvious, some are not. It depends on your knowledge of kids TV shows! Here are some clues….
7 are the names of the kids TV shows
1 is a book reference
1 is a famous phrase
The clues are in the words , not the pictures
Clues run from the 60's to present day
GOOD LUCK!
---