Halloween has become an annual excuse to dress up, and why not?There are so many directions to go, it's an ideal time to come up with some wacky ideas. Halloween has come a long way from doom and gloom displays and standard spooky scenes. Halloween has personality, everyone has their own version and ideas have gone way beyond witches and ghosts.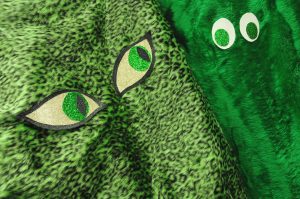 Halloween dress up has grown from classic horror inspired themes to the weird and wonderful. Anything goes now, cute monsters, glamorous Gothic, sci-fi, horror, or fantasy. You don't even have to go for a creepy theme, funny is the new Halloween scene. You can add a twist to the traditional or come up with a personal pun related costume to get the laughs. Whatever you go for, have fun with it. You don't have to spend too much time or money on a costume to get a great effect.
Here are some quick fire ideas you can play with. Easy to use fabric for quick costume ideas for all ages and themes. Click on to see ….
Make your own Monster
Mega fluffy fur, fun fur, realistic fur, thick fur we have a zoo of fake fur here. Ready to become your fuzzy monster friend. Just add google eyes to bring it to life!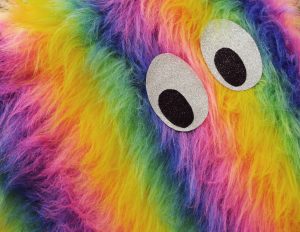 Space age Shine
If your going for a retro look sci – fi theme , you need metallic fabric. We have plenty to choose from from lurex to leatherette, but this stretch Lycra is great for tight outfits that you need to move in. Silver makes classic retro space outfits like a mini dress uniforms or all in one spacesuits. Try metallic green for crazy aliens or silver for a shiny version of the "greys"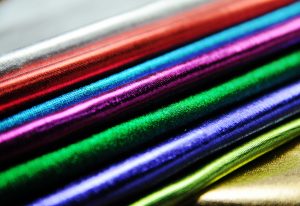 Medieval Metal Knights
Our new stretch lurex bares a strong resemblance to chain mail, though its considerably lighter! The combination of the darker silver – pewter shade of the metallic thread and the black metallic thread create a two tone fabric. To create the metal chain-mail look, make simple long sleeved top. Then use silver or bronze leatherette for the metal armour over the top.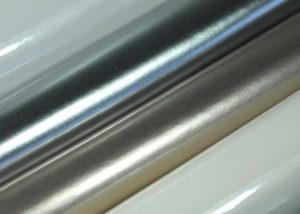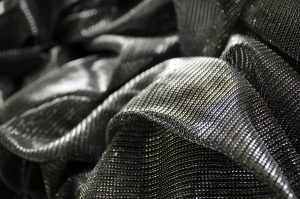 Gothic Princess
Long flowing black lace and full flared sleeves. If you already have a long dress in a deep shade, all you need to make is the outer lace layer to go over the top. Add fangs and blood (fake obviously) to get a Gothic vampire look.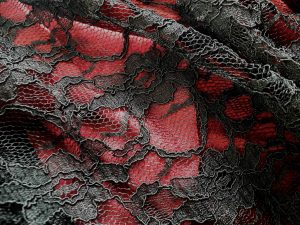 Witches and Wizards
Witches and wizards costumes always seem to be covered in moon and star motifs. This is of course because magic and sorcery are thought to be night time activities, due to the power of the moon. And because cool stuff like that mostly happens at night. Here we have our green stretch metallic fabric layered with sheer black organza covered with golden metallic stars. Make a long cloak for a wizard and a long dress for a witch, layer over the star organza and pow! Like magic, you have your Witches and wizards costume sorted. Grab your magic wand, put your pointed hat on and go cast some spells.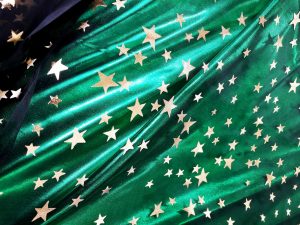 Very Furry Werewolves
The good think about werewolves costumes is you can choose what part of the transition you are going through. You could go for full on furry completed wolf change and create a head to paw faux furry costume. Or add the longhair fake fur in strategic places to show the beginning of the change. Find some clothes you don't mind being ripped up and poke the furry fabric through the torn parts. wrap around your hands to make paws and use stage glue to put strips of it on your face and neck. Grrrr.

Stretchy Furry Animals
Black Cats. A classic Halloween costume classic. This fuzzy fabric has enough stretch to use for leotards or a full length bodysuit (catsuit). May be a bit tricky to sew at first due to the stretch and the fluff but its totally worth it when you step into a made to measure catsuit. Add a tail and cat like makeup and head out on the prowl.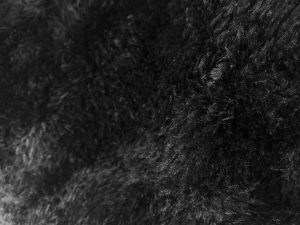 Hope these simple ideas trigger your costume creativity! This is the tip of the iceberg. We have hundreds of fabrics you can turn into a costume. Just scroll through our site or give us a call.
Happy Halloween!
---