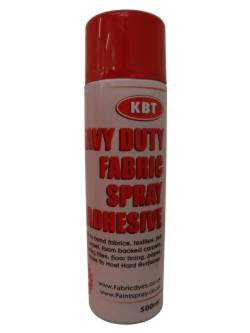 Spray Adhesive has been formulated to satisfy the demands of the Craft, Textiles, Carpet and Flooring Trade and is suitable for bonding many different substrates and a wide variety of different surfaces.
Suitable Applications:
The following are some of the suitable applications for this product:
Fabrics
Foam
Felt
Cork
Upholstery
Paper
Cardboard
Wood
Stone
Leatherette
Carpet
Un-Plasticized PVC
Brickwork
Concrete
Slate
Ceramics
Rubber
Metals
Rigid plastics
Canvas
Aluminium Foils
Apply a light, fine even coating to both surfaces to be bonded from 9″ – 12″ (25 – 30 cm). Wait until the adhesive is tack-dry and bond the surfaces together using firm pressure. This product is available here: Order Online
For Heavier Applications
May prolong the tack time. N.B. May affect certain plastics. Always test on a small, inconspicuous area before general use.
To prevent blockages, invert the can after use and spray to clear the nozzle.
Technical Data:
Appearance : Clear, White Liquid/Cob-Web Effect
Odour : Characteristic Solvent
SG @ 25°C : 0.66
Pressure @ 25°C : 4 Bar
Discharge rate : 1.2 g/sec
Polymer type : Styrene Butadiene Rubber
Tack time : Approximately 30 seconds
Bonding time : Maximum adhesion in 12/24 hours
Temperature range : Up to 50°C (dried film)
Solubility : Soluble in some solvents, insoluble in water
Recommended solvents : Amberklene FE10, ME20
Flammability : Classified as extremely flammable
Storage
The product may be stored at normal ambient temperatures and has a shelf life of not less than 12 months with correct storage.
Aerosols should always be stored below 50°C, away from direct heat and naked flame.
---