Make Your Own Shade
You don't have to spend out loads to achieve a shady haven, there are options for all sorts of pockets and all sorts of gardens. Get creative with your ideas, shading from the sun is a practical necessity but you can have fun with your outdoor decoration! Go for what ever colours that attract you, after all its your shady haven to relax in.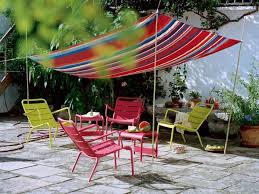 Choose your colour awning and work your design around that, mix colours if you want or keep with the same shade group, go bold or pastel but make it your place.
Have a look at the many ideas to emulate on Google images or You Tube, most are easy to follow and inexpensive and fun to make.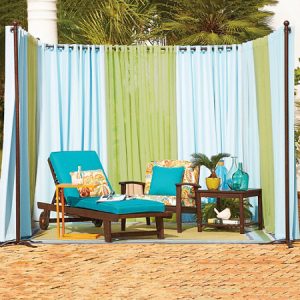 Using acrylic awning fabric for these outdoor ideas is a sensible way to make them to last. Investing in good quality outdoor fabric is still a cost effective way to create protection and shade in your garden without breaking the bank.
This fabric will really last, its designed to withstand chaotic weather changes from frost a heat wave and because its UV colourfast it's colour will stay true under the glare of sun.
Acrylic Fabric Any Way You Want It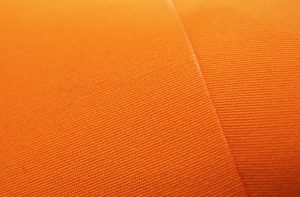 There are a multitude of ways to use acrylic awning fabric, all you need is a little creativity or just follow a you tube tutorial!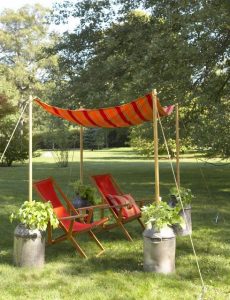 Acrylic awning fabric can be used in a multitude of ways, not just traditional fixed awning. Take a good look at your space and ask yourself these questions..
Which area does the sun hit most?
What time of day?
Do you need shade overhead or to the side?
How large an area do you need to shade?
Are there already structures you can use?
Work With What You Got
The last question can come in very handy if you want to use acrylic awning fabric WITHOUT a fixed frame or parasol. A lot of yards and gardens will already have fence posts, sheds or even washing line posts, with the help of strategically placed hooks, eyelets and cord you can make the most out of these existing structures.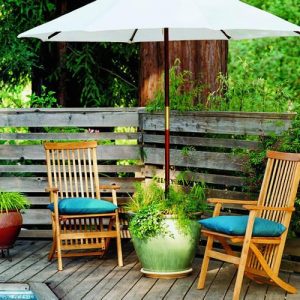 Plant pots are a brilliant way to stabilise wooden, plastic or metal posts and sunbrellas, just make sure they are filled up with earth and plants to weight the post down and keep the post central.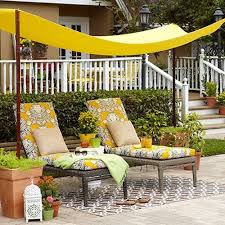 Frame Your Fabric
There are many ideas to emulate on Google images or You TubeIf you are a bit handy with the tools you could easily create your own framework or free standing structure to hook acrylic fabric onto with the aid of handy eyelets pierced into the fabric. Larger wooden structures that can cover a whole patio can still be made from a very basic framework of large posts.
Overhead roman style gathered shading can be made from a simple pulley system and framework out of wood metal or plastic pipes. Customising your own shady spot is the perfect idea if you you you have an unusual or awkward outdoor area.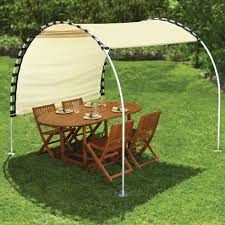 A free standing shade canopy can be be moved wherever the sun moves, so you can follow the sun beams around. This clever plastic frame solution is made from simple plastic pipes from any DIY store. This plastic piping an create all sorts of bespoke shapes for portable shade, so you can pick it up and follow the sun around!
Get Some Privacy
Awning Fabric For Outdoor Curtains
Outdoor curtains look fantastic sitting right in the middle of your garden! This idea mixes practical benefits and quirky innovative style you can customise to suit the look you want to set the scene in your garden.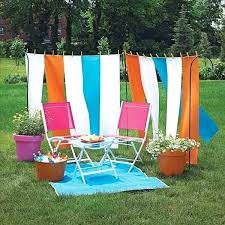 There is a slightly surreal aspect to having a full rail of curtains in your patio or garden, which is why its its such a fun look to go for. Then with the addition of outdoor seating and drinks tables its almost like having your lounge in your garden.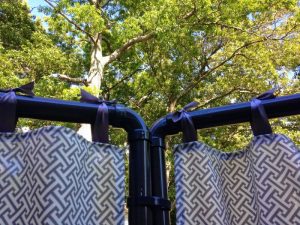 You could build a sturdy static frame, a free standing one or try handy hacks like using clothing rails for the poles. You can design a frame and pole runner with lightweight plastic pipes, wooden poles or metal.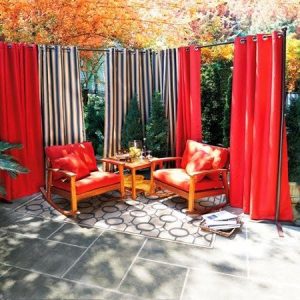 If you want your curtains to be portable and follow you wherever the sun moves to, the plastic pipes would be a good option,the wood or metal could still be portable but you would need more people to move the structure.
Balcony Shade and Screen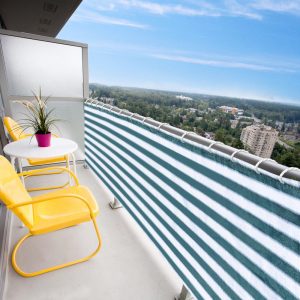 A really simple and sleek idea, with a bit of a seaside feel to it. This stripy style awning fabric is reminiscent of classic sea side deck chairs and wind breakers. You can easily fix the fabric to existing rails with the addition of brass eyelets to the fabric and twisting cord or rope for even for of a sea theme.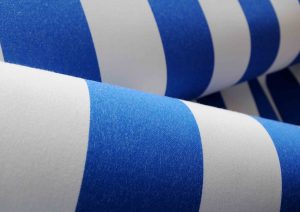 Awning as Fencing
A much more contemporary solution to partitioning your garden or fixing a barrier between you and your neighbours. The paler shades would show shadows from the other side, but that could add to the attraction if its plants and bushes as seen here.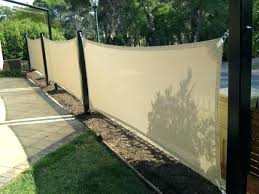 Although it doesn't give 100% coverage and privacy from one side to the other, this idea is great for more friendly neighbours or if you want to partition off your garden and patio area. 
Partition For Colour and Shade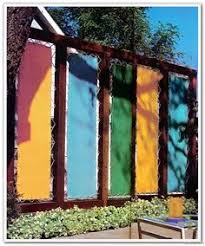 Practical and funky! Even a small garden can benefit from panelling. By simply placing screens in area you can re create your outdoor space into a fun and vibrant area, separated for different uses. Screens placed overlapping in the middle of a garden can create the illusion of the space ending….but will lead the way to a hidden part of the garden, away from nosy neighbours.
Coloured fabric panels around a seating area will create shade offset with coloured light casting through, a simple and clever outdoor lighting effect! Add night time lights near the bottom of the panels to shine coloured light through, a fab idea for night time entertaining.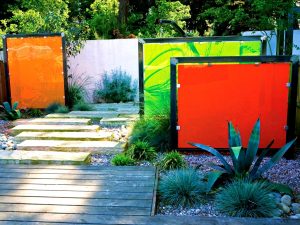 If you like the look of any of these ideas and need help choosing the fabric, or if you need a hand making an item, just give a call. Our textiles team will be happy to bring your creation to life!
---