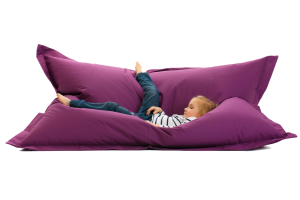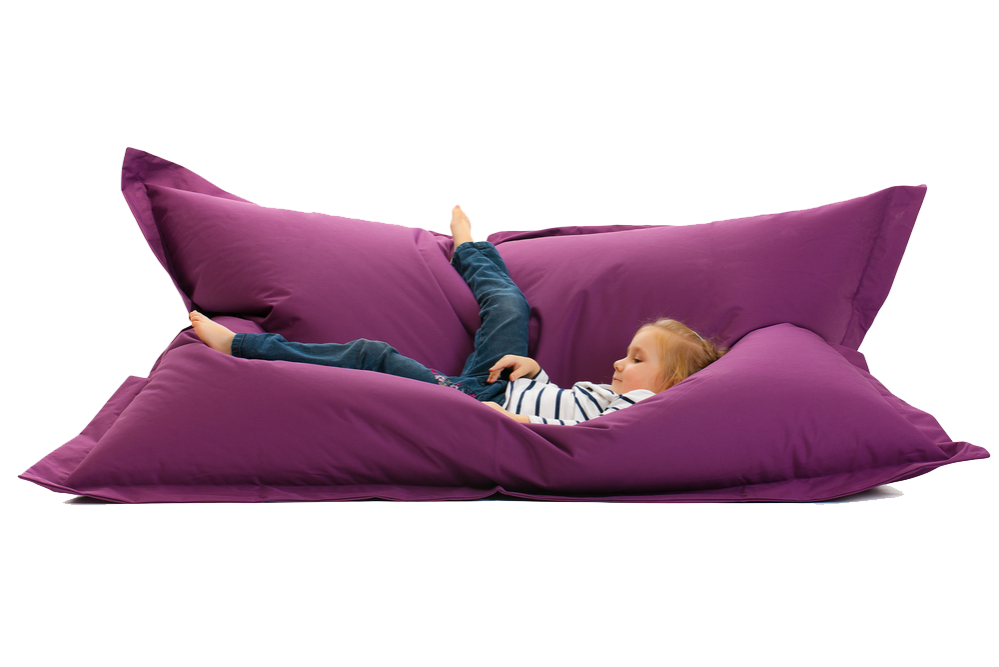 FabricUK are pleased to announce that we now supply all types of bean bag furniture. We can provide furniture to your specifications and design, with your choice of fabric from our extensive stocks. Read on for the lowdown on bean bag furniture and what FabricUK can create for you.
So what is bean bag furniture?
Bean bag furniture is coming. It is being used more and more to create comfortable spaces which inspire creativity and collaboration. Bean bags are soft and safe for children with learning disabilities. They can be used as setees and lounges for the home as well as comfy, safe, chairs and furniture for nightclub and bar 'chillout' areas. Even warm and snug pet bedding.
The first bean bag furniture – The 'Sacco' Chair(Italian, meaning sack) was first conceived in 1968 by Italian designers, Pierre Gatti, Cesare Paolini and Franco Teodoro. Their anatomical chair consisted of an outer shell, loosely filled with small polystyrene balls. The loose inner fill allows the outer shell to take on the form and contours of whatever is placed on it-making bean bag chairs very comfortable, as they adjust to the contours of your body shape.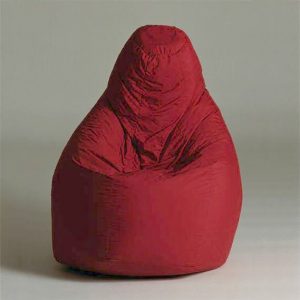 The simplicity of design has inspired many imitators and DIY enthusiasts to create their own bean bag furniture. Now bean bags come in all shapes and sizes.
Extremely lightweight and mobile, bean bags are becoming more and more popular, with thirty somethings finding uses for them around the home and at the office.
Home
Soft and safe, bean bags can be used to replace chairs and sofas. For a relaxed and laid back look to a lounge-sitting room add bean bags, they are fabulous for settling into with a mug of coffee and the TV guide, a good book or for a cuddle with the other half.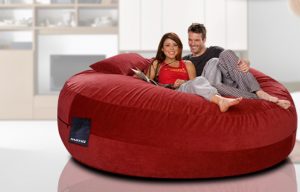 Bean bags for kids
A very popular choice for children's bedrooms. Kids love bean bag chairs and loungers. Easy to tidy and exciting for play, bean bags provide a safe, fun, colourful environment for newborns, toddlers and teens.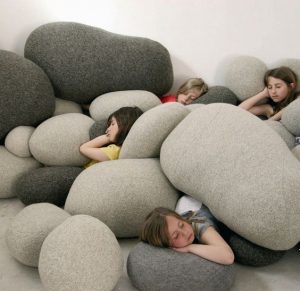 Ideal for hyperactive and Autistic children. The furniture can be jumped on, played on, thrown around, pulled and tugged quite safely. Children's nurseries often use bean bag furniture for its safety and mobility.
Fun spaces can be created for Doctors surgeries or waiting rooms in general. They can be used to create a safe environment where kids can play with minimum supervision.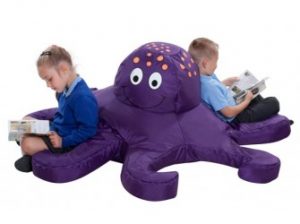 Nursery schools and creches are great to deck out with bean bags. In a 2012 study at Salford University, researchers found that discomfort plays a large part in distracting children from learning. They discovered that a child's academic progress can be impacted negatively by 25% over a year depending on the environment.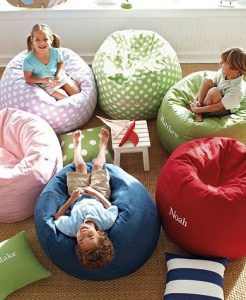 As bean bags are so light and mobile You can create a 'pop up' reading corner or play area when you are pushed for space in your classroom or nursery.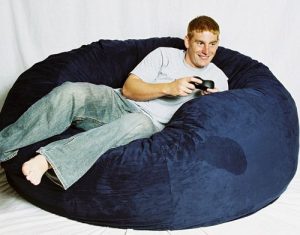 Its not only children that can play in bean bag furniture they are a great choice for comfortable gaming chairs. Pull up to the TV, grab your controller and you are away.
The Office
More and more forward looking companies are creating dynamic, trendy working environments for their employees, think Google, Amazon, Apple or Microsoft. Whether relaxing with a client or working on the next big pitch, bean bags bring a buoyant and informal look and feel to what have been, until recently, dismal office spaces. Bean bags are mostly used for games and break rooms at work but are becoming more widely used in the office itself.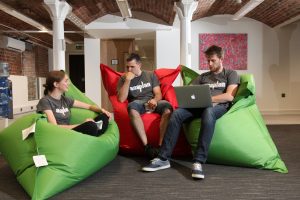 Boost productivity at the office with bean bag furniture.
Pets
Bean bag furniture makes great bedding for animals. Choose from waterproof or warm faux furs to keep your pet happy and healthy.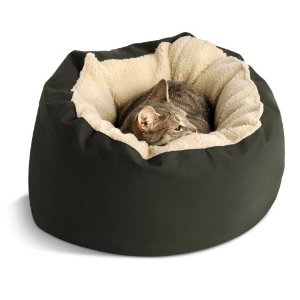 Use waterproof polyester for outdoor pet beds or faux fur to give your pet a luxurious bed inside.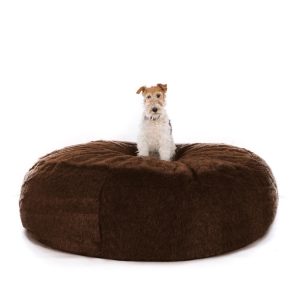 Bean bags for pampered cats and dogs.
So now you have an idea what can be done with bean bags why not check out some of our fabrics, ideal for filling with little plastic balls.
First off, our best selling bean bag fabric-
Waterproof Polyester Fabric KBT6009
This fabric is ideal for bean bag toys and furniture. Our 7oz Polyester is waterproof, making it suitable for any type of bean bag application or design. Strong and durable, this is our most popular bean bag ready fabric.
Our Polyester fabric is inherently treated with a layer of Polyurethane, this gives the fabric it's resistance to water and ability to withstand staining. It also dissipates heat, making it more comfortable to sit on. Durable and waterproof this is the ideal fabric to make bean bag furniture for pets. Great for use indoors and out, why not try our Waterproof polyester for your next bean bag project.
leatherettes
FabricUK stock an enormous range of leatherettes in differing qualities and textures. Here are just a couple that might suit your bean bag masterpiece.
Marine Elite Leatherette KBT3197
This waterproof leatherette is available in 22 stunning colours, the fabric is fire resistant conforming to BS5852 fire safety tests. Mildew resistant, this fabric can be stored in unfavorable conditions like damp sheds and outhouses and be wiped clean of mold and mildew before use.
Cottons
Cotton Canvas KBT6646
Need a tough fabric for kids play area or busy work area then look no further than our durable, hard-wearing cotton canvas.
Available in 14 colours. Cotton canvas for durable beanbag furniture.
Acrylic Furs
Tall Pile Fur ac435
For extra luxury try our 100% acrylic fur fabric. This soft, warm fabric has a 20 mm high pile. Our fur will make chic bean bag furniture, sure to be a talking point amongst guests.
Tall pile fur, available in brown, beige or cream.
For maximum comfort, curl up in a fur bean bag with a mug of coffee and a good book.
Short Pile Fur KBT3073
100% Acrylic. Fire retardant. This luxurious, soft fabric is ideal for making bean bag bedding for pets or people. This shorter pile version has a fur height of 4 mm to 6 mm.
Available in a choice of 31 rich colours.
Faux Suede KBT4017
Another fabric to pick for luxury and comfort, our 100% Polyester suede will make the most plush of bean bag furniture. We stock 24 colours in this beautiful, tactile fabric.
Fernando Suede Upholstery Fabric KBT7663
A faux suede, upholstery fabric with a luxurious feel. This fabric is soft, durable and fire resistant.
So there it is, our round up of bean bags and fabrics. We hope we've given you some ideas.
Drop in or give us a call to discuss bean bag furniture and transform your home or office spaces today.
---