Solution-dyed, acrylic awning fabric is the ideal choice when it comes to solar protection, guaranteeing excellent, long-term protection against UV rays, heat, glare and inclement weather.
Its solution-dyed Sunacryl acrylic fibres and special Cleangard outdoor awning treatment give it exceptional long-term colour fastness and superior resistance to tearing, water damage and dirt. Recommended for all types of awnings, wherever they are placed. Certain solid colours are available in widths of 165ˆ, 200ˆ, 250ˆ and 320ˆ cm. Colours available online are in a width of 120 cm.
Available in a range of exciting stripes and plain dyed colours, see our full range of awning fabrics for outdoor.
Characteristics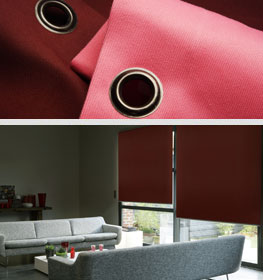 The following are some characteristics of awning fabric:
100% Solution-dyed, Acrylic Awning Fabric
Outstanding long-term colour fastness
UV protection between 90 and 99%
Dirt-resistant
Excellent resistance to tearing
Easy to maintain
Cleangard special dirt-resistance and awning water repellent treatment
Fabric Weight 295 g/m²
10 Years Guarantee
120cm Width
Over 80 plain colours to choose from click see Plain Colours
Over 100 woven coloured stripes and styles to choose from.
Samples Available, request online or by Telephone.
Uses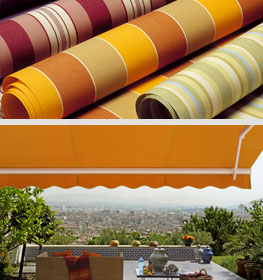 The following are some uses of awning fabric:
Gazebos
Sunshades
Blinds
Awnings
Outdoor Blinds
Shop Awning
Tarps Canopies
Commercial Awnings and Canopies
Door Awnings
Door Canopies
Cleaning and Care info
Outside Cafe Seating Barriers
Boat Covers
Mainsail Covers
Outboard Engine Covers
PWC Covers
Tarpaulins
Many more uses, the list is endless…
Easy Maintenance
Regularly maintaining the fabric makes it easier to clean, Simply hosing it off with a jet of clear water, then brushing it with a soft brush. Manufacturer strongly advises against using a high-pressure cleaner to wash your fabric. Once cleaned, leave it to dry in the open air. For harder cleaning tasks. Manufacturers recommendation, use a mild soap or 303 Fabric Cleaner, diluted in warm water. Also recommend that you re-waterproof the fabric with 303 Fabric Guard after each washing.
*Please note awning fabrics with widths of 165cm, 200cm, 250cm, 320cm are a minimum order requirement, 1 roll = approx 60mtrs.
---