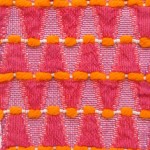 Mentioned in the previous posts was how the fibre and yarn can make all the difference when it comes to choosing the right fabric. Now we discuss the fabric weave. Weaving can be a fairly simple to a more complex process depending on the thickness of the yarns, the thread count, the tightness of the weave and the way the warp and weft are interlocked.To alter the weight of a fabric or to make a fabric more opaque or sheer can be achieved by changing the weight of the yarn, the fibre type in the yarns or by varying the number of yarns used (thread count).
Note:
Thread count refers to the number of threads in each square inch of a fabric, it is usually considered that the higher the thread count in a fabric weave, the higher the quality the fabric is, but this depends on what the fabric is to be used for.
The weft which is also called the fill yarn, runs horizontally from selvedge to selvedge. Warp threads run vertically length ways. » Read more..