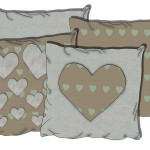 <a href="http://www.bloglovin.com/blog/13496297/?claim=erw7hswm4wy">Follow my blog with Bloglovin</a> 
Valentines is just around the corner so we've compiled some fabrics and looks which are just right for this time of the year and why not for the rest of the year too! These irresistible valentine fabrics are all about elegance, impeccable drape and beautiful aesthetics, perfect for the occasion!
Crepe Backed Satin
Crepe backed satin KBT6456 which can also be called satin backed crepe, has the lustrous feel and shiny look of the satin weave on one side and the pebbly feel from the highly twisted yarns of the crepe on the other side. Both the satin and the crepe side can be used as the right side of the fabric. Use this mulberry colour with black lace to make a darker, seductive look for an excellent valentines dinner dress or a bralette as below. » Read more..