Good news for all our customers, new party dress fabrics for summer have been added to our product lines. Amazing colours and eye-catching fabrics are all you need for parties and exhibitions this summer. The luxurious feel and look of material will give you a distinct personality in parties or exhibitions. A large new summer collection for a low price that you can afford.
Bridal and wedding dress materials
If you are thinking over and over for the selection of your bridal or wedding dress, don't worry, we have made it very easy for you in the selection. Here I am going to guide you through, based on what you are looking for and what features you should have that may interest you.
If you are thinking of dress material for weddings, or for bridesmaids in the evening time, then Crepe Backed Satin (X112) will best suit your need. It has a heavy drape and luxurious feel, also it looks great the evening time. For lightweight summer jackets and shirts etc. Stretch Satin (X717) is a good choice. This uses Spandex elements, allowing flexibility, a nice fit and comfort to the fabric.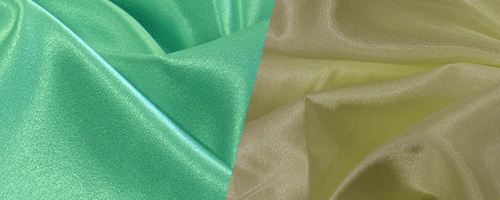 Fancy fabrics for party dresses
When it comes to dance or stage performance, automatically you may think about something like glittery colour and clothes. Beside a glittery nature, it would be nice that the fabric is also comfortable, then Lycra Fabric Metallic Hologram (X1814) from the Lycra fabric category would be a good choice. It has a metallic hologram effect that gives a nice eye-catching glittery look, as well as its appearance, this fabric is fairly flexible, allowing for maximum comfort.
Similarly Sequin Net (X1179) is a lightweight metallic sequins fabric, suitable for dance, stage and bridal wear.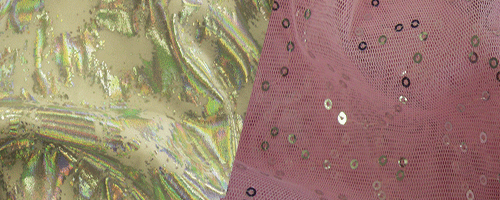 General purpose summer fabrics
Given below is a quick list of general purpose fabrics that could be used in summer. Some of them could be used as alternatives to the fabrics mentioned above for weddings, party or dance functions. Many of them are a good choice for summer decoration, curtains or can be used generally in summer.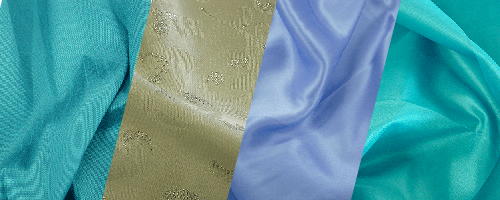 If you need further information to make right choice for the right job, please contact us on 0121 359 2349, or order a sample using our sample form.