Stretch Lycra Panel Fabric
Widely used for canopies, visual merchandising displays, garden shading, festivals and clubs this ultra stretchy pure white fabric can be easily stretched into fantastic looking shapes. The Lycra fabric can be elongated into ultra contemporary designs for sleek merchandising and can also be printed on, making it ideal for advertising banners and canopies. For more artistic creations, this Lycra can be easily cut, shaped and stretched into intricate designs for indoor or outdoor shading and decorative pieces for festivals and events or stretched into huge organic looking shapes that look like they belong on a space station!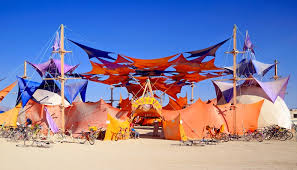 Stretched Shading gives a sleek contemporary look to events large and small. Huge marquees can be made from this fantastic fabric or you could design a smaller version for your garden. The white stretch Lycra we stock is extra wide, measuring 200 cm across, very handy for covering a lot of space in one go.