Fabric UK is bringing you one of the most iconic materials… Union Jack on trevira at £4.99/metre.
The Union Jack dress was an item of clothing worn by singer Geri Halliwell at the 1997 BRIT Awards. The mini dress had a flag of the United Kingdom, the Union Jack and on the front a white peace symbol. The next day press from all over the world ensured it made the front page and that moment is remembered as one of the most iconic pop moments of the 1990s and BRIT Awards history.
The Daily Telegraphs recalls it as top in an online poll that was set up to find the 10 most iconic dresses of the last 50 years, beating Marilyn Monroe's dress and the wedding dress of Princess Diana.
The Union Jack has been worn by Taylor Swift, who opened the Victoria's Secret Fashion Show in New York.  The British Invasion was one of the themes of the lingerie company's annual fashion show, and it was followed by Cara Delevingne in a football inspired outfit.
Halliwell's dress is confirmed by Guinness World Records as being the most expensive piece of popstar clothing sold at auction.  Initially, she was given a black Gucci mini dress to perform in, but Halliwell thought of it as being too boring, so she asked her sister to stitch on a Union Jack tea towel to the front as a patriotic gesture.  After the dress was ready, she decided to wear it at the Brit Awards, on 24 february, 1997.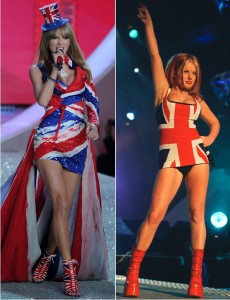 Miley Cyrus wore a similar dress as well at her opening night at London O2 arena.
Geri (face of Next) and Next have created a brand new collection made of Union Jack pieces. She said at the launch: "I think this dress has definitely become iconic and I'm proud to say that – and equally it celebrates Britain and I can't think of a better time to celebrate Britain."
"We've got the Olympic Games, we've got the Diamond Jubilee – we have a lot to feel good about. And I think really wearing something with a Union Jack on really is showing how proud we are to be British. I think it's time we fly the flag with real pride, so I'm very excited."
The singer is donating royalties from the new sequinned mini dress to the Youth Sport Trust – which endeavours to help young people achieve their full potential in life and in sport.
The good news is that if you are a photographer, you get the fabrics FOR FREE for a limited time if you promote them on your blog, stating the source where you got it from and like and share our facebook page. As simple as that. Also, if you are creating video content/tutorials using one of our fabrics, you get them for free.