Fabric UK proudly supply fabrics to a large number of manufacturing and production companies. Many companies use our fabrics in different types finishing products such as coats, jackets, different types of cloths and costumes etc.
Beautifully Finished Warm Long Coat
Beautifully made long coat from Melton Wool Fabric available in Wool and Melton Fabric by Trish Design. It is a thick woollen material of 650 to 700 grams per metre fabric. It is a very popular choice amongst many tailors for the production of winter season garments.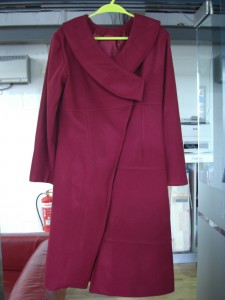 Fabric composition involves 70% wool and 30% acrylic fibre. The width of the fabric is 150cm.
Some good examples of the fabrics usages are ceremonial garments, curtains, apparel uniforms, military regalia and used in many other fashion items. The fabric can't be bleached or dried in sunlight, and can only be professionally dry cleaned.
Fabric Used For Diagonal Lines Pattern Sleeveless Dress
Beautifully designed cross lined sleeveless dress made from one of our Duchess Satin  from our Satins Material collection by Trish Design. Its a 100% Polyester and 150cm wide heavy weight fabric. Beside its usage in many garments and dress, its soft feeling make it the perfect choice for interior designs.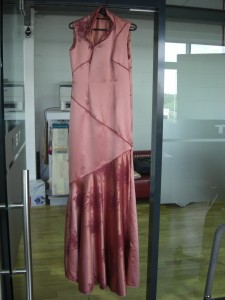 Please note that the print work on some parts of the garment is done by Trish Design using Screen Printing technique. Some of the main usage of the duchess satin's are wedding dresses, wedding gowns, bridal wear, evening dresses, skirts and many more.
Are you a garments production or exhibition company? You can buy online from our trade purchase collections or call our sales team on 0121 359 2349 for further information and reductions.